The 'Z' in the BMW Z1 stands for 'zukunft', which translates to 'future' in English. Today, the Z nameplate in BMW is associated with 2-seater roadsters, but back in 1987, the Z1 debuted to showcase the German automaker's cutting-edge design and manufacturing techniques.
At the time, BMW had just launched its new Technik division, which was responsible for implementing new technologies into BMW cars. The department's first project was the Z1 – a hand-built, dedicated two-seater roadster with unique design and engineering features, the most defining being its disappearing doors.
With such an introduction, you'd be right to think the BMW Z1 is special enough in stock form. But Frank, the owner of this Z1, has modified his car so meticulously that it's now truly a one of a kind machine.
Frank's story with the BMW Z1 began in 1987 when he saw the car for the first time at the Frankfurt International Auto Show (Internationale Automobil-Ausstellung, or IAA for short ) on its debut. He decided then and there to someday own one himself, and that goal was finally realized about eight years ago. This was just the start, though.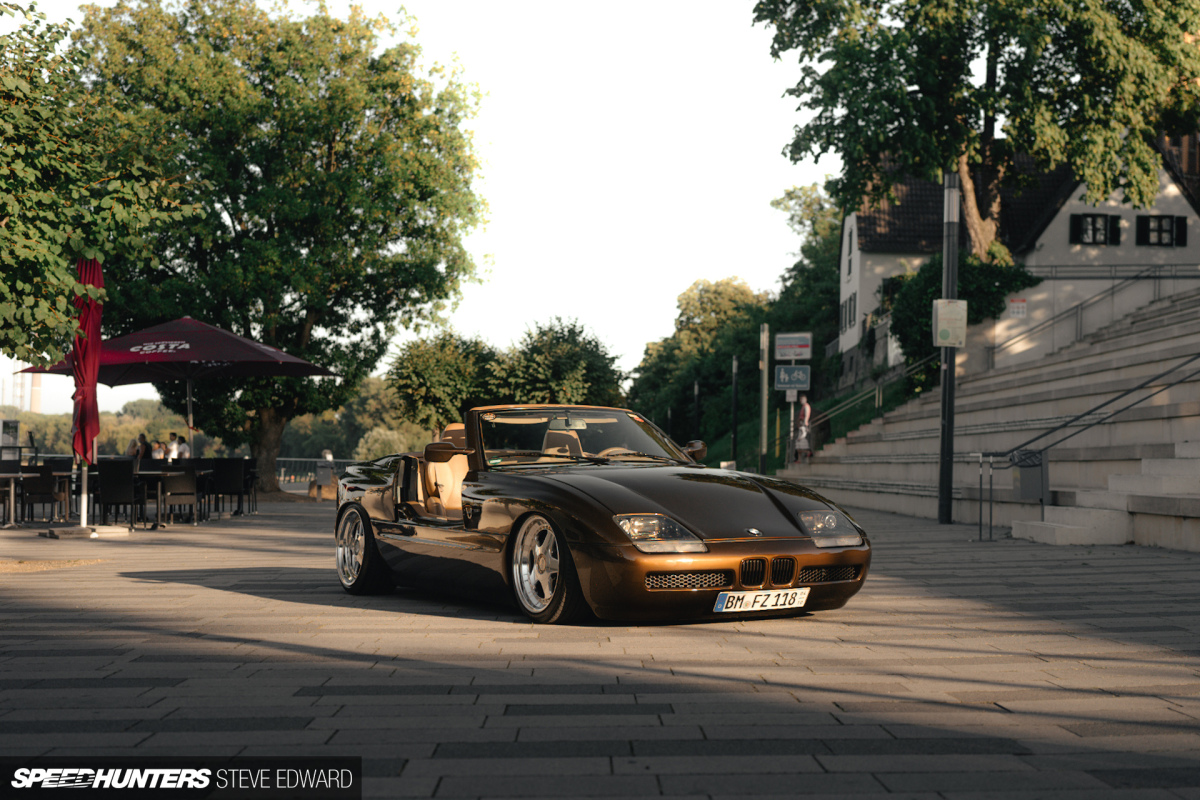 Modifying the Z1 was always in the back of Frank's mind when he bought the car. In fact, when Frank was actively looking for a Z1 to purchase, he was rejected by a couple of dealers due to his plans for customization. Frank eventually found what he was looking for in Saint-Tropez, France – a Z1 that had previously been repainted from red to silver and therefore had lost some of its originality.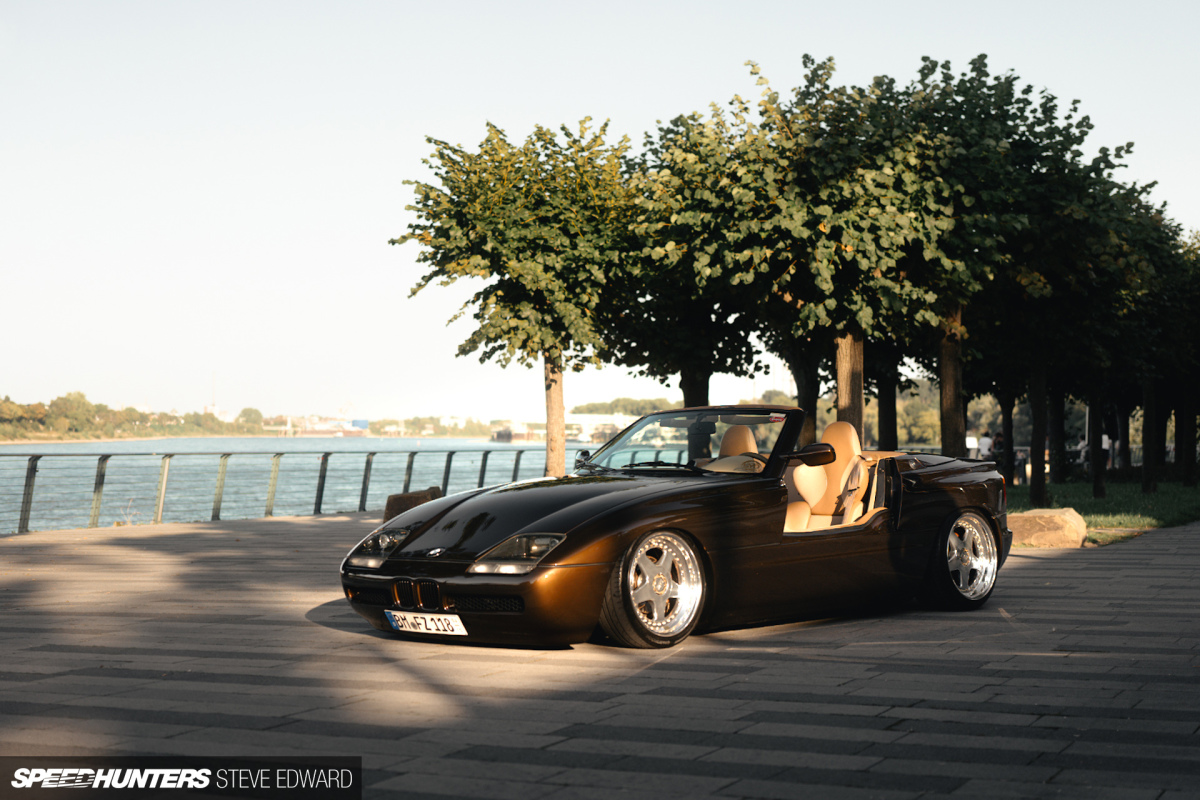 A groundbreaking engineering feature of the Z1 was its thermoplastic exterior body panels. These were designed for easy replacement, and you could theoretically change the exterior color of a Z1 in a matter of hours. On Frank's car, all of the panels have been replaced with carbon fiber equivalents, although it's not easy to tell as they've been beautifully finished in BMW Marrakesh Brown.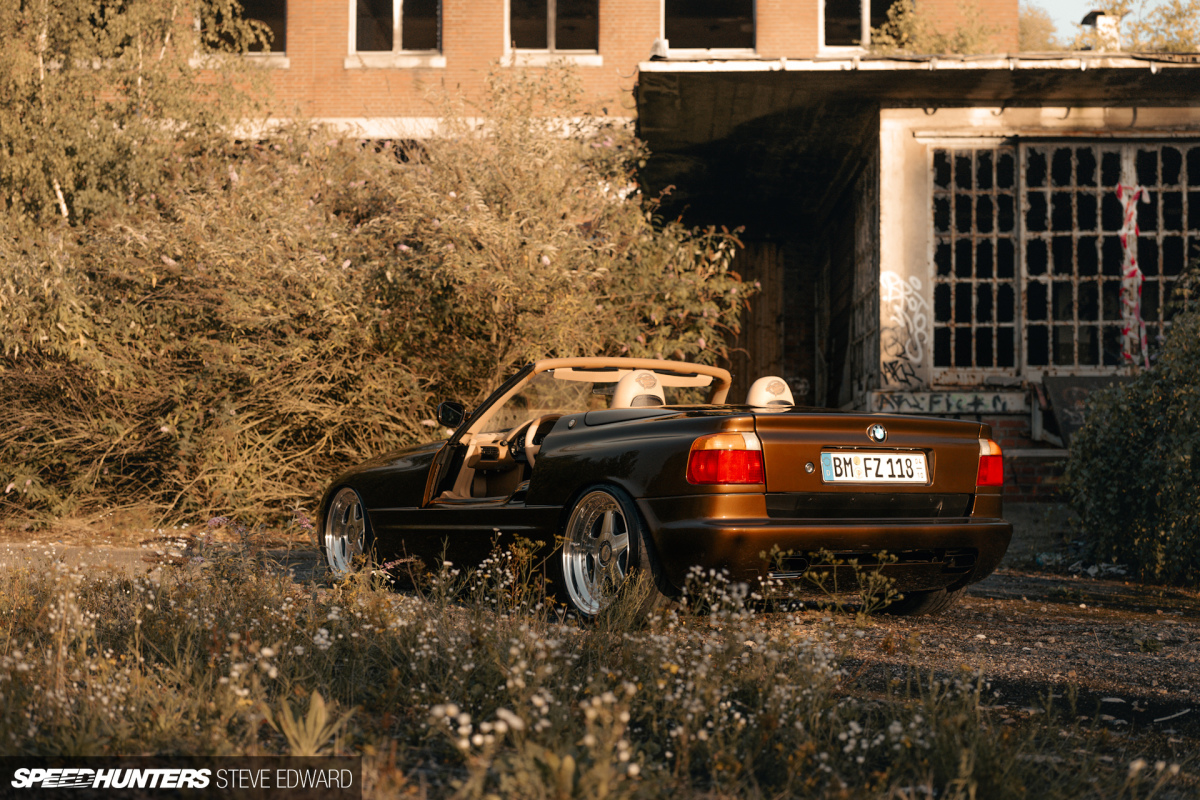 Marrakesh Brown has been Frank's favorite color ever since it was revealed on the first generation BMW X1 – a car he also owns in this color. I can understand why he loves it; this is a deep brown hue when shrouded in shadows, but as soon as light hits it the metallic gold flakes shine bright.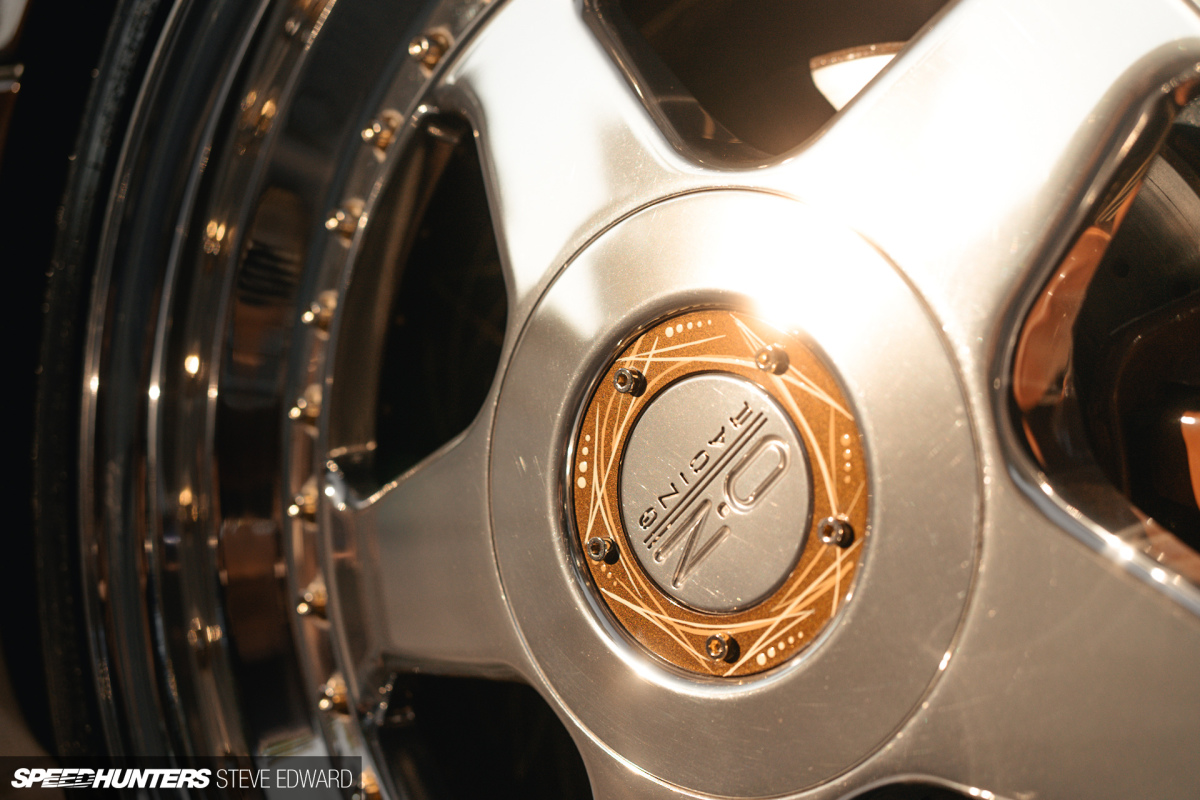 Considering the Z1's rarity, tuning parts are scarce, so a lot of what Frank has done to his car is custom. The air suspension, being a one-off kit from Airforce, is a good example of this.
The O.Z. Racing Futura 3-piece wheels measure 17×8-inch in the front and 17×10.5-inch out back, and during their custom rebuild were changed from a PCD of 4x100mm to 5x130mm. The bolts were also gilded with 24 Karat gold.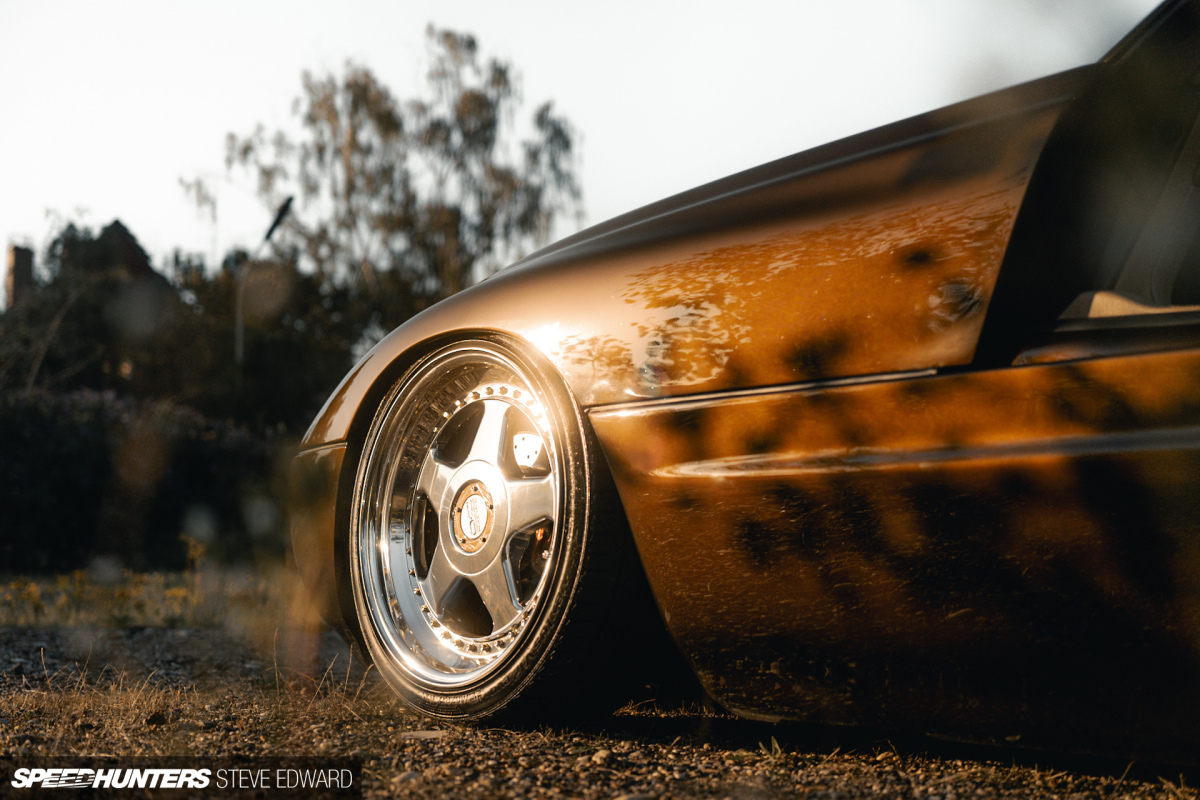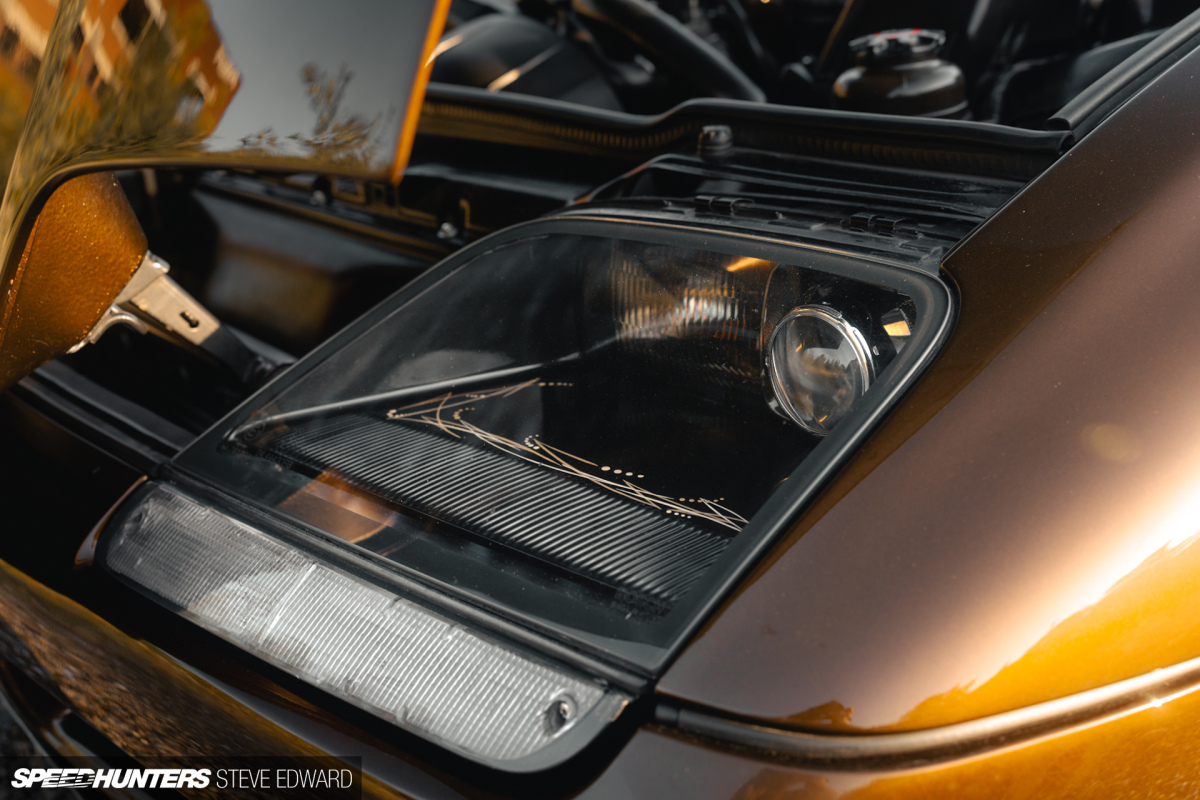 The details are the most fascinating aspect of Frank's BMW Z1. It feels like everywhere you look, there's a custom touch to be found. The pinstripe motifs that you can see all around the car were hand-painted.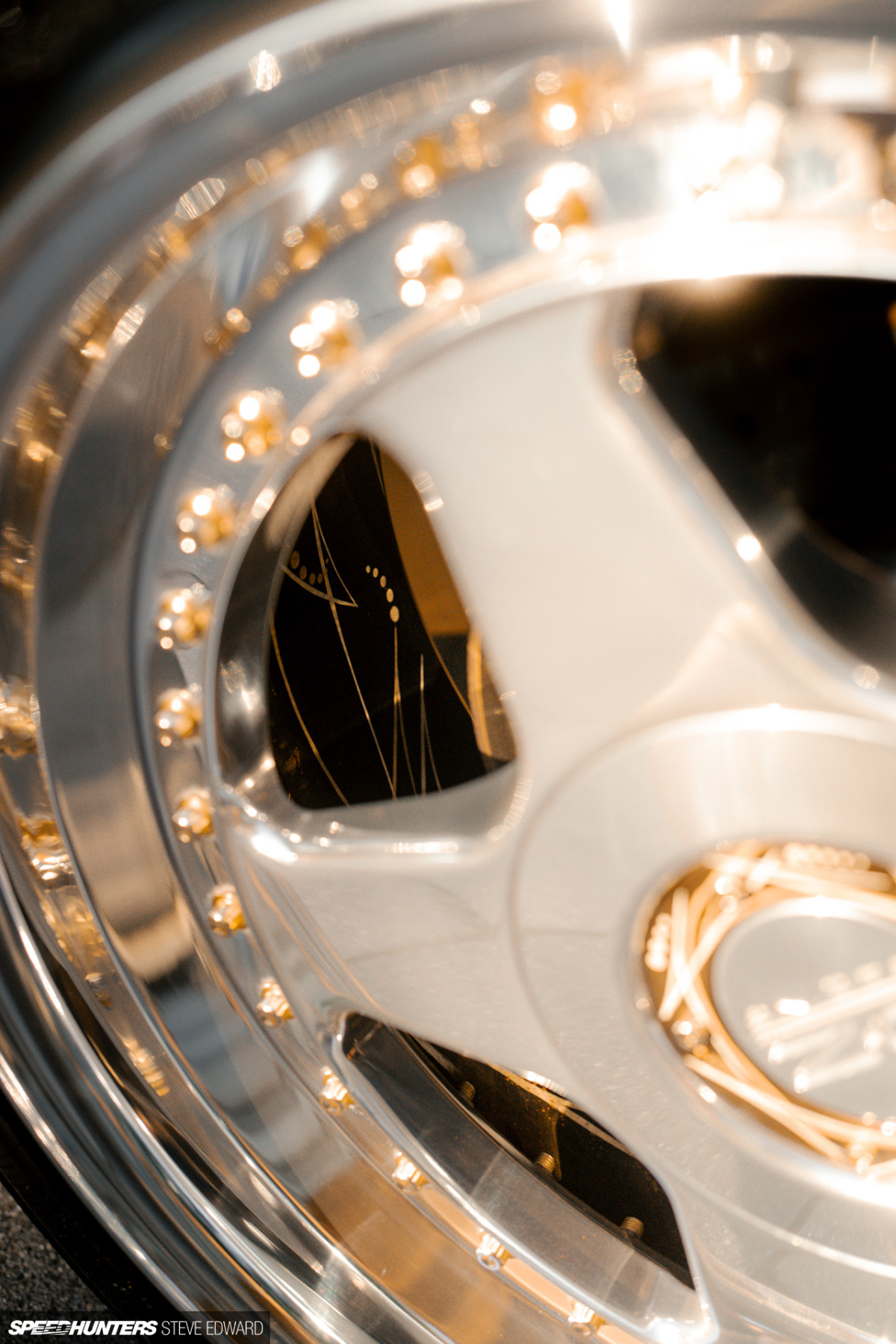 I've seen the Z1 on a couple occasions, but it was only during this shoot that I noticed the pinstripe work on the Marrakesh Brown inner wheel barrels. Crazy!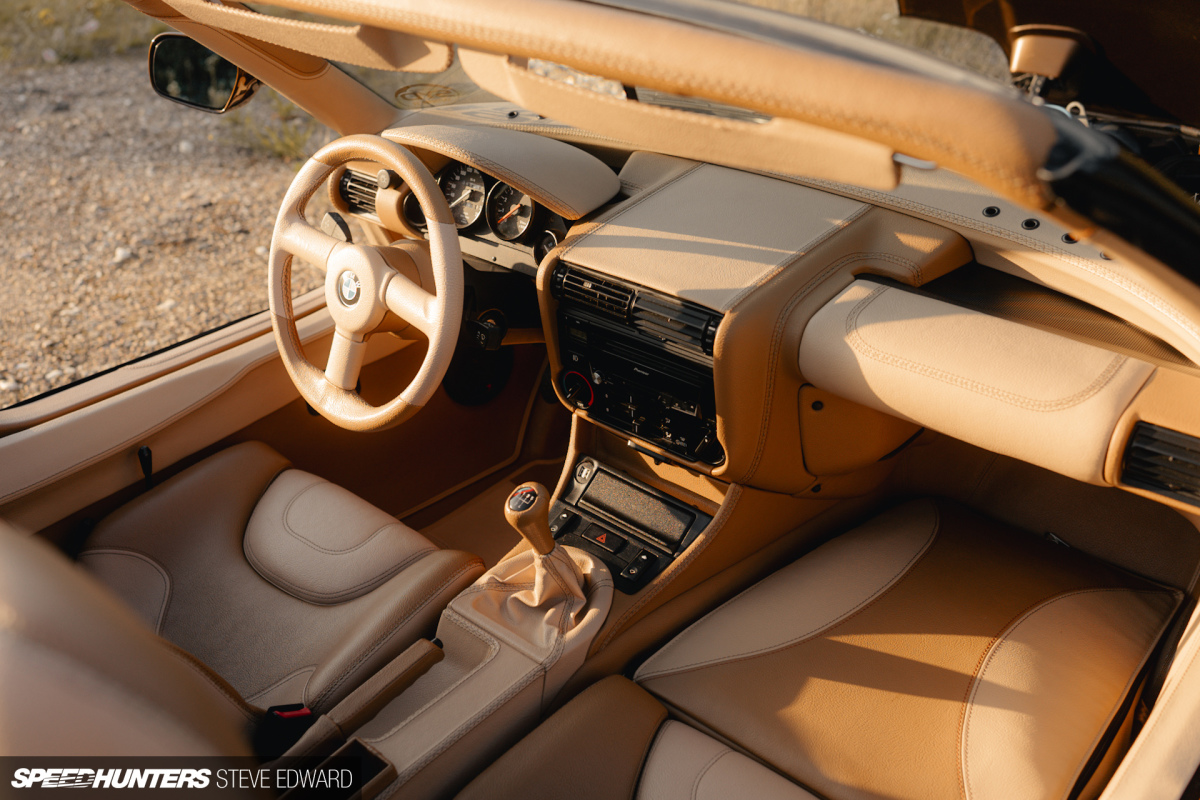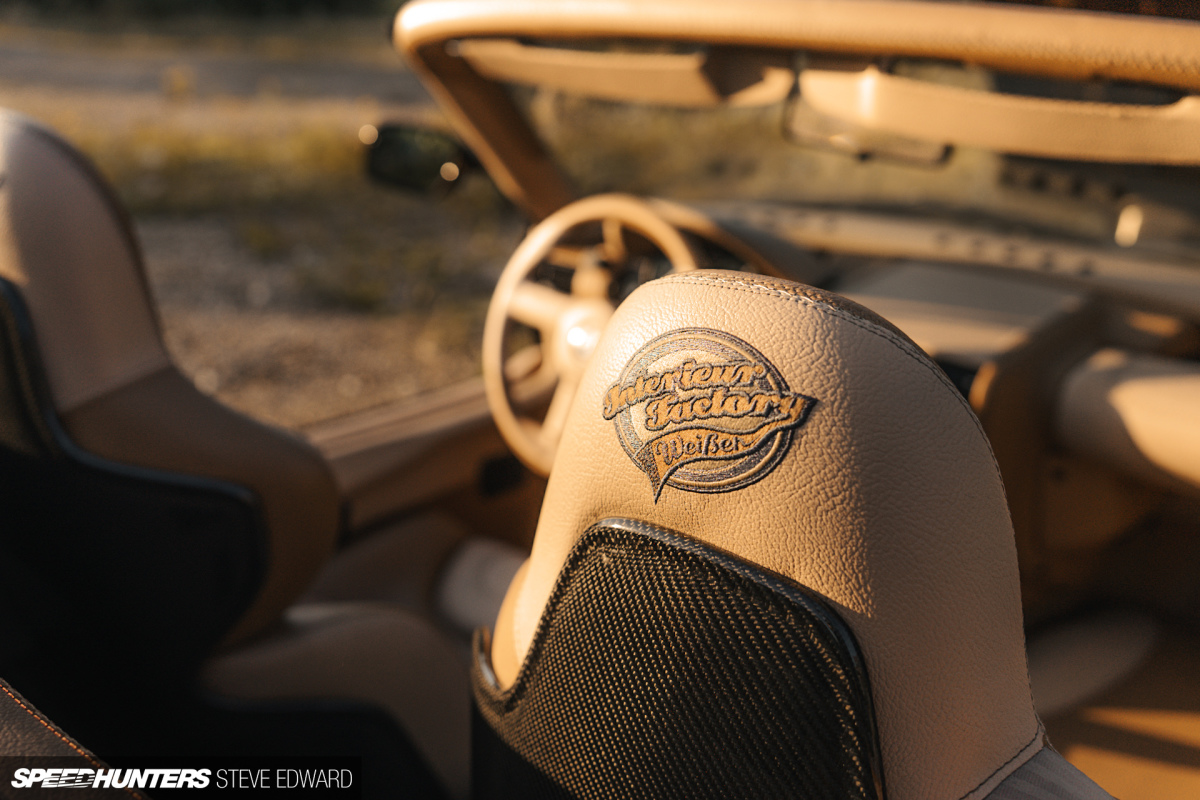 Custom leatherwork is another special feature of Frank's Z1, and no expense was spared here. From the roll bar that follows the windshield frame, to the carpets on the floor, to the dash and the seats (which also received custom carbon fiber back panels), everything was custom-trimmed in leather at Interieur Factory Weissen.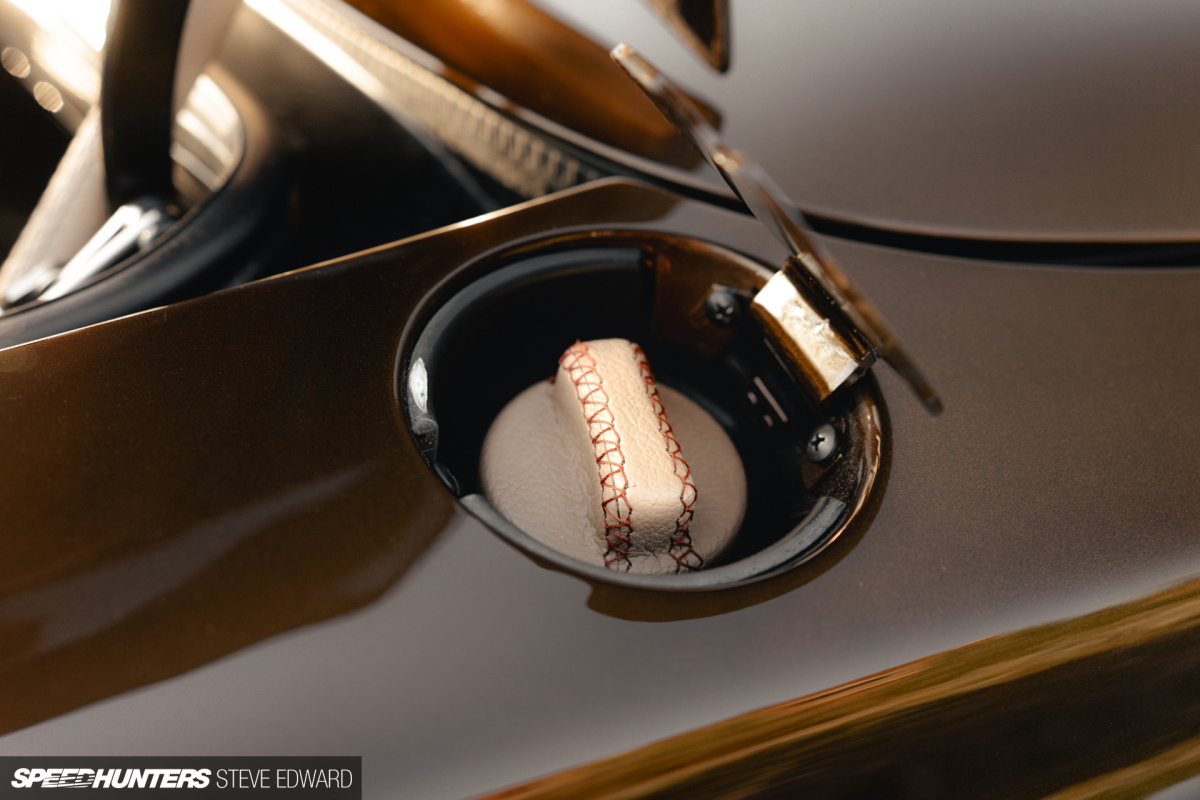 Even the fuel cap and gas struts that hold the trunk have been wrapped in leather.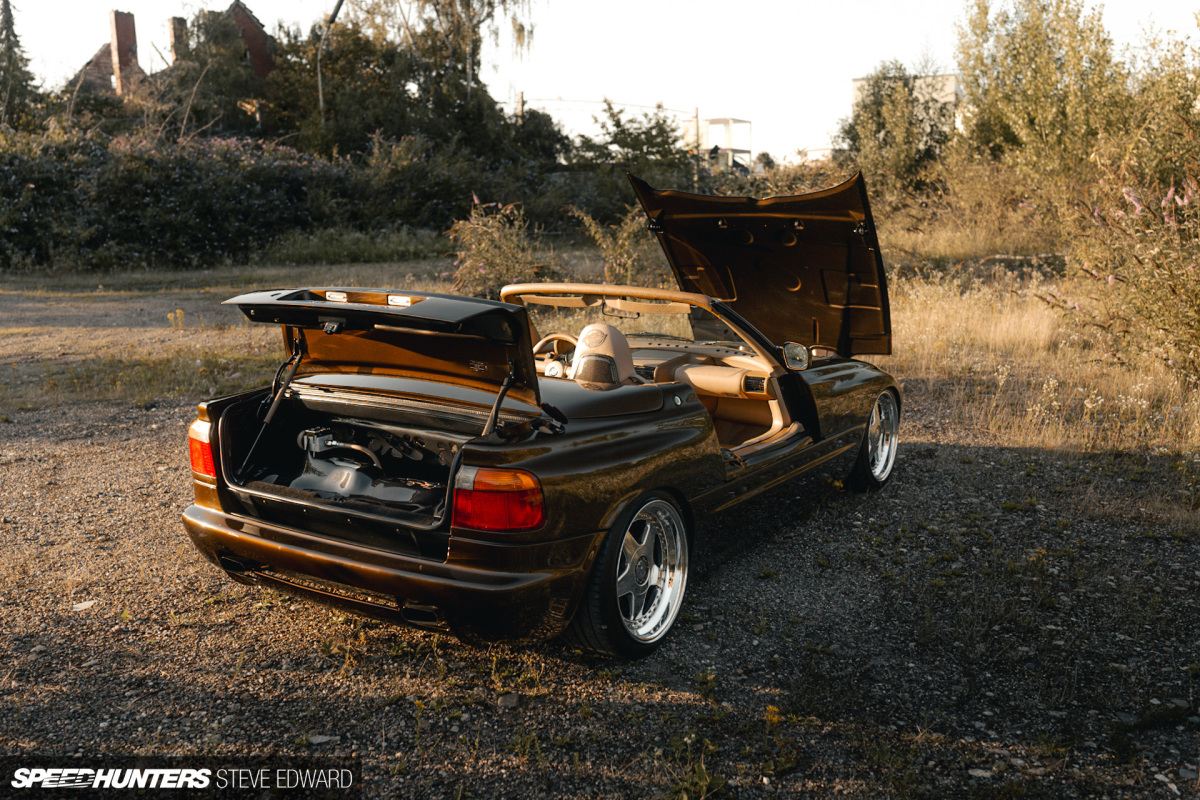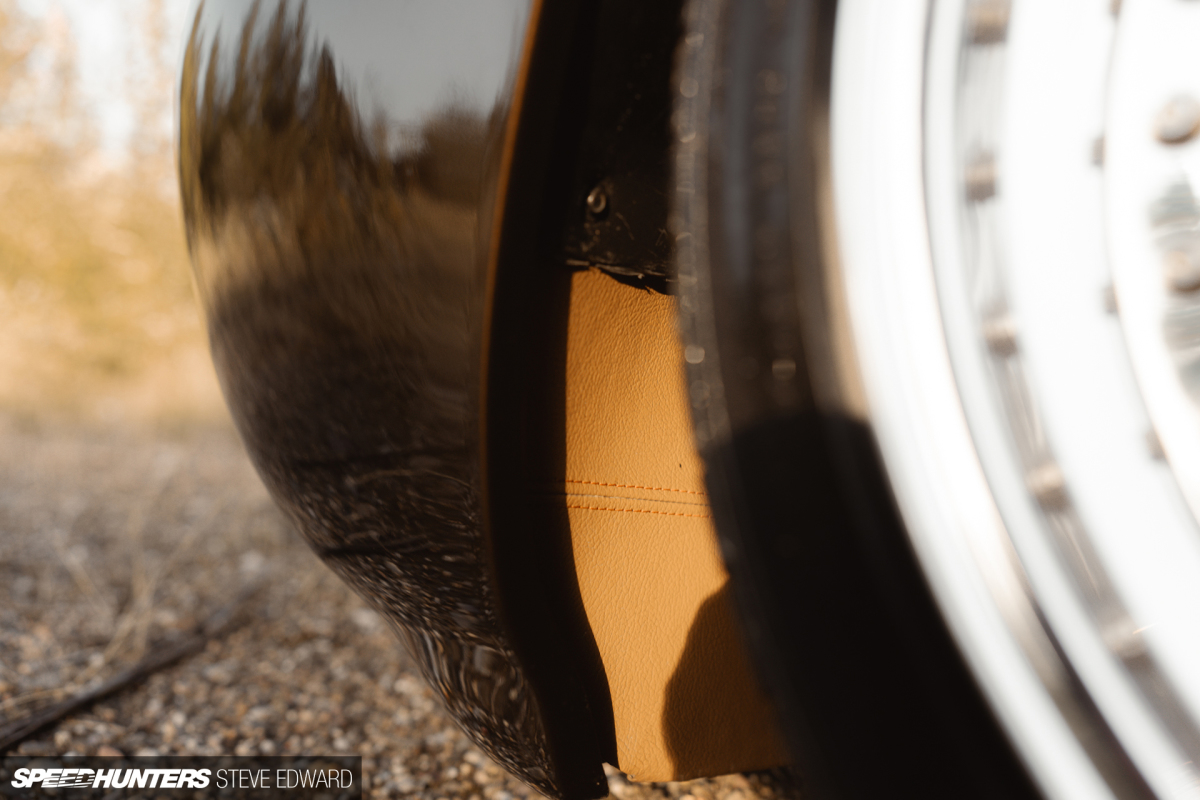 If you thought that was crazy, check out the front fender liners; this is leatherwork you'd never notice unless you looked really closely or direct sunlight revealed it.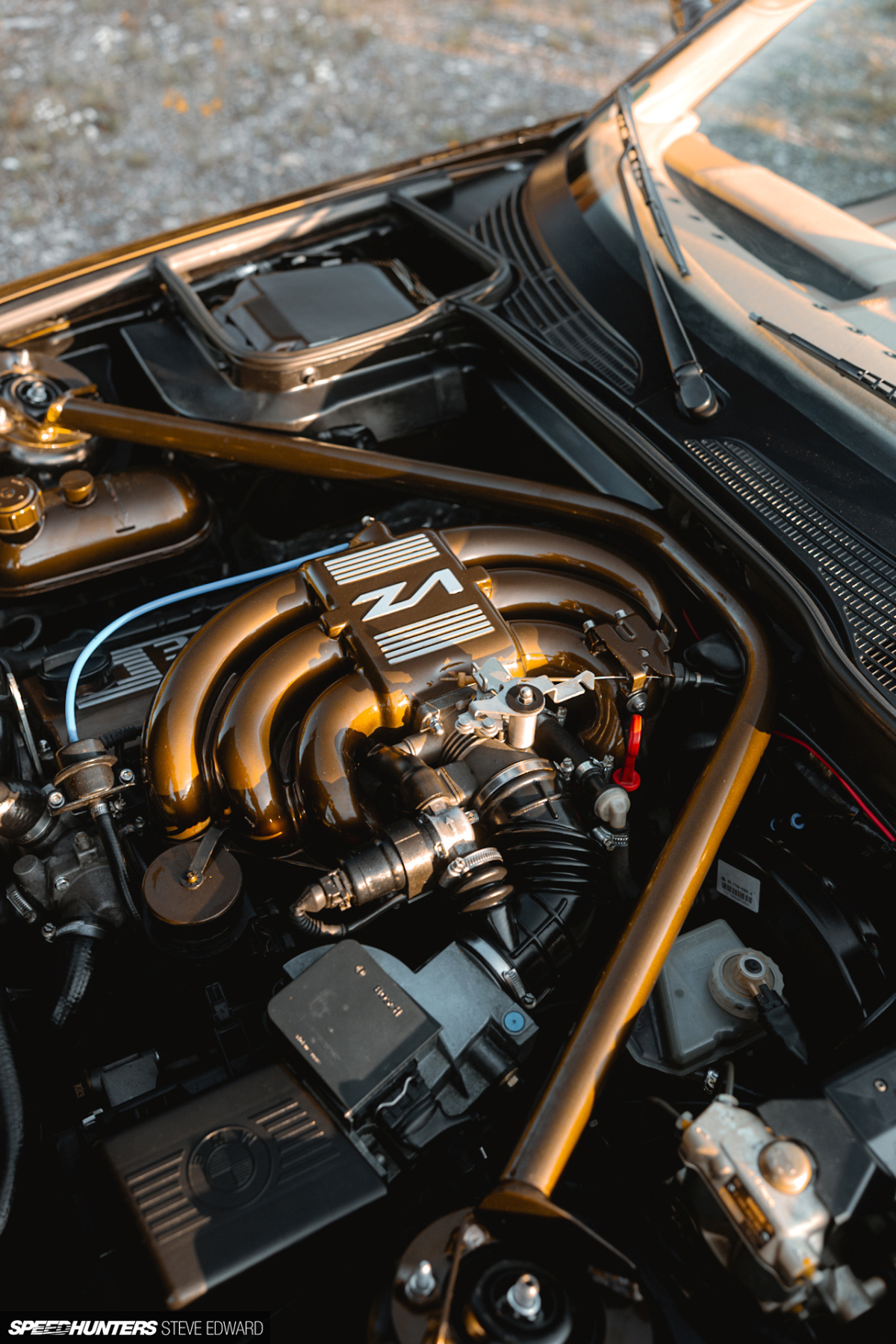 Under the bonnet, the Z1's original 2.5L M20B25 has been pushed out to 2.7L, and with more compression and a tune it now makes a healthy 220 horsepower – plenty for the lightweight (1,100kg/2,425lb) roadster. The exhaust is custom, fabricated by KBR Motorsport, and importantly maintains the original shape of the OEM system, which was designed as a part of the aerodynamics to form a diffuser and improve high-speed stability.
The 'Frank' valve cover came from an engine builder in the UK with the same name, and is one of only 26 ever made.
After an evening spent capturing the Z1's details, Frank mentioned that he had a number of extra Z1 panels lying around his house he could show me. The piece I want to highlight is one of his spare carbon fiber fenders that is only half painted, revealing a small hint of what the Marrakesh Brown paint is hiding.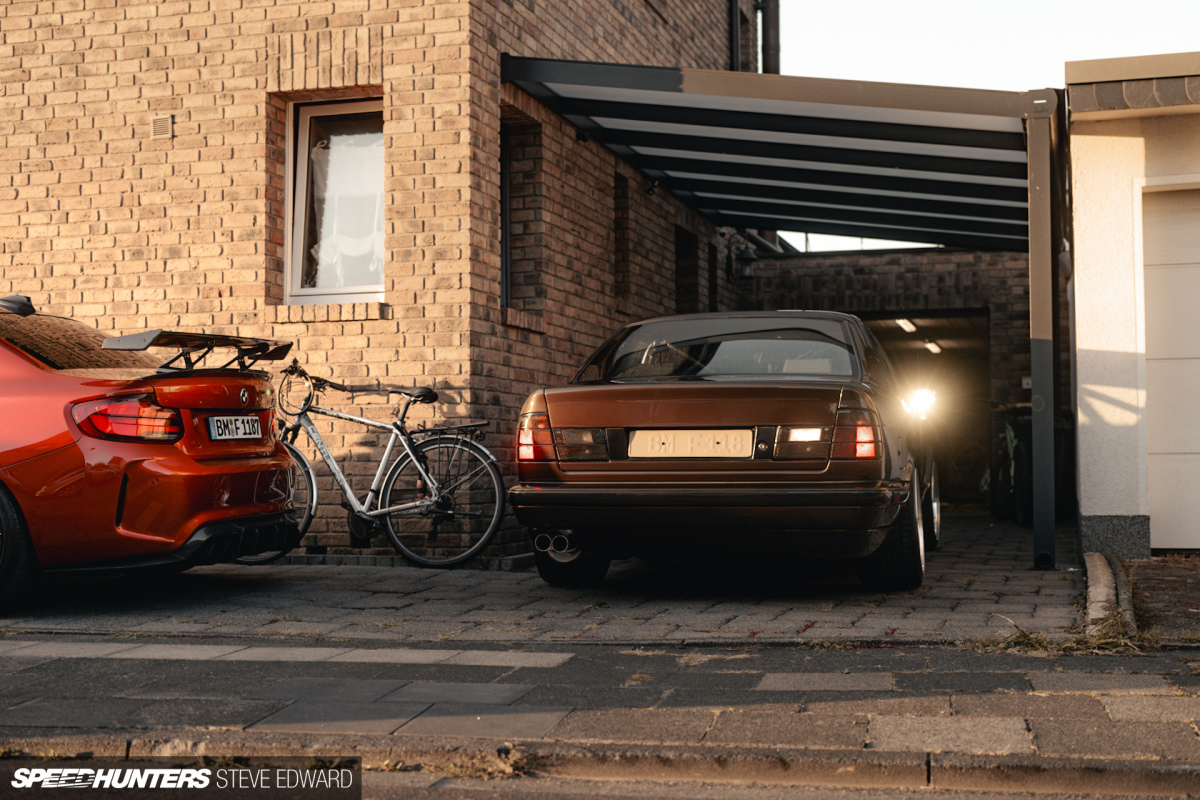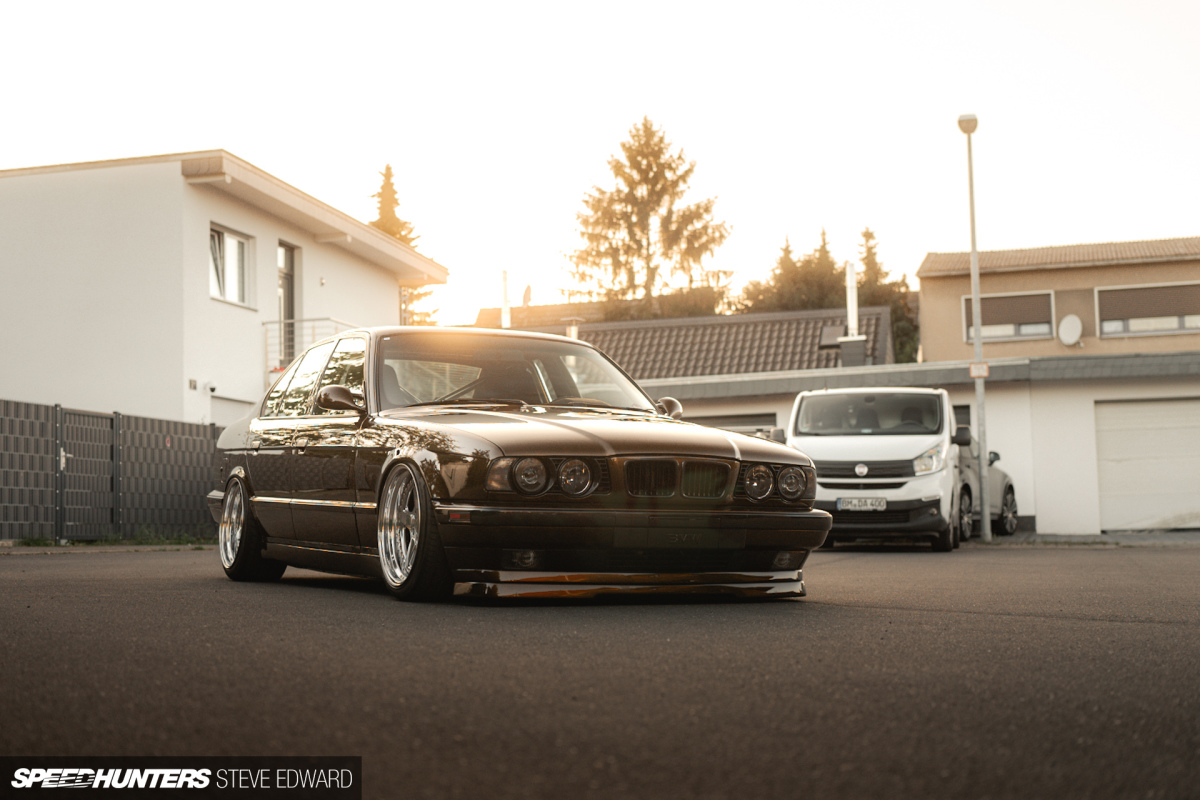 Frank's Marrakesh Brown BMW E34 5-Series is also worth mentioning, as it's received the same level of attention to detail as the Z1. I really love the polished AC Schnitzer wheels that it sits on.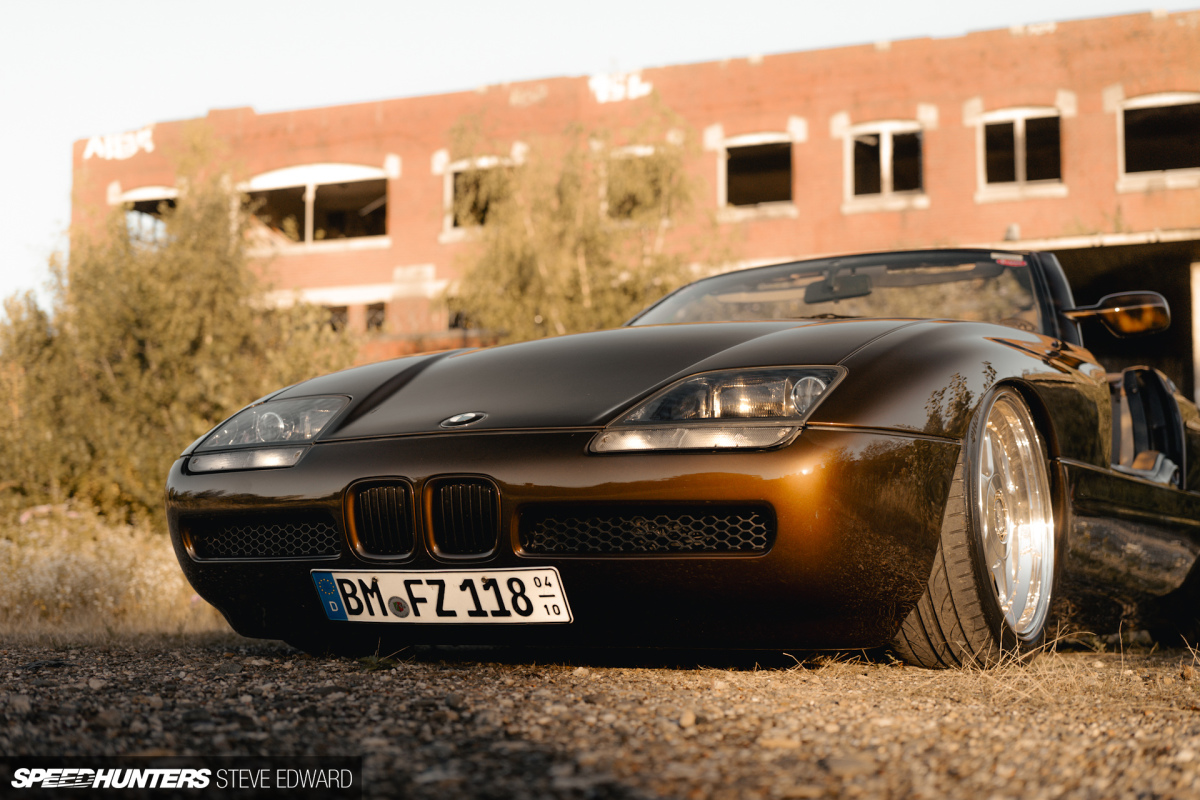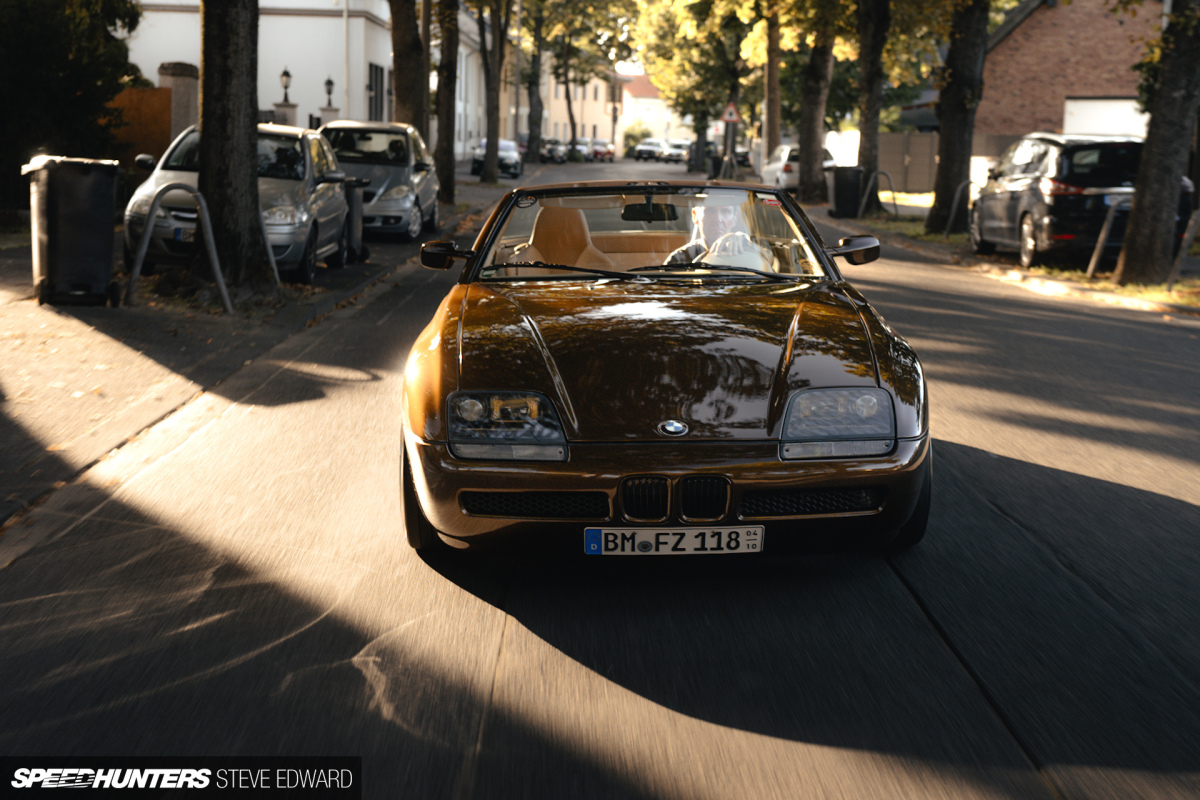 In a time where loud, wide-bodied stance cars dominate tuner shows and social media, Frank's BMW stands out for it understated appeal and immense attention to detail. The Z1 is a special car in its own right, but this is something else.
Steve Edward
Instagram: stevedwrd
IAMTHESPEEDHUNTER related stories on Speedhunters
How To join the IATS program: We have always welcomed readers to contact us with examples of their work and believe that the best Speedhunter is always the person closest to the culture itself, right there on the street or local parking lot. If you think you have what it takes and would like to share your work with us then you should apply to become part of the IAMTHESPEEDHUNTER program. Read how to get involved here.