Which automaker's rotary range-extended EV is once again unlikely for the U.S.?
Can a heated seat belt really boost EV range?
This is our look back at the Week In Reverse—right here at Green Car Reports—for the week ending January 13, 2023.
Only a few days after reporting some disappointing delivery figures, indicating demand was flagging, Tesla dropped prices on all of its models by thousands. The effect was most pronounced on the Model Y, which now qualifies for the $7,500 EV tax credit and is effectively more than $20,000 cheaper than it was yesterday morning. 
Robotic inductive Ram Charger for future Ram EV
Stellantis' Ram brand is planning a range-extended electric truck, not a plug-in hybrid, the company confirmed last week with the rollout of a concept version of a battery electric Ram EV. Stellantis CEO Carlos Tavares also confirmed that the company is considering hydrogen fuel-cell tech for heavy-duty pickups and vans in North America. Tavares told Green Car Reports that the range-extended Ram EV is part of a need to "run faster than regulations."
We also took a closer look at the Ram EV inductive charging robot shown last week at CES with the introduction of the electric truck concept. The Ram Charger, which was confirmed to be production-bound but still under development, could make things easier for owners with multiple EVs in the garage.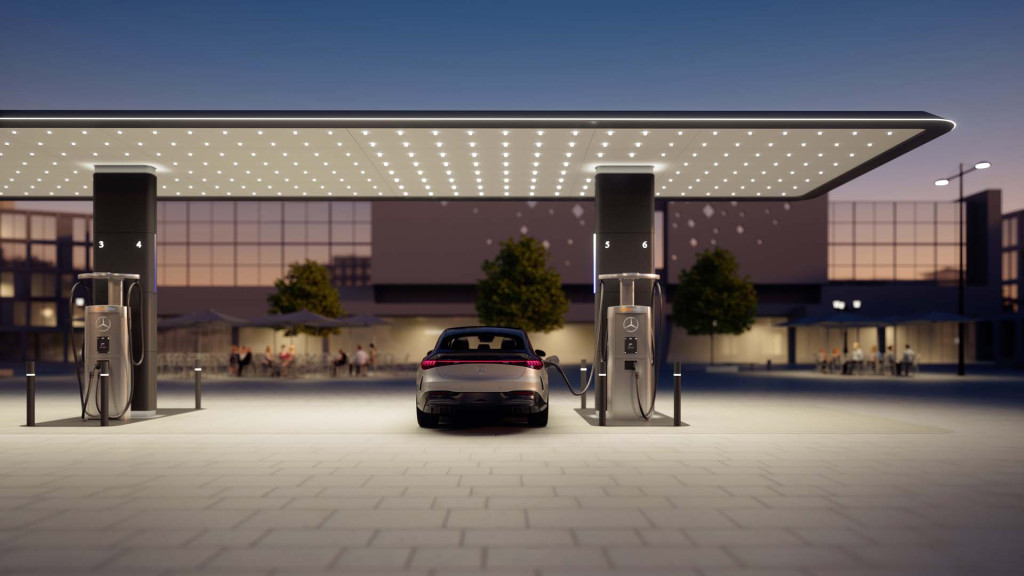 Mercedes-Benz EV charging network
Mercedes-Benz aims to have its own EV charging network in place by the end of the decade, with the initial focus on North America. It's aiming to have 400 American sites, with 2,500 350-kw connectors in place by 2027—mostly along highways and close to amenities and Mercedes dealerships. And in what might be another sign that EVs are entering the mainstream, Mercedes-Benz is reportedly set to abandon its EQ badging for EVs starting in less than two years. No word yet on whether this means it also plans to wind down the EQ sub-brand, which was originally tasked with a broad vision wrapping EVs into mobility, charging, and more.
Mercedes-Benz Vision EQXX 1008-km run
Lightyear has opened the waitlist for its $40,000 Lightyear 2 solar car due in 2025, with the U.S. targeted as one of the first markets. The company uses in-wheel motors in its Lightyear 0 and claims it to have the most efficient production EV powertrain. 
Mazda earlier in the week revealed pricing for its MX-30 EV for the 2023 model year, but it's essentially confirmed that the rotary range-extended MX-30 is delayed or canceled for the U.S.—even leading into its announced reveal.
Vietnam's Vinfast at CES revealed some initial specs for its smaller VF 6 and VF 7 models, due for reservations in March. It also confirmed that it delivered its first U.S.-bound VF 8 electric SUVs to customers. 
Hyundai Ioniq 5 with e-corner modules
Also last week at CES, Hyundai's Mobis mobility-tech division showed the next step for its e-corner hardware set—allowing the Hyundai Ioniq 5 to crab-walk, pivot, or turn on a dime. Although seeing it in the Ioniq 5 is eye-opening, for now the company claims it's for a future purpose-built mobility services vehicle.
The supplier ZF announced a heated seat belt. Why now? It's perfected a textile process to make at volume, and it's about the same cost as heated seats or a heated steering wheel. The timing is also right for EVs, which could regain up to 15% of driving range by cutting the load on cabin heat. 
ZF Heat Belt – heated seat belt for EVs
Goodyear has shown a fuel-saving tire made of 90% sustainable materials. The low-rolling-resistance rubber can save gas or boost EV range, and it uses 12 different tire components that are either sustainably sourced or go light on environmental impact.
Thanks to an agreement with the battery supplier CATL, the Chinese startup Neta Auto might build the world-first use of cell-to-chassis tech in an EV—something Tesla teased at its Battery Day in 2020 but hasn't yet delivered.
Keeping up with anticipated U.S. EV adoption will require eight times the chargers by 2030, according to a new S&P Global Mobility study. Even accounting for home charging, we'll need to quadruple public charging from 2022 to 2025. 
GM and Ford are among the companies that have signed on to a pilot project aiming to use large pools of EVs as virtual power plants to help smooth the grid, reducing the need for the use of so-called "peaker" power plants that often dramatically add to pollution issues. 
2023 Ford F-150 Lightning
And sometimes the outlook can sound quite different with a different look at the same data. According to the U.S. Department of Energy, EV battery costs did keep falling in 2022—by looking at 2022-constant dollars (inflation included) and basing it on usable energy in battery packs. 
_______________________________________