On-chain data shows the Litecoin "mega whales" now hold around 15.4% of the total supply, the highest value in more than five years.
Litecoin Addresses With 1 Million Or More LTC Now Hold Highest Supply Share Since June 2017
According to data from analytics firm Santiment, LTC's mega whales have been busy accumulating during the last five weeks. The indicator of interest here is the "LTC Supply Distribution," which tells us which wallet groups are carrying what percentage of the total Litecoin supply right now.
The wallet groups or bands define a range between which the balances of wallets falling into any particular band lie. For example, the 1-10 coins group includes all wallets currently holding between 1 and 10 tokens. The Supply Distribution data for this group then measures the total percentage of the LTC supply that wallets that are a part of this cohort are holding as a whole at the moment.
In the current discussion, the wallet group of interest is the 1 million to 10 million coins band. The lower end of this range (1 million LTC) at the latest exchange rate converts to around $78.2 million. The whales would be the only investors with wallet balances so massive (and would thus fall into the band).
And these aren't just the ordinary whales, but the mega ones, as $78.2 million is only the starting cutoff, the higher end of the range is at $782 million. Here is a chart that shows the trend in the Supply Distribution curve for this wallet group during the last few years:
Looks like the value of the metric has seen some rapid growth in recent days | Source: Santiment on Twitter
As shown in the above graph, the percentage of the Litecoin supply held by the 1m-10m coins group has observed a sharp uptrend in the last few weeks. This means that the mega whales have been accumulating more and increasing their reserves during this period.
This cohort has added 2.95 million LTC to their holdings in the last five weeks, currently worth about $231 million. After this increase, these mega whales now hold 15.4% of the total circulating LTC supply, the highest level since June 2017, more than five years ago. Such rapid accumulation from these humongous holders suggests that they are bullish on the prospects of the crypto right now, a sign that could prove to be bullish for the price of LTC in the long term.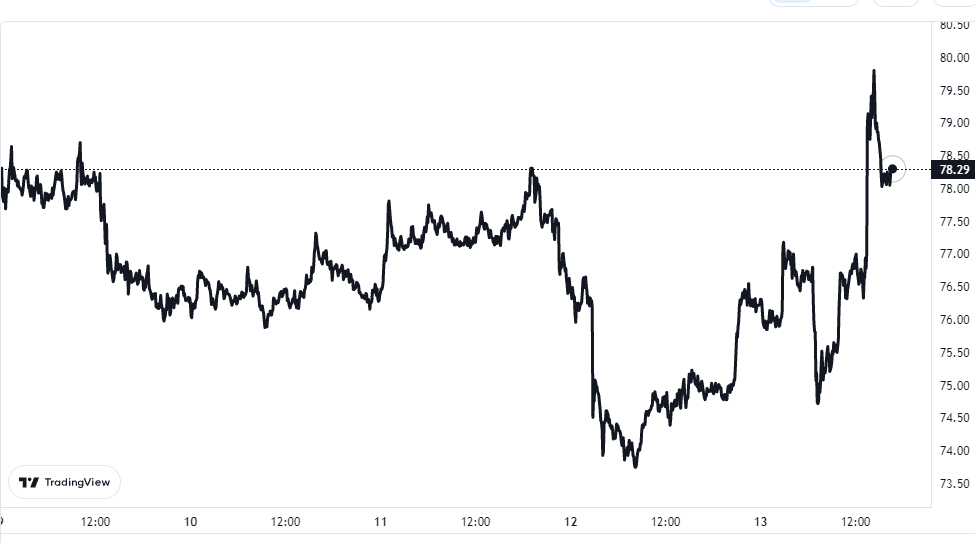 LTC seems to have shot up during the past day | Source: LTCUSD on TradingView
At the time of writing, Litecoin's price floats around $78.3, up 5% in the last week.