Novak Djokovic wins 6th Wimbledon, secures his 20th Grand Slam title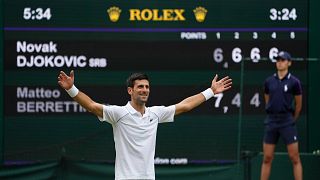 Serbia's Novak Djokovic celebrates his victory over Italy's Matteo Berrettini in the men's singles final at Wimbledon, London, July 11, 2021.

  –  
Copyright 
AP Photo/Alberto Pezzali
Novak Djokovic beat Matteo Berrettini on Sunday to secure his sixth Wimbledon trophy and equalised the record for Grand Slam titles.
After conceding the first set 6-7, Djokovic, 34, rallied to win the following three 6-4, 6-4, 6-3.
This new victory — his sixth Wimbledon trophy — is his 20th Grand Slam title, putting him tied for first on the all-time list with Roger Federer and Rafael Nadal.
This was Djokovic's 30th major final — among men, only Federer has played more, 31 — while Italy's Berrettini, 25, was playing in his first.
Berrettini came in with a tournament-high 101 aces and that's where his game is built: free points off the serve and quick-strike forehands that earned him the nickname "Hammer."
Faced with the Italian's formidable serve and forehand, the world's best returner pounded the backhand and played less consistent balls on the Roman's forehand, provoking a remarkable number of unforced errors with these changes of pace (a total of 47 for Berrettini, 21 for Djokovic).
Berrettini also made a number of unforced errors, perhaps due to nervousness. He managed to save two match points on his serve at 5-3, but lost the match with a last ball into the net.
Djokovic has won nine Australian Opens, two French Opens, six Wimbledons and three US Opens.
He has so far won the first three majors of the year, putting him on course for the Grand Slam if he wins the US Open in September, or even the Golden Slam, which consists of winning all four major tournaments and the Olympic gold medal in the same year.
Only Steffi Graf achieved this feat in 1988.
Today at the Olympics: Russia's women triumph over U.S. after Biles exit
By Euronews with AP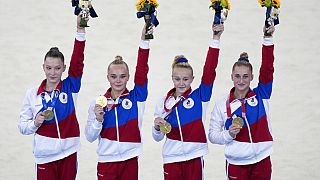 Russian Olympic Committee's artistic gymnastics women's team, from right, Liliia Akhaimova, Viktoriia Listunova, Angelina Melnikova and Vladislava Urazova celebrate.

  –  
Copyright 
Natacha Pisarenko/AP
Russia's gymnasts took gold in Tokyo on Tuesday in one of the biggest upsets of the Olympics so far.
Barred at the Olympics from using its name, flag, or anthem over a systemic doping scandal, the team hung their medals around each other's necks to the music of Russian composer Tchaikovsky.
Although the Russian team's triumph was attributed to the departure of U.S. gymnastics superstar Simone Biles – who withdrew from the tournament, citing a 'medical issue' – they won by 3.5 points, a large margin.
Here are today's results:
Women's triathlon
The first gold medal of the day went to Flora Duffy of Bermuda who won the women's triathlon.
It's the first-ever Olympic gold medal for the small island of about 64,000 inhabitants and the first medal of any kind since 1976.
The 33-year-old Duffy had never finished higher than eighth in her previous three Olympic triathlons.
Great Britain's Georgia Taylor-Brown won the silver medal and American Katie Zaferes won bronze.
Swimming
Great Britain pulled a one-two in the men's 200m freestyle with Tom Dean capturing gold and teammate Duncan Scott taking silver.
Australia got its third gold medal of the Tokyo Olympics when Kaylee McKeown swam to victory in the women's 100m backstroke.
Athletes from Russia ended the US hegemony in the men's 100m backstroke with Evgeny Rylov taking gold and Kliment Kolesnikov claiming silver. American Ryan Murphy settled for the bronze. It was the first backstroke defeat for the U.S. men at the Olympics since the 1992 Barcelona Games. They won 12 straight golds at the last six Olympics.
But Lydia Jacoby, 17, quickly rallied for Team USA by taking gold in the women's 100m breaststroke event.
Shooting
China's Pang Wei and Jiang Ranxin defeated the Russian Olympic Committee's Artem Chernousov and Vitalina Batsarashkina to take gold in the 10m air pistol mixed team.
Ukrainians Oleh Omelchuk and Olena Kostevych beat Serbia's Zorana Arunovic and Damir Mikec in the bronze medal match.
Surfing
Brazil's Italo Ferreira became the first-ever surfer to win an Olympic gold medal after beating Japan's Kanoa Igarashi in the men's final.
Australia's Owen Wright is going home with the bronze medal after defeating top-ranked Gabriel Medina from Brazil.
On the women's side, Carissa Moore, 28, won gold for Team USA
Moore is a child prodigy from Hawaii who grew up to be the youngest world champion surfer. She beat Bianca Buitendag of South Africa, who won silver. Japan's Amuro Tsuzuki took home bronze after handily winning her heat against American Caroline Marks.
Diving
China's Chen Yuxi and Zhang Jiaqi have won the gold medal in the women's 10m synchronised event.
Jessica Parratto and Delaney Schnell of the U.S. took silver while Gabriela Agundez Garcia and Alejandra Orozco Loza of Mexico earned bronze.
Women's mountain biking
Swiss athletes dominated the tough course, the hardest yet of any Olympics with a vertical height difference of 150m, to claim every step of the podium.
Gold goes to Jolanda Neff, with silver and bronze going to Sina Frei and Linda Indergand respectively.
Women's K1 canoeing
Germany's Ricarda Funk takes home the gold medal. Fellow European Maialen Chourraut, from Spain, is the silver medalist. Australia's Jess Fox, the event's favourite, won the bronze.
Chanel suit finds new fans in Gen Z channelling 90s nostalgia
The Chanel suit, an outfit typically associated with ladies who lunch, has an unlikely new set of fans – Generation Z.
This month Olivia Rodrigo, the 18-year-old singer of hits including Driver's Licence and Good 4 U, chose a pink and black vintage version for a visit to the White House to meet the US president, Joe Biden. Global fashion search platform Lyst said that following the appearance, searches for vintage Chanel rose by 200%.
Chanel suits have also been worn by Simone Biles on the cover of WSJ magazine, and by the cast in the Gossip Girl reboot. Jennie from the band Blackpink, meanwhile, wears the luxury label so much that she is sometimes called "Human Chanel" by fans.
Rodrigo's choice was a nod to First Lady style – its most famous wearer being Jackie Kennedy Onassis in the 60s – but the 90s are the focus of this revival. The singer's suit is from Chanel's spring/summer 1995 collection.
The references being made by the suit's new Gen Z fans are more likely to be a young Helena Christensen on the catwalk in a Chanel suit and bikini top, Hilary Banks in The Fresh Prince of Bel-Air, or Cher Horowitz from the 1995 film Clueless. Instagram account @chanel_archives is a popular source for Chanel catwalk images from this era, whose high-profile followers include Ariana Grande and Tavi Gevinson.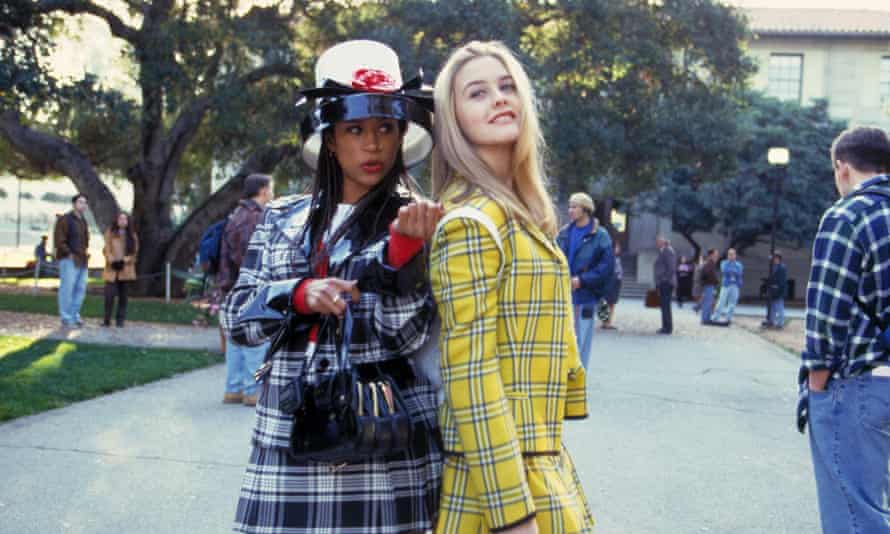 Chanel is, of course, a luxury brand and therefore expensive. Vintage suits on sites like Farfetch have prices starting at about £2,000. Those without rock-star budgets get the look with Chanel-like pieces on Depop, the resale app that Rodrigo uses herself, for as little as £25.
Depop's global curation lead, Viviana Attard, who studies trends for the company, pinpoints the style as part of the rise of preppy look. "[Rodrigo] visually expressed a vibe that's been gaining more traction lately – we've seen an increase in interest in listings and searches for the typical preppy look, recently brought back into fashion with the Gossip Girl reboot."
Lyst's content editor, Morgane Le Caer, argues that the different associations of the Chanel suit – the fact that it can signal preppy, first ladies, the 90s and the 60s – is a concept that appeals. "Gen Z style is … about creating a very personal world – or mood – through the juxtaposition of visual elements," she says.
Ryan McMahon, who runs @chanel_archives, says he particularly likes the "kitsch" collections that Karl Lagerfeld produced for Chanel between 1990 and 1997.
"I think we're in a generation of nostalgia, and everyone seems to be obsessed with looking back in fashion and remembering a time when fashion wasn't so serious. Chanel in the 90s is a perfect example of this," he says.
"Hopefully from my account people are discovering ways to style the Chanel suit in a fun and fresh way that can be youthful, which a skirt suit isn't always assumed to be."
Both Le Caer and Attard argue that the sustainability factor of vintage is important – and Rodrigo represents her generation here too. "[She] is a huge secondhand and vintage fan and makes environmentally conscious decisions with her fashion choices," says Attard. "It's no surprise she chose to wear vintage for such a high-profile and momentous occasion like visiting the White House."
Brows beaten: 10 of the best brow gels
Some people are blessed with naturally full, exquisitely shaped brows, the kind of luscious gift that keeps on giving – . If that's you, come back next week. Everyone else, keep reading. Brows frame your face, but getting the right size, shape, colour and density demands skill. Too thin or thick, wrong shade or shape, and your face looks off kilter. Thankfully there is help. Professional threading is great for keeping brows tidy. If they are sparse, a brow tint will provide an illusion of fullness. Alas, it doesn't last very long. For longevity, head to Daxita Vaghela, aka "The Lash Queen" who now also does microblading – the tattooing technique that adds hair strokes to your brow. It has a realistic finish and lasts up to 18 months. If you don't fancy anything permanent (or have a low pain threshold) stick to products. Many swear by brow pencils, they are great for filling in gaps and creating sharp outlines, but for a natural finish, you need a steady hand and a light touch. An easier option for great volume and density is a brow gel. You simply brush the product on to your brows and you're done. For a full but natural and glossy look, try the clear variation. For a bolder brow, try colour – the Anastasia Beverly Hills range is excellent. Brow gels are fail safe. Just don't waste time trying to make them look identical. Remember, brows are siblings, not twins.
1. Hourglass Arch Brow Volumising Fibre Gel £27, spacenk.com
2. Benefit Gimme Brow + Volumising Eyebrow Gel £22.50, benefitcosmetics.com
3. Anastasia Beverly Hills Tinted Brow Gel £23, cultbeauty.co.uk
4. L'Oréal Paris Unbelievabrow Long Wear Top Coat £10.99, boots.com
5. Chantecaille Full Brow Perfecting Gel £34, libertylondon.com
6. Too Faced Brow Wig £18, toofaced.co.uk
7. Charlotte Tilbury Brow Fix Sculpting Gel £19, charlottetilbury.com
8. BareMinerals Strength & Length Serum-Infused Brow Gel £18, bareminerals.co.uk
9. UOMA Beauty Brow Fro Volumising Brow Gel £23.50, beautybay.com
10. Kevyn Aucoin True Feather Brow Gel £22, lookfantastic.com
Follow Funmi on Twitter @FunmiFetto