Police say officer who shot and killed unarmed Daunte Wright intended to fire Taser
Police in a Minneapolis suburb said an officer accidentally shot and killed a 20-year-old Black man on Sunday afternoon during a traffic stop, releasing graphic body-camera footage they say shows the officer intended to use a Taser not a handgun during the death of unarmed Daunte Wright.
The incident plunged the suburb of Brooklyn Center into a night of unrest as Minneapolis remains on edge during the murder trial of former officer Derek Chauvin over the death of George Floyd. Hundreds of protesters clashed with police in riot gear who deployed teargas and flash bangs to disperse the crowds.
At a press conference inside Brooklyn Center police headquarters, surrounded by riot police and national guard troops, the police chief, Tim Gannon, described the shooting as "an accidental discharge" and confirmed no weapon had been recovered from Wright's vehicle.
The county medical examiner has ruled the death a homicide.
The mayor of Brooklyn Center, Mike Elliott, said he had spoken to Joe Biden, who offered assistance.
"I want to say that our hearts are aching right now," Elliott told reporters. "We are in pain right now. And we recognise that this couldn't have happened at a worse time.
"We will get to the bottom of this. We will do all that is in our power to make sure that justice is done for Daunte Wright."
Elliott also said he supported firing the officer involved, who was later identified as Kim Potter, a 26-year veteran of the Brooklyn Center police department.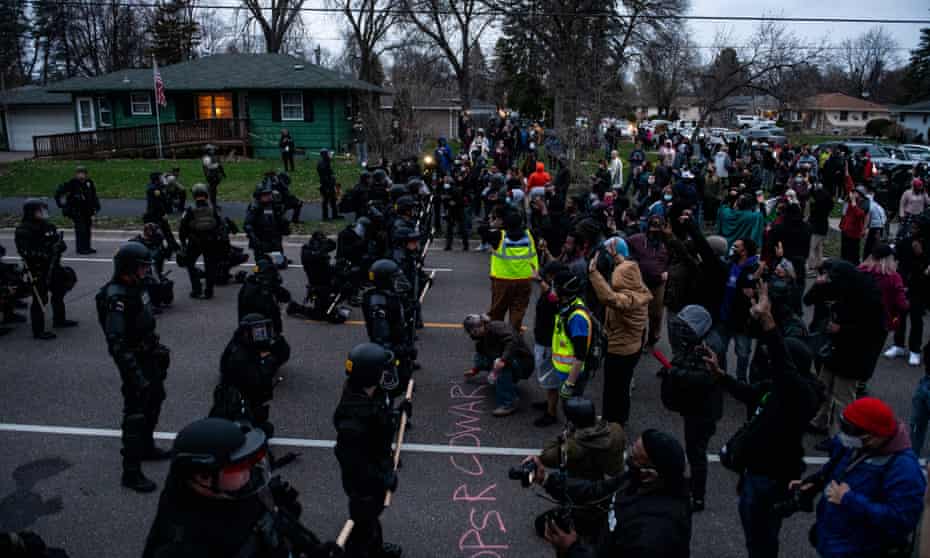 Protesters returned to the streets again on Monday evening, despite a 7pm curfew imposed by the governor of Minnesota. Hundreds of people gathered in the cold and rainy weather outside the Brooklyn Center police department, which was ringed by a metal fence, concrete barriers and police dressed in riot gear. Police later deployed flashbangs, teargas and smoke to disperse the crowd.
Earlier in the day, mourners and outraged community members had made their way to the site where Wright was killed. On a grey, damp morning, Ben Witz and his sister came to the site to lay balloons.
"This is more difficult because there was another, there was another unarmed shooting," Witz said, explaining that family members lived in the area and that the community was still traumatized from Floyd's killing and the unrest that followed.
"It seems like it's a common occurrence now with the police," Witz said. "It's crazy what's happening. It really is."
According to Brooklyn Center police, the incident occurred shortly before 2pm, when an officer pulled over a vehicle due to an alleged traffic violation.
The body-camera footage showed Wright being apprehended by two officers, when a third female officer approaches the scene. A struggle ensues and Wright gets back into his vehicle, at which point the female officer opens fire.
"Holy shit. I just shot him," the officer is heard saying.
As the body-camera footage was released, a small group of activists in the police headquarters waiting area demanded the officer, who has not been identified, be fired immediately.
"Seeing the video just confirms what we already knew," said Toshira Garraway, the founder of Families Supporting Families Against Police Violence. "It's just killing after killing after killing."
She added: "They will always say, 'I was afraid, or it was an accident.' But the fact of the matter is: this was a murder. If she is not fired, this is only going to escalate."
Wright's mother, Katie Wright, told reporters she was on the phone with her son as the encounter occurred. According to her account, reported by local TV news, her son called as he was being pulled over and asked about insurance for the vehicle, which she had recently given him.
She said she heard officers instruct her son to get out of the car and then "scuffling" shortly before the phone hung up.
"A minute later, I called and his girlfriend answered, who was the passenger in the car, and said that he'd been shot and she put it on the driver's side, and my son was laying there lifeless," she said.
Police said officers determined the driver had an outstanding warrant.
Heavily armored national guard troops worked to barricade the police station on Monday morning, as fewer than a dozen protesters faced the building across a road.
Two national guard Humvees, guardsmen carrying long guns and dozens of officers in riot gear were outside the station as police installed concrete blocks. A couple of members of the Original Black Panthers of Minneapolis group chatted with state troopers.
Witz, 40, a liquor store employee, said he was concerned the business would be vandalized if protests over Wright's killing led to major unrest.
"It was like a war zone," Witz said of the unrest that followed Floyd's death. "And now we're seeing it here and, I mean, why do we have to vandalize, I mean, I, as a white person I don't get it, but I want to be educated."
On Sunday evening, hundreds of protesters marched to the police station and were met by officers in riot gear who discharged teargas, flash-bangs and other munitions. Crowds had largely dispersed by midnight.
The Minnesota department of public safety commissioner, John Harrington, said around 20 businesses at the Shingle Creek shopping center were broken into. The mayor, Elliott, urged protesters "to be peaceful and that peaceful protesters are not dealt with force".
Brooklyn Center is a suburb in north-west Minneapolis with a population of about 30,000. Tensions are high as the murder trial of Chauvin entered its third week.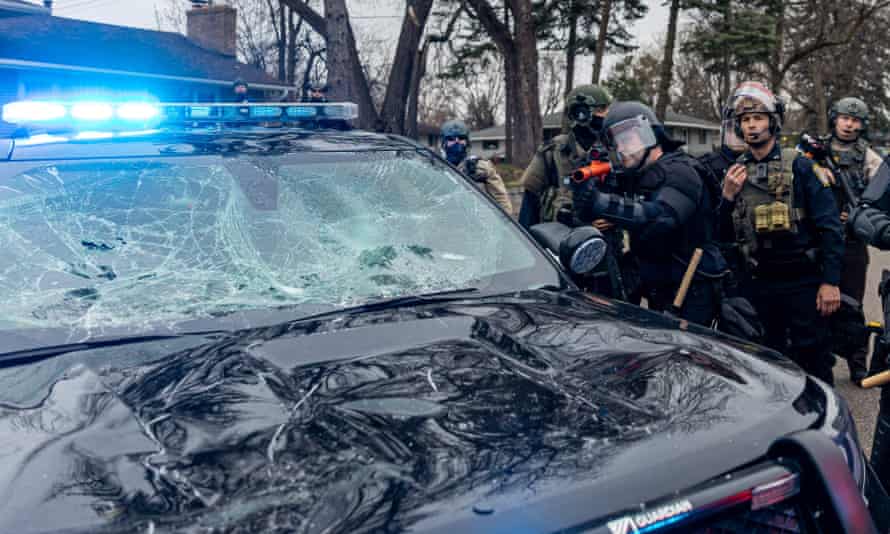 Amid drizzle and grey skies on Monday, protesters such as Bethany Hemrich came to pay her respects near the site where Wright had been shot dead less than 24 hours before.
"As a mother of a Black child, I couldn't even fathom," Hemrich, who is white, said. "My son is 10, and I brought him to [the] George Floyd memorial and had to explain racism to him."
As her voice broke, she continued: "They didn't have to kill him. I feel like if it was a white person, they wouldn't have shot him."
Quinn Redeemed, 46, spoke of the tension in the area around police-involved deaths of Black people.
Redeemed said: "This just added gasoline to the fire. We're tired and fired up. The world needs to really see what's going on. And now, the world is watching Minnesota."
Bill seeks to make Louisiana 'fossil fuel sanctuary' in bid against Biden's climate plans
Just south of Oil City, where Louisiana representative Danny McCormick is from, is the predominantly Black city of Shreveport. Residents there breathe some of the most toxic air in the country. Oil refineries owned by UOP and Calumet contribute to the town's toxic emissions, according to the EPA's Toxic Release Inventory.
But McCormick, a Republican, introduced a bill at the Louisiana capitol last week that would protect oil companies and not residents in his district who have to breathe in that air. The bill would establish Louisiana as a "fossil fuel sanctuary state" and ban local and state employees from enforcing federal laws and regulations that negatively impact petrochemical companies.
The idea for the bill, McCormick said, came about after President Joe Biden began putting new restrictions on oil and gas companies, including a pause on new oil and gas leases on federal lands and waters. "Look at what they did to the coal industry," he said at a Louisiana house committee hearing. "We already know what the game plan is. They already picked off coal. Now they're going after oil and gas."
The bill – which is unlikely to move forward in its current state because of legality concerns – is among several bills introduced at the Louisiana legislature this session that would likely reduce regulation of oil and gas companies in the state. Lawmakers say that deregulation is necessary to preserve tax revenues generated by oil and gas companies and to stop further job losses. A separate bill introduced by McCormick would redefine gas pipelines from modes of transportation to facilities, in order to prevent Louisiana state police from fining pipeline companies for failing to immediately report gas leaks.
Louisiana's Democratic governor, John Bel Edwards, has also pushed back on the Biden administration's energy agenda, penning a letter to the president that included petrochemical lobbyists' talking points, according to HuffPost. Documents showed an oil and gas trade group coordinated between top officials in Louisiana and their counterparts in New Mexico – another oil state with a Democratic governor. Although the states are headed by Democrats, they remain obstacles to Biden's climate plans. Texas, which has a Republican governor and legislature is also advancing bills to protect the oil and gas industry from climate efforts.
Nixing environmental requirements would disproportionately hit communities of color. Shreveport, which is 57% Black, is in the 90th to 95th percentile for cancer risk from breathing in air toxics, according to the EPA's National Air Toxics Assessment. In 2013, the EPA fined the Calumet refinery $326,000 for nine air violations, prompting a new fenceline monitoring system.
Shreveport is in north-west Louisiana, almost on the border with Texas. But south-east Louisiana, between Baton Rouge and New Orleans, is also known for its heavy industrial presence and pollution. It has been dubbed "Cancer Alley". Louisiana's US senator Bill Cassidy has bristled at Biden using the term and opposed campaigns from Democrats to revoke permits from a major plastics plant proposed for the corridor.
---
McCormick runs M&M Oil. Before he was a legislator, he was a member of the Louisiana Oil and Gas Association, an industry lobbying group. Last week, when asked by other lawmakers about the constitutionality of the bill, McCormick said he wasn't aware anyone was opposed to the legislation. "I don't know who would have a problem with it, honestly," he said.
But Velma White, 71, who lives in McCormick's district said she's concerned about the proposed legislation. "It's going to hurt the people," she said of McCormick's bill. "I don't think it's right to the people."
White lives a block away from Calumet Shreveport Refining and believes her family's health problems were brought on by air emissions from the facility. White's daughter was diagnosed with renal failure at a young age. White's husband and sisters have also had health issues. "They have literally put me and my family through hell," she said of the refinery. "I know there ought to be somebody who cares about the people's lives."
White and other residents filed a lawsuit against the previous owners of the Calumet refinery, Pennzoil-Quaker State, in 2001. White said she hoped the lawsuit would open a dialogue with the company about buyouts to help residents relocate away from the pollution. "These people can't get out of that community," White said. "They're going to continue to be exposed by what's going on at that refinery. You can't just pull up and run."
In January, White received an offer to settle her 20-year-old claim against the oil companies for $2,500. She's experienced nausea, breathing difficulties and a miscarriage in 1987, according to E&E News.
"That's what they offered me," she said. "I'm just dumbfounded."
White believes that federal regulators should take steps that would force companies to lower emissions. But if McCormick's bill became law the state would not be able to enforce those regulations.
McCormick's bill was tabled because of concerns that the current language could cause the US Environmental Protection Agency to revoke the state's authority to enforce federal rules. But his colleagues still offered their support. The chairman of the Louisiana House Natural Resources and the Environment Committee, Jean-Paul P Coussan (R-Lafayette), said he would work with McCormick to resolve issues with the bill that could give the federal government more power over oil and gas companies in Louisiana.
"You're not going to find a bigger support of oil and gas in his legislature than maybe you and I," Coussan said to McCormick at the committee hearing. "We can tighten this up so all our oil and gas constituents can be proud of the bill. The intent is to help industry not to end up in court just for a headline."
'Big bark but no bite': Obamas mourn former first dog Bo
Former President Barack Obama's dog Bo died on Saturday from cancer, the Obamas said on social media.
News of Bo's passing was shared by Obama and his wife, Michelle, on Instagram, where both expressed sorrow at the passing of a dog the former president described as a "true friend and loyal companion."
"He tolerated all the fuss that came with being in the White House, had a big bark but no bite, loved to jump in the pool in the summer, was unflappable with children, lived for scraps around the dinner table, and had great hair," Barack Obama wrote.
Bo, a Portuguese water dog, was a gift to the Obamas from the late Sen Edward Kennedy, a key supporter of Obama's 2008 presidential campaign who became close to the family. Bo helped Obama keep a promise to daughters Malia and Sasha that they could get a dog after the election.
A companion dog, Sunny, joined the family in August 2013.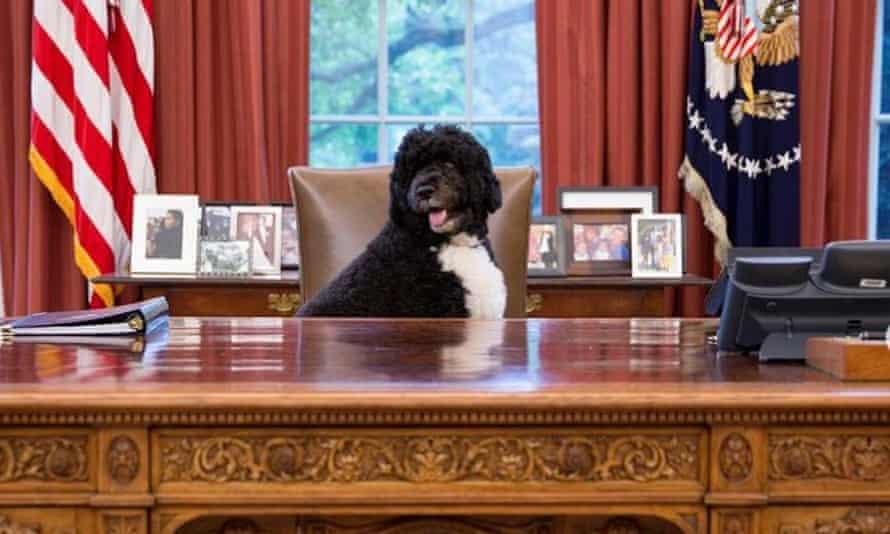 Both were constant presences around the White House and popular among visitors, often joining the Obamas for public events. The dogs entertained crowds at the annual Easter Egg Roll and Bo occasionally joined Michelle Obama to welcome tourists. The dogs also cheered wounded service members, as well as children in hospital the first lady would visit each year at Christmas.
In a post featuring a slideshow of images of Bo – including one of him sitting behind the president's Resolute Desk in the Oval Office – Mrs Obama recounted his years bringing some levity to the White House.
"He was there when Barack and I needed a break, sauntering into one of our offices like he owned the place, a ball clamped firmly in his teeth. He was there when we flew on Air Force One, when tens of thousands flocked to the South Lawn for the Easter Egg Roll, and when the Pope came to visit," she wrote.
Mrs. Obama wrote that she was grateful for the time the family got to spend with him due to the pandemic, and said that over the past year, "no one was happier than Bo."
"All his people were under one roof again," she wrote.
Even in Super Bowl-winning Tampa, the Glazers are far from loved
Not that this will make Manchester United fans feel any better, but the Glazers are barely visible in the Tampa Bay too, even though the family has owned the local NFL team since 1995 and won the Super Bowl three months ago (thanks mostly to Tom Brady and a turbocharged defense).
The family front man, if he can be called that, is Joel Glazer, one of six children of the late Malcolm Glazer. Joel Glazer typically makes himself available to Tampa media just once a year, and although he has a pleasant demeanor, he is hardly expansive on his family's dealings with the club.
Because of the pandemic, Glazer's availability to Tampa reporters this year consisted of a 20-minute Zoom call in March. But even in a typical year, four or five news outlets get 10 minutes each with Glazer, and questions about the family's ownership of Manchester United are out of bounds.
This year, keeping in character, he was bland and vague when lobbed softballs about his favorite moment of the Super Bowl season ("It was just more the whole environment," he said) and about how the roles of the family on the team had changed in recent years. "We all have different areas that we focus on," he replied, "but it's a collective effort, a collective organizational effort. No big changes there." Imagine how ebullient he would have been had the Bucs lost the Super Bowl.
Tampa Bay became an American sports centerpiece in the span of four and a half months, with the Lightning winning the NHL's Stanley Cup last September and the Rays advancing to the World Series in October (and losing to the Dodgers) before the Tom Brady-led Bucs beat Kansas City in Super Bowl LV, the first time a team had won an NFL title in their own stadium.
Someone else besides a Glazer, though, will have to serve as the city's pitchman. Even in Florida, the Glazers' way is to get out of the way, which often does not help them.
"I wouldn't say the Glazers are beloved or hated around there," John Romano, a sports columnist for the Tampa Bay Times, told the Guardian this week. "I think most people are indifferent toward them because, even 25 years later, the Glazers are still a mystery. And that's a shame because they took a franchise that was a complete joke and brought two Super Bowl titles to Tampa Bay."
Supporters of Manchester United, who the Glazers bought in 2005 and immediately saddled with huge debts, don't appear to feel indifferent about the Glazers, judging by the protests over the weekend that led to the postponement of their game against Liverpool. But United fans have never been thrilled about the Glazers' ownership for several reasons: the Glazers are Americans (or, perhaps more accurate, not British) who loaded the club with debt and, just as important, have overseen United's relatively barren Premier League run in recent years from an ocean away.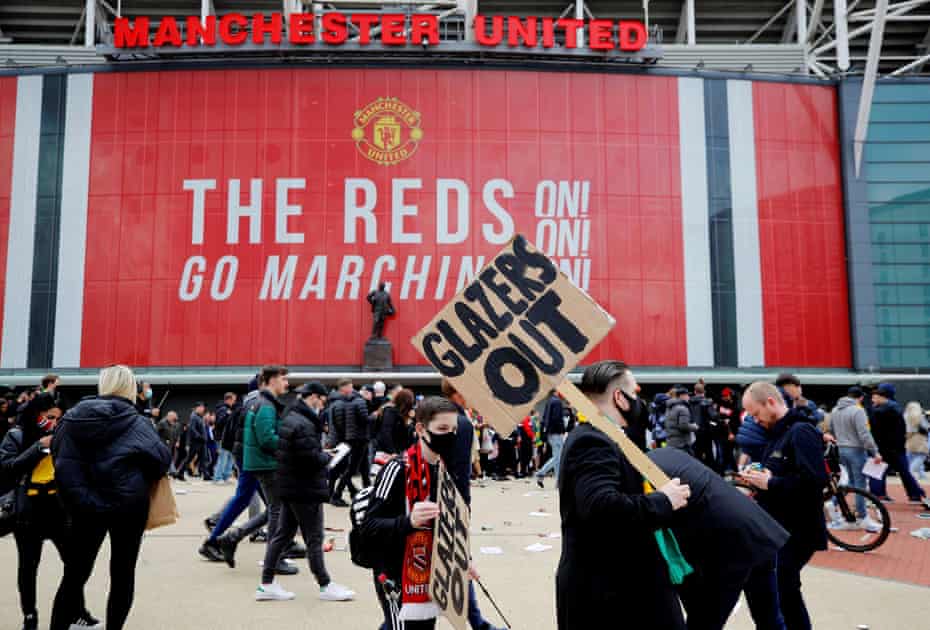 The Tampa Bay and Manchester situations are different. While United have been one of the biggest clubs in the world for decades, prior to the Glazers taking over, the Bucs had 12 straight losing seasons, and Tampa Bay won the Super Bowl in the eighth season of the family's ownership. The Bucs later failed to make the playoffs for 12 straight years, but won it all again last season after adding Brady. Then there is the difference between European sports and leagues in the US, where owners doing something like uprooting a franchise and moving it to a different city is seen as distasteful rather than inconceivable. US fans often dislike owners – witness New York Mets diehards' long running dispute with the now departed Wilpon family – but they rarely erupt into mass protest as they do in Europe.
The European Super League mess, of course, just drove it over the top in Manchester. Public reaction was negative, because the six English clubs involved in the ESL, three of which are owned by Americans and another which has NFL ties, looked greedy. Even worse: they appeared indifferent about how British fans feel a sense of ownership of their local teams (if not literally) and apathetic about the cherished English football pyramid, with promotion and relegation.
The idea was abandoned after two tempestuous days. Joel Glazer tried to appear contrite, opening a letter to United fans on 21 April on the club's website with, "You made very clear your opposition to the European Super League, and we have listened. We got it wrong, and we want to show that we can put things right.
"Although the wounds are raw and I understand that it will take time for the scars to heal, I am personally committed to rebuilding trust with our fans and learning from the message you delivered with such conviction."
The message probably would have been better delivered in person, or even in a video. But supporters' groups were in no mood to forgive Glazer in any case, leading to the chaos at Old Trafford. The fans don't really know the Glazers because they say they have never met, but that is also a perfect reason why they want the Glazers to sell the club.
As Tyrone Marshall wrote this week in the Manchester Evening News: "So much of it comes back not just to the way the Glazers have run the club, but the ignorance they've shown to supporters and the way they've treated them, with contempt."
The same feeling was present in Tampa. Romano wrote a column in the Tampa Bay Times on Wednesday about the Glazers and Manchester United that included the passage: "British fans are not accustomed to owners calling the shots without engaging fans or at least pretending to listen to their suggestions and complaints. Honestly, it's remarkable that the Glazers have spent 15 years there without figuring this out. It speaks to a remarkable level of either cluelessness or arrogance."
The Glazers are still mostly invisible in Tampa Bay, although veteran journalist Ira Kaufman of joebucsfan.com told the Guardian they are active in community projects. As for the running of the team, they are low-key in that area too.
"While the family doesn't interfere with football operations on a daily basis, the Glazers traditionally lead the search for a new head coach," said Kaufman. "They also weigh in on significant decisions like the signing of Tom Brady or improvements to Raymond James Stadium. Joel and Bryan Glazer attend every Bucs game, home and away.
But then Kaufman cut to the bottom line: "Some Bucs fans believe the acquisition of Manchester United diverted some of the family's focus and financial resources from the [Bucs] franchise. That view was reinforced during the club's 12-year playoff drought, but the Super Bowl triumph has silenced Glazer skeptics here, at least for the moment."
If last weekend's scenes are anything to go by, keeping United fans quiet will be a much steeper task.