Louisiana police trooper kicked and dragged Black man who died in custody, records show
A Louisiana state police trooper has been suspended without pay for kicking and dragging a handcuffed Black man whose in-custody death remains unexplained and the subject of a federal civil rights investigation.
Body camera footage shows Kory York dragging Ronald Greene "on his stomach by the leg shackles" following a violent arrest and high-speed pursuit, according to internal state police records obtained by the Associated Press.
The records are the first public acknowledgement by state police that Greene was mistreated. They confirm details provided last year by an attorney for Greene's family who viewed graphic body camera footage of the May 2019 arrest and likened it to the police killing of George Floyd, whose death last year triggered widespread protests and a national reckoning with police brutality and systemic racism.
The video shows troopers choking and beating the man, repeatedly jolting him with stun guns and dragging him face-down across the pavement, the attorney told AP.
State police have repeatedly refused to publicly release the body camera footage. The agency has been tight-lipped about Greene's death and initially blamed the man's fatal injuries on a car crash outside Monroe, Louisiana.
York, who turned his own body camera off on his way to the scene, is seen on other body-cam footage yanking Greene's shackles and repeatedly using profanity toward Greene before he died in custody.
York was suspended without pay for 50 hours following an internal investigation that also led to the termination of another trooper, Chris Hollingsworth, who died in a single-car crash after learning he had been fired over his role in the incident.
The AP last year published a 27-second audio clip from Hollingsworth's body camera in which he can be heard telling a colleague: "I beat the ever-living fuck out of" Greene before he "all of a sudden he just went limp".
"It is now undisputed that Trooper York participated in the brutal assault that took Ronald Greene's life," said Mark Maguire, a Philadelphia civil rights attorney who represents Greene's family. "This suspension is a start but it does not come close to the full transparency and accountability the family continues to seek."
Lamar Davis, who took over as state police superintendent last year, wrote York that his suspension had been decided by his predecessor, Kevin Reeves, adding he "would have imposed more severe discipline" had it been up to him.
York told investigators he turned his own body-worn camera off because it was beeping loudly and that his "mind was on other things" after arriving at the scene.

Police say officer who shot and killed unarmed Daunte Wright intended to fire Taser
Police in a Minneapolis suburb said an officer accidentally shot and killed a 20-year-old Black man on Sunday afternoon during a traffic stop, releasing graphic body-camera footage they say shows the officer intended to use a Taser not a handgun during the death of unarmed Daunte Wright.
The incident plunged the suburb of Brooklyn Center into a night of unrest as Minneapolis remains on edge during the murder trial of former officer Derek Chauvin over the death of George Floyd. Hundreds of protesters clashed with police in riot gear who deployed teargas and flash bangs to disperse the crowds.
At a press conference inside Brooklyn Center police headquarters, surrounded by riot police and national guard troops, the police chief, Tim Gannon, described the shooting as "an accidental discharge" and confirmed no weapon had been recovered from Wright's vehicle.
The county medical examiner has ruled the death a homicide.
The mayor of Brooklyn Center, Mike Elliott, said he had spoken to Joe Biden, who offered assistance.
"I want to say that our hearts are aching right now," Elliott told reporters. "We are in pain right now. And we recognise that this couldn't have happened at a worse time.
"We will get to the bottom of this. We will do all that is in our power to make sure that justice is done for Daunte Wright."
Elliott also said he supported firing the officer involved, who was later identified as Kim Potter, a 26-year veteran of the Brooklyn Center police department.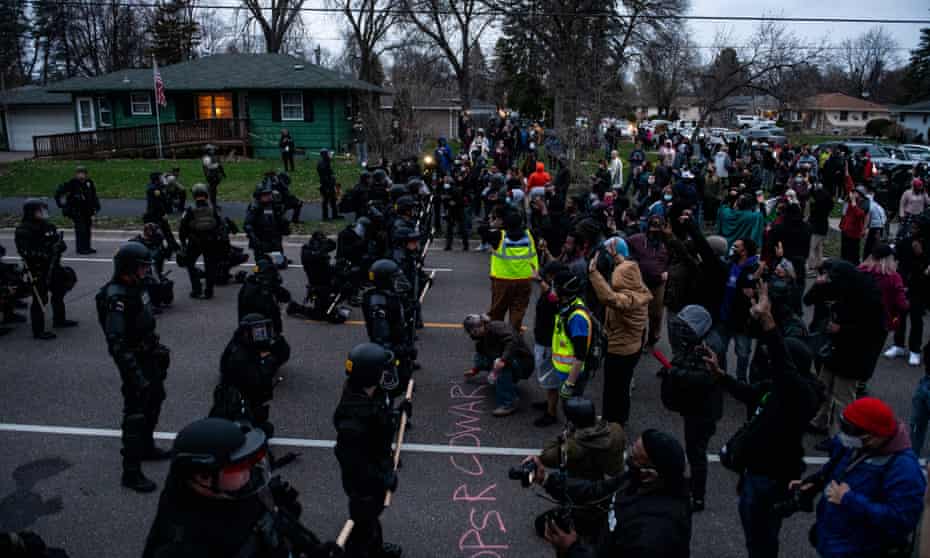 Protesters returned to the streets again on Monday evening, despite a 7pm curfew imposed by the governor of Minnesota. Hundreds of people gathered in the cold and rainy weather outside the Brooklyn Center police department, which was ringed by a metal fence, concrete barriers and police dressed in riot gear. Police later deployed flashbangs, teargas and smoke to disperse the crowd.
Earlier in the day, mourners and outraged community members had made their way to the site where Wright was killed. On a grey, damp morning, Ben Witz and his sister came to the site to lay balloons.
"This is more difficult because there was another, there was another unarmed shooting," Witz said, explaining that family members lived in the area and that the community was still traumatized from Floyd's killing and the unrest that followed.
"It seems like it's a common occurrence now with the police," Witz said. "It's crazy what's happening. It really is."
According to Brooklyn Center police, the incident occurred shortly before 2pm, when an officer pulled over a vehicle due to an alleged traffic violation.
The body-camera footage showed Wright being apprehended by two officers, when a third female officer approaches the scene. A struggle ensues and Wright gets back into his vehicle, at which point the female officer opens fire.
"Holy shit. I just shot him," the officer is heard saying.
As the body-camera footage was released, a small group of activists in the police headquarters waiting area demanded the officer, who has not been identified, be fired immediately.
"Seeing the video just confirms what we already knew," said Toshira Garraway, the founder of Families Supporting Families Against Police Violence. "It's just killing after killing after killing."
She added: "They will always say, 'I was afraid, or it was an accident.' But the fact of the matter is: this was a murder. If she is not fired, this is only going to escalate."
Wright's mother, Katie Wright, told reporters she was on the phone with her son as the encounter occurred. According to her account, reported by local TV news, her son called as he was being pulled over and asked about insurance for the vehicle, which she had recently given him.
She said she heard officers instruct her son to get out of the car and then "scuffling" shortly before the phone hung up.
"A minute later, I called and his girlfriend answered, who was the passenger in the car, and said that he'd been shot and she put it on the driver's side, and my son was laying there lifeless," she said.
Police said officers determined the driver had an outstanding warrant.
Heavily armored national guard troops worked to barricade the police station on Monday morning, as fewer than a dozen protesters faced the building across a road.
Two national guard Humvees, guardsmen carrying long guns and dozens of officers in riot gear were outside the station as police installed concrete blocks. A couple of members of the Original Black Panthers of Minneapolis group chatted with state troopers.
Witz, 40, a liquor store employee, said he was concerned the business would be vandalized if protests over Wright's killing led to major unrest.
"It was like a war zone," Witz said of the unrest that followed Floyd's death. "And now we're seeing it here and, I mean, why do we have to vandalize, I mean, I, as a white person I don't get it, but I want to be educated."
On Sunday evening, hundreds of protesters marched to the police station and were met by officers in riot gear who discharged teargas, flash-bangs and other munitions. Crowds had largely dispersed by midnight.
The Minnesota department of public safety commissioner, John Harrington, said around 20 businesses at the Shingle Creek shopping center were broken into. The mayor, Elliott, urged protesters "to be peaceful and that peaceful protesters are not dealt with force".
Brooklyn Center is a suburb in north-west Minneapolis with a population of about 30,000. Tensions are high as the murder trial of Chauvin entered its third week.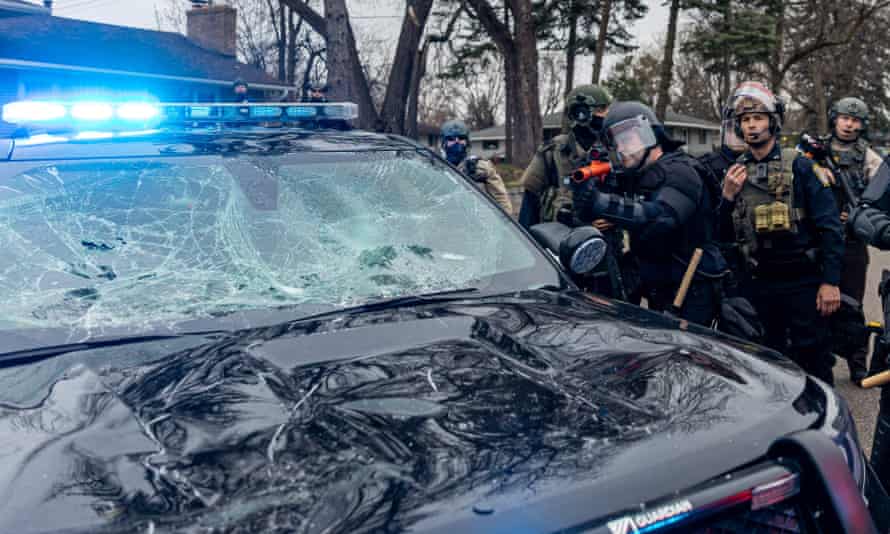 Amid drizzle and grey skies on Monday, protesters such as Bethany Hemrich came to pay her respects near the site where Wright had been shot dead less than 24 hours before.
"As a mother of a Black child, I couldn't even fathom," Hemrich, who is white, said. "My son is 10, and I brought him to [the] George Floyd memorial and had to explain racism to him."
As her voice broke, she continued: "They didn't have to kill him. I feel like if it was a white person, they wouldn't have shot him."
Quinn Redeemed, 46, spoke of the tension in the area around police-involved deaths of Black people.
Redeemed said: "This just added gasoline to the fire. We're tired and fired up. The world needs to really see what's going on. And now, the world is watching Minnesota."
Police kill student who fired at them at Tennessee high school, authorities say
A student at a Tennessee high school has been shot and killed by police after opening fire on officers responding to reports of a gunman on campus, authorities said on Monday.
David B Rausch, the director of the Tennessee bureau of investigation, said at a news conference that police found the student in a bathroom at Austin-East magnet high school in Knoxville, a city about 180 miles (290km) east of Nashville. They ordered him out, but he wouldn't comply, and that is when he reportedly opened fire, Rausch said. Police fired back.
The student died at the school, and an officer was wounded and taken into surgery, authorities said. No one else was hurt.
"It's a sad day for Knoxville, and it's tough for Austin-East," Rausch said.
Asked about the overwhelming police response to a call that came in just before afternoon dismissal, the Knoxville police chief, Eve Thomas, said, "We have a student, a school incident. It's our worst fear, an active shooter in a school."
The shooting comes as more classrooms are reopening to students after months of remote learning during the coronavirus pandemic, which cut down the number of mass killings in the US. The nation has seen series of mass shootings in recent weeks, including eight people killed at three Atlanta-area massage businesses on 16 March and 10 people killed at Colorado supermarket on 22 March.
Speaking outside a hospital, Knoxville's mayor, Indya Kincannon, told WATE-TV that she had spoken with the wounded officer and he was conscious and in good spirits.
Kincannon, a former Knox county schools board president, spoke at a February press conference about the gun violence that took the lives of three Austin-East students less than three weeks apart this year. Two of the victims were 15, and the other was 16. The shootings did not take place in the school.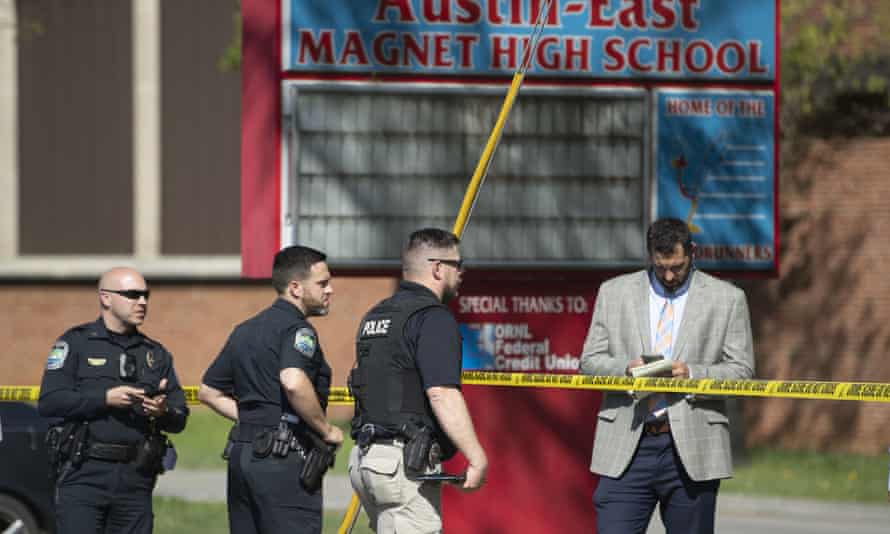 "I know that school is a safe place," Kincannon said at that time, according to the Knoxville News Sentinel. "It's a place where people are learning … The issues with violence are happening in the community, and it's affecting kids when they're outside of the school. That's why we are focusing our efforts to protect the innocent, protect the school, protect the children and students and staff."
Bob Thomas, the superintendent of Knox county schools, tweeted on Monday that a shooting had occurred but the building had been secured.
"The school building has been secured and students who were not involved in the incident have been released to their families," Thomas said.
He added in a separate tweet that authorities were gathering information and about "this tragic situation" and that additional information would be provided later.
Police urged people to avoid the area, adding that a reunification site had been set up on a baseball field behind the school for students to be reunited with family.
Last week, the Republican governor signed off on legislation that would make Tennessee the latest state to soon allow most adults 21 and older to carry handguns – openly or concealed – without first clearing a background check and training.
The state's governor, Bill Lee, backed the legislation over objections from law enforcement groups, who argued that the state's existing permit system provided an important safeguard for knowing who should or shouldn't be carrying a gun.
The law, which does not apply to long guns, will take effect 1 July. The new measure also increases certain penalties relating to theft, and also makes exceptions for people with certain mental illnesses and criminal convictions.
Alex Rodriguez and billionaire Marc Lore near deal for NBA's Timberwolves
Former MLB star Alex Rodriguez and billionaire Marc Lore appear to be close to owning the Minnesota Timberwolves, finalizing a deal with current owner Glen Taylor, according to reports.
The pair released a statement on Saturday:
"We look forward to entering this phase of the process with Glen Taylor. Our respect for him and the legacy he built lays an amazing foundation for what is to come. We are excited by the prospect of getting to know the Timberwolves organization, the talented team and their incredible fans."
The letter of intent paves the way for a 30-day exclusive negotiating window. If a deal is finalized, they would first become minority owners, according to the Athletic, and in 2023, would gain full control.
The Athletic reported an agreement was reached on a $1.5bn price and that the team would remain in Minneapolis – a requirement from Taylor, who has owned the team for almost 30 years.
ESPN also reported the deal was being finalized.
Rodriguez attempted last year to buy the New York Mets alongside ex-fiancee Jennifer Lopez, and Lore was among the other partners in that bid.
Lore, a billionaire New York native, stepped down as Walmart CEO in January. The former entrepreneur created Jet.com (sold to Walmart for $3bn) and Diapers.com (sold to Amazon for $545m), among other business ventures.
A three-time AL MVP, Rodriguez retired in August 2016 with 698 home runs, a .295 average and 2,086 RBIs in 22 years. He was suspended for the 2014 season for violations of Major League Baseball's drug agreement and labor contract.
A-Rod, now 45 years old, earned about $448m as a player. The 14-time All-Star started his career with Seattle, signed a record contract with Texas in December 2000, and then moved from shortstop to third base when he was traded from the Rangers to the New York Yankees ahead of the 2004 season.