Florence Griffith Joyner's trailblazing fashion sprints to the front with film
The news that Tiffany Haddish will produce and star in a film about Florence Griffith Joyner has renewed attention on the Olympic champion's brilliant if controversial career – and shone new light on her trailblazing fashion.
In the late 1980s, when the sprinter shot to fame, no one looked like her. "Flo-Jo" competed in outfits that were part-rock star, part-cartoon crusader, a unique look to which Beyoncé and Serena Williams have recently paid tribute.
Announcing her project, Haddish said she was "looking forward to telling Flo-Jo's story the way it should be told. My goal with this film is making sure that younger generations know my 'she-ro' Flo-Jo, the fastest woman in the world to this day, existed."
Griffith Joyner was the first American woman to win four medals in track and field at a single Olympic Games, in Seoul in 1988. However, since her death 10 years later, aged 38, her sporting legacy has been muddied by allegations of doping – despite the fact she never tested positive and was subjected, according to the chair of the International Olympic Committee's medical commission, to "all possible and imaginable analyses".
Away from the track, Griffith Joyner's style made her a pop culture phenomenon. Running in one-legged spandex bodysuits, shiny leggings, full hair weaves and s 6.5in painted nails, she brought MTV zest to the track.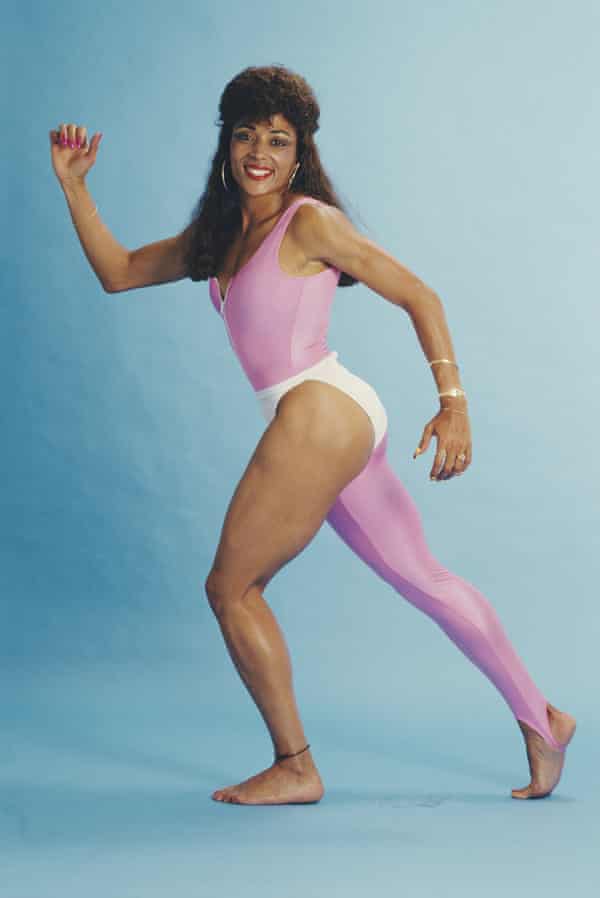 "No male athlete [has] brought glamour and individuality to his sport as well as being at the top of his sport," Donna Lopiano, president of the Women's Sports Foundation, said at the time. "She is a combination of Dennis Rodman and Michael Jordan."
Like those NBA stars, Griffith Joyner blurred lines between sportswear and the catwalk. She could knit, crochet and manicure, skills which helped create her looks.
"She was designing uniforms in high school and clearly understood how one presented themselves to the world determined how they were received by audiences," says Darnell-Jamal Lisby, a fashion historian.
"She was keen on connecting her passion for the sport through her style, while also understanding that she was one of the only black women on that level who also served as a role model for future generations."
That came to pass. In February, Serena Williams paid tribute at the Australian Open with a hot pink, orange and black one-legged bodysuit. In 2018, Beyoncé dressed as Flo-Jo for Halloween, in a version of her violet unitard.
The "one legger", as Flo-Jo called it, was created accidentally.
"It was a two-legged outfit and I was going to make another style [but] I was cutting one leg off and I liked that look," she told Jet magazine.
"Some people think that one-legged outfits are more bare than having both legs out …I think it was shocking. People say it's too much for sports. They figure people can't run fast wearing that."
She also said she was "here to say you can wear anything you want if you're ready to go when the guns go off. You're going to run fast regardless. Makeup is not going to stop you. The outfit is not going to stop you."
Her style remains influential. In the case of Beyoncé, Lisby said, "the idea of presenting oneself in this 'superhero-like' depiction is very integral to her artistry, as it was Joyner's. Showing black women in such powerful perspectives was and still is key in motivating members of the black community and women across the world."
Hungary holds France to 1-1 draw at Euro 2020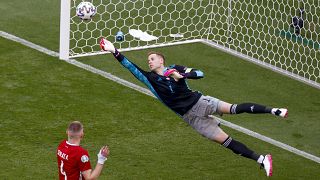 Peter Gulacsi deflects a shot away from goal during the Euro 2020 group F match between Hungary and France at the Ferenc Puskas stadium in Budapest, Hungary, June 19, 2021.

  –  
Copyright 
Laszlo Balogh/AP
Antoine Griezmann scored midway through the second half of Saturday's first match to give France a 1-1 draw with Hungary after the latter held its own in the first half.
Hungary surprisingly took the lead in first-half injury time on Saturday with Attila Fiola scoring at a packed Puskas Arena in Budapest.
In the end, Griezmann equalised from just inside the penalty area after Hungary failed to clear Kylian Mbappe's cross from the right. Mbappe also had a late shot that was saved by Hungary goalkeeper Peter Gulacsi.
In the first half Fiola had latched onto the ball after Roland Sallai won a header down the left flank, burst into the penalty area and held off defender Raphael Varane before clipping the ball into the bottom corner.
World Cup champion France also missed several good chances before Hungary's goal.
The 67,215-capacity Puskas Arena is the only stadium to be running at full capacity in this year's championship.
In the aftermath of his team's impressive performance, Hungary head coach Marco Rossi burst into tears during the presser.
"A stage like this I always watched only on television," he said. "Now I find myself here and at 56 I feel like a child that goes to an amusement park.
"I am not so stupid or so arrogant to say that now we are going to Munich [to play against Germany in Group F] to win it. No, we'll go to Munich to try to put on a good show and play our game, but always staying grounded."
Fashion returns to catwalks as Dior takes over Athens ancient stadium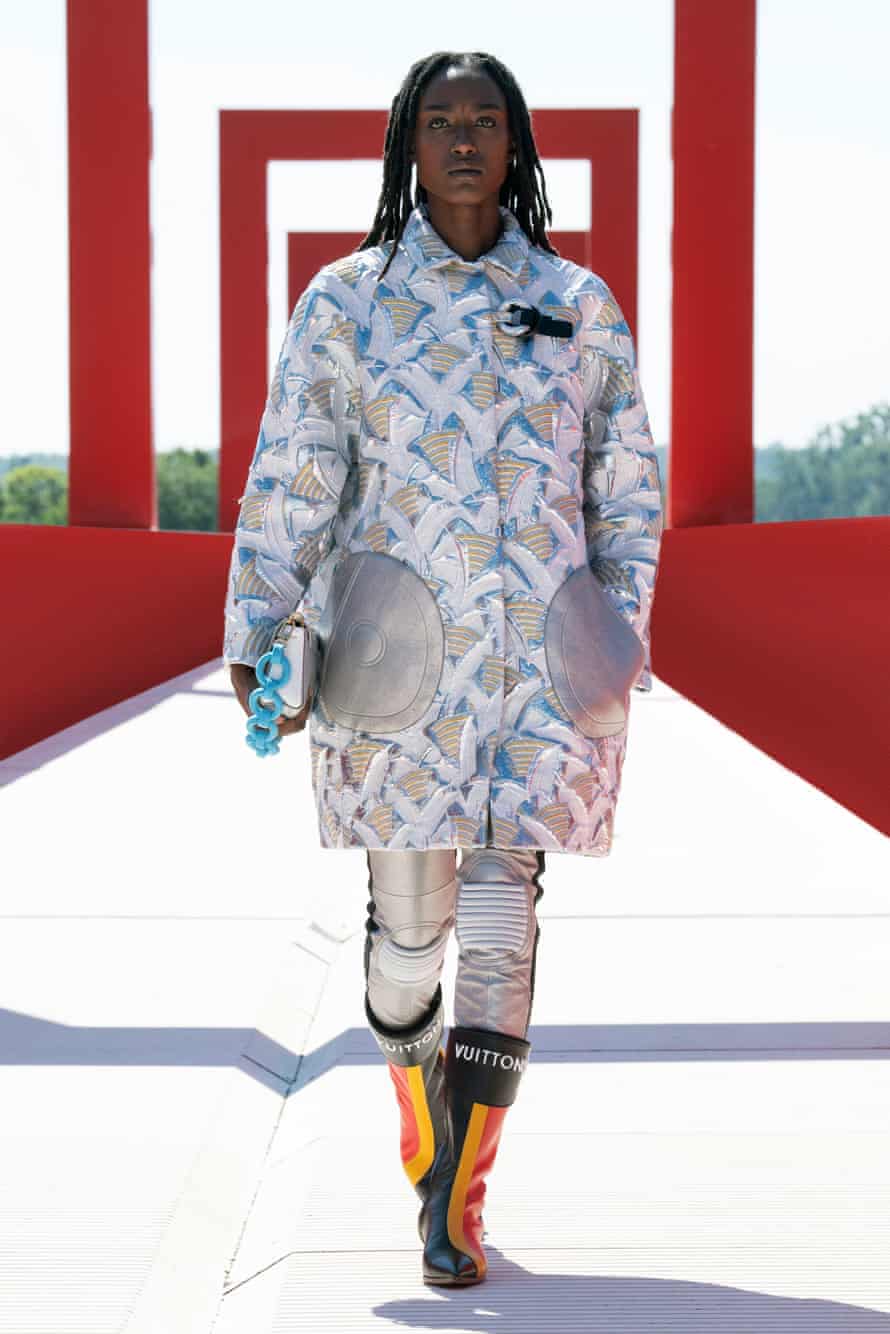 How to get ready to go out-out | Jess Cartner-Morley
I can't wait to have a wardrobe crisis. I miss them. The heap of discarded clothes grows as the clock ticks down. My heart rate rises like I'm Tom Cruise in Mission: Impossible. I'm trying to figure out which dress goes with which shoes rather than defuse a bomb, but still. The stakes feel pretty high. And never more so than now.
When the time for "going out-out" comes – which, as I'm writing this, has been pushed back a few weeks – the wardrobe crisis will be back with a vengeance. Getting dressed to go out is a completely different ballgame from just getting dressed. So many things to think about. What are my friends wearing? When they said it would be fun to get dressed up, did they mean, like, jeans and a nice top, or floor-length and a blow-dry? Is it weird to dress to celebrate the end of something that isn't over for everyone? Why do fancy clothes so rarely have sleeves? What happens if it rains or gets cold? If someone can invent driverless cars, why are strapless bras still so uncomfortable?
Like cooking onions, getting ready takes longer to get right than you think, and if you rush it you will regret it. A wardrobe crisis can be adrenaline-stoking in a good way, if you allow enough time. And by "enough time", I mean you may need to start the night before, by pulling out of yourwardrobe the pieces you think you might wear. Things have a mysterious habit of not being where you thought they were when you don't use them for a year. And it won't be until you, finally, triumphantly retrieve your favourite velvet jumpsuit from the floor at the back of the wardrobe, behind the also-unused suitcase, that you realise it needs ironing, badly – and not until you are ironing it that you remember it only really works with that one belt, which you now have to hunt down and possibly retrieve from the person you lent it to in 2019. A contingency fund of half an hour, just in case, is a wise time investment. You can always splurge on a cocktail if your outfit works first time.
One last thing. The right outfit is almost always the one you tried on first. It's been a while, but some things never change.