Former racing driver and motorsport chief boss Max Mosley dies at 81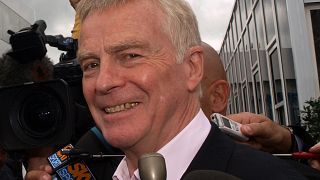 FIA President Max Mosley walks up the Paddock Lane surrounded by the media at the Silverstone circuit shortly before the start of the British Formula One Grand Prix Su

  –  
Copyright 
Credit: AP
Former Formula 1 boss Max Mosley has died at the age of 81.
In a statement shared with Euronews, a Formula One spokesperson said organisers were saddened to hear that Mosley had passed away.
"A huge figure in the transition of Formula 1," they said. "Our thoughts are with his family and friends at this sad time".
Mosley began his career in motor racing as an amateur driver.
He went on to become the president of the Fédération Internationale de l'Automobile (FIA) in 1993 after serving in a number of other roles in motorsport administration, including with Formula One.
He was re-elected for three terms as head of the FIA, before standing down in 2009. While Mosley became known for his leadership in the motorsport world, he also went on to become a prominent campaigner for stronger press controls.
The former F1 leader became an outspoken voice for tighter press regulations after stories about his sex life began to appear in both the British media and in the courts.
According to various British media outlets, Mosley's death was initially confirmed by former Formula One chief Bernie Ecclestone.
Mosley was born in London in 1940 and attended schools in the UK, France and Germany, before studying physics at Oxford University, according to a biography on the FIA's website.
He later trained as a lawyer and went on to become a barrister focused on patent and trademark law.
In his leisure time, he had enjoyed racing cars, but he retired from driving in 1969 to cofound his own company, March Engineering, which went on to become one of the world's leading racing car manufacturers.
Matic delivers Croatia a first ever World Championship gold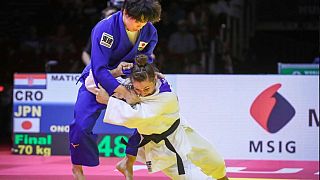 No Croatian had ever won a Judo World Championships gold medal, but Barbara Matic put that right in the -70kg contest on day five of the year's tournament in Budapest.
Matic put in some unstoppable judo to reach the final. There she faced the Japanese veteran Ono Yoko, who herself looked in fine form with her uchi-mata throws and notorious skills on the ground.
A tense contest for gold
The Croatian won a tense contest by holding onto a waza-ari advantage, taking the title ten years after she was crowned Junior World Champion.
Husain Al Musallam, President of the International Swimming Federation, presented the medals.
"I was like, you already have a world medal, you already did a great job," Matic said afterwards. "Now all you can do is just bring your heart to the tatami and fight to the end, and it was like that."
A final between two attacking powerhouses
Reigning champion and world number one Nikoloz Sherazadishvili from Spain was the strong favourite in the -90kg contest, and he showed why with a fantastic uchi-mata to eliminate Nagasawa Kenta of Japan en route to the final.
Uzbekistan's Davlat Bobonov would face him for gold, after showing that he too was a big thrower, as well as defeating home favourite Krisztian Toth in the semis.
The final between two attacking powerhouses didn't disappoint; an o-uchi-gari for ippon sealing the contest for Sherazadishvili.
Tunde Szabo, State Secretary for Sport for Hungary, awarded the medals.
"Every time we need to improve, this is my mindset," explained Sherazadishvili afterwards. "That I need to improve, also that I win but I want to be better and to improve more things. But I am in good shape, this is why I came here."
The category also saw a bronze medal for Sweden's Marcus Nyman, who defeated Nagasawa to secure his first-ever World Championship medal.
Local hero Toth took the other bronze. The scenes of jubilation involving him and his family were the highlight of the day: he'd missed out on a medal in Budapest back in 2017.
Phil Foden happy to be called the 'Stockport Gazza' after pre-Euros haircut
Phil Foden has said he does not mind being called the "Stockport Gazza" after inviting comparisons to the former England midfielder by dying his hair blond.
Foden is one of the most exciting youngsters in England's squad and he has done nothing to quell the hype by recreating Paul Gascoigne's bleached look from Euro 96. The Manchester City midfielder posted a picture of his new haircut on Instagram on Tuesday, captioning it "Euro 96 vibes", and he wants to emulate Gascoigne on the pitch at Euro 2020.
"I've had the same haircut for ages now so I thought I would try something new and woke up this morning with a lot of comparisons to Gazza and Eminem," the 21-year-old said. "It was my own thing and people have turned it into something else.
"I remember watching highlights on the TV of Gazza – unbelievable player. The nation knows what he means for the country and what he did. I wouldn't be too bad if I try to bring a bit of Gazza on the pitch."
Foden was not born when Gascoigne helped England to reach the last four of Euro 96 but he understands the significance of the "Stockport Gazza" nickname. "I don't mind that at all," he said. "He's a great player."
Foden's teammates are not planning to copy his haircut. "Not too many are as brave as me," he said. "They like their hairstyles as they are."
Foden thanked Gareth Southgate for giving him a second chance after he was sent home from international duty with Mason Greenwood last September. The young duo breached coronavirus protocols by inviting two women to the team hotel in Reykjavik after England's win over Iceland in the Nations League.
"I made a massive mistake," Foden said. "I was young. Gareth told me if I keep doing well, keep performing well, I should get another opportunity. So I had to work really hard for that. Not many managers would give you another opportunity so I have to thank Gareth a lot for giving me another opportunity."
Florence Griffith Joyner's trailblazing fashion sprints to the front with film
The news that Tiffany Haddish will produce and star in a film about Florence Griffith Joyner has renewed attention on the Olympic champion's brilliant if controversial career – and shone new light on her trailblazing fashion.
In the late 1980s, when the sprinter shot to fame, no one looked like her. "Flo-Jo" competed in outfits that were part-rock star, part-cartoon crusader, a unique look to which Beyoncé and Serena Williams have recently paid tribute.
Announcing her project, Haddish said she was "looking forward to telling Flo-Jo's story the way it should be told. My goal with this film is making sure that younger generations know my 'she-ro' Flo-Jo, the fastest woman in the world to this day, existed."
Griffith Joyner was the first American woman to win four medals in track and field at a single Olympic Games, in Seoul in 1988. However, since her death 10 years later, aged 38, her sporting legacy has been muddied by allegations of doping – despite the fact she never tested positive and was subjected, according to the chair of the International Olympic Committee's medical commission, to "all possible and imaginable analyses".
Away from the track, Griffith Joyner's style made her a pop culture phenomenon. Running in one-legged spandex bodysuits, shiny leggings, full hair weaves and s 6.5in painted nails, she brought MTV zest to the track.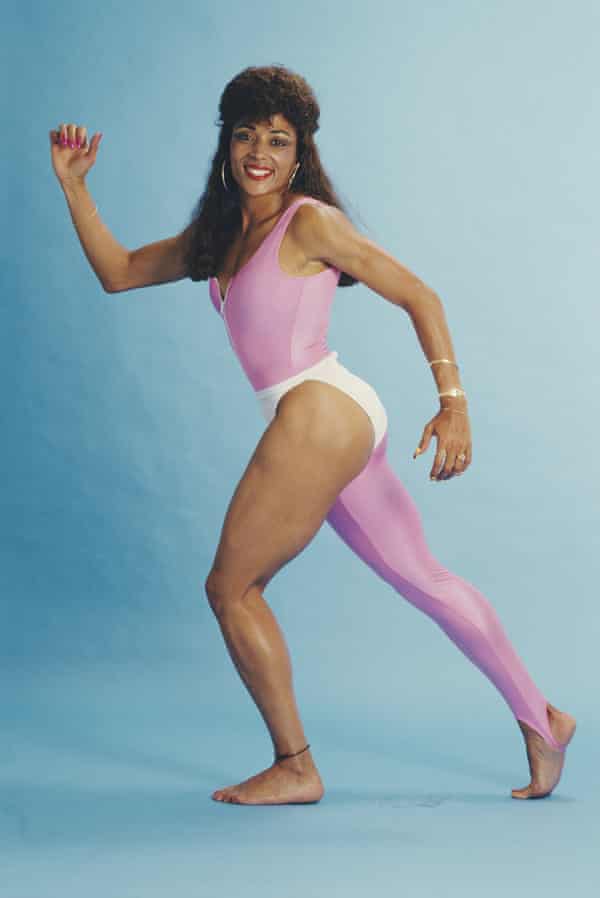 "No male athlete [has] brought glamour and individuality to his sport as well as being at the top of his sport," Donna Lopiano, president of the Women's Sports Foundation, said at the time. "She is a combination of Dennis Rodman and Michael Jordan."
Like those NBA stars, Griffith Joyner blurred lines between sportswear and the catwalk. She could knit, crochet and manicure, skills which helped create her looks.
"She was designing uniforms in high school and clearly understood how one presented themselves to the world determined how they were received by audiences," says Darnell-Jamal Lisby, a fashion historian.
"She was keen on connecting her passion for the sport through her style, while also understanding that she was one of the only black women on that level who also served as a role model for future generations."
That came to pass. In February, Serena Williams paid tribute at the Australian Open with a hot pink, orange and black one-legged bodysuit. In 2018, Beyoncé dressed as Flo-Jo for Halloween, in a version of her violet unitard.
The "one legger", as Flo-Jo called it, was created accidentally.
"It was a two-legged outfit and I was going to make another style [but] I was cutting one leg off and I liked that look," she told Jet magazine.
"Some people think that one-legged outfits are more bare than having both legs out …I think it was shocking. People say it's too much for sports. They figure people can't run fast wearing that."
She also said she was "here to say you can wear anything you want if you're ready to go when the guns go off. You're going to run fast regardless. Makeup is not going to stop you. The outfit is not going to stop you."
Her style remains influential. In the case of Beyoncé, Lisby said, "the idea of presenting oneself in this 'superhero-like' depiction is very integral to her artistry, as it was Joyner's. Showing black women in such powerful perspectives was and still is key in motivating members of the black community and women across the world."