European Super League chief Perez says project is on 'standby'
The European Super League is far from dead and its clubs have not given up on the idea of the breakaway competition, Real Madrid president Florentino Pérez has said.
Pérez, who would have been the new league's founding chairman, said clubs would continue working on a way to make the competition work, even if changes have to be made to its format.
He said the controversial league is on "standby" and the group is open to discussing ideas with UEFA and other entities to help the game amid the coronavirus pandemic.
Pérez said he was certain that a "very similar" competition would soon be created.
"We are going to keep working," Pérez told Spanish radio network SER in an interview, "we are looking for ways of getting this done. It would be a shame not to get it done."
Plans for the proposed Super League had to be shelved, just a few days after it was announced on Sunday.
The project essentially folded on Tuesday after the English clubs involved pulled out amid escalating backlash from their supporters and warnings from the British government that legislation could be introduced to thwart them.
On Wednesday, Atlético Madrid and two Italian clubs in the project — AC Milan and Inter Milan — also opted out. That left Real Madrid, Barcelona, and Juventus as the only clubs still officially in the new league.
Barcelona's president Joan Laporta has also maintained his support for the league on Thursday.
"It is absolutely necessary," Laporta said on Catalan public television in his first public comments on the project.
"The biggest clubs create the most financial resources and we must have our say in deciding how the earnings are shared."
Barcelona's finances have been hard hit by the pandemic, which has compounded problems in a budget that was already loaded by the highest payroll in football last season.
There was some internal pressure on the Catalan club, however, after outspoken captain Gerard Piqué made his view clear.
"Football belongs to the fans. Today more than ever," he wrote on Twitter early Wednesday.
Twelve elite European clubs had wanted to boost their revenues by cutting UEFA out of the equation and replacing the Champions League with the new tournament of 20 teams.
"There have been pressures placed on some clubs, but the proposal is still standing," Laporta said.
"We have very important investments, our salaries are very high, and those must be taken into consideration, along with sporting merits."
But the two Spanish teams have been criticised by the President of Spain's La Liga, Javier Tebas, for the project.
"If they say that the Super League will save football, they are lying or they are mistaken," Tebas said.
Pérez admitted that teams and should have explained the Super League better, and said he was "sad and disappointed" with the "avalanche of aggressive" and "orchestrated" criticism that surfaced.
The English clubs initially involved in the project were Arsenal, Chelsea, Liverpool, Manchester City, Manchester United and Tottenham.
There were protests against the Super League during Wednesday's Spanish league matches, with players entering the field wearing T-shirts condemning the new competition.
On Monday, UEFA threatened to ban players from the participating teams from playing in this year's European Championship and next year's World Cup.
A Madrid court later issued a preliminary ruling stopping UEFA, FIFA, and its members from acting against the creation of the new league.
The Super League was intended to be a 20-team competition with 15 founding members guaranteed a spot every season and five other teams rotating in and out. The lack of relegation for the founding members raised concerns about the consequences for smaller clubs in the domestic leagues around the continent.
Pérez said the group was ready to discuss changes.
"We will keep working and talking to everyone," he said. "We are open to whatever is best for football."
UK fans advised against travel to Turkey for Champions League final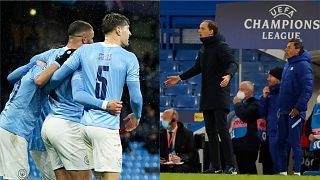 Manchester City are to face Chelsea in an all-English Champions League final

  –  
Copyright 
AP
The UK has added Turkey to its 'red list' of countries for travel from May 17, which will require a 10 day hotel quarantine upon arrival in the UK.
This means football fans should not travel to Istanbul for the Champions League final later this month, according to transport minister Grant Shapps.
The match, between Chelsea and Manchester City, is scheduled to take place at the Atatürk Olympic Stadium on Saturday, May 29.
The UK announced its traffic light system for travel on Friday, with just a handful of countries being listed as 'green', meaning there is no quarantine requirement for arrivals from those countries.
As a red listed country, arrivals from Turkey would have to qurantine in a quarantine hotel for 10 days (which must be booked and paid for before you travel), as well as taking a PCR test on day two and day eight.
The UK's Test to Release scheme will not be an option for red-listed arrivals, unlike amber countries.
Shapps said putting Turkey on the red list will "have a number of ramifications."
"It does mean with regards to the Champions League that fans should not travel to Turkey," he said.
The English Football Association is in discussions with UEFA, he added, saying the UK is open to hosting the final but it's a decision for UEFA.
He also highlighted the UK's track record of recently hosting football matches with thousands of spectators.
Davide Astori: Italian doctor sentenced for manslaughter over death of Fiorentina footballer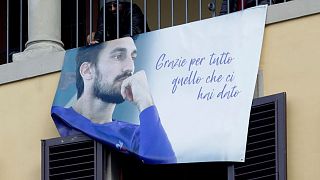 Supporters display a poster during the funeral ceremony of Davide Astori in Florence in March 2018.

  –  
Copyright 
AP Photo/Alessandra Tarantino
An Italian doctor has been sentenced for manslaughter over the death of international footballer Davide Astori.
The 31-year-old Fiorentina captain was found dead in a hotel room in Udine in March 2018, before his team was due to play a league match.
According to the autopsy report, Astori died from tachyarrhythmia, an abnormal acceleration of the heartbeat, during his sleep.
Giorgio Galanti, then-head of the sports medicine department at Florence's Careggi Hospital, was the last person to clear Astori to play in the summer of 2017, seven months before his death.
On Monday, Galanti was given a one-year suspended sentence for failing to diagnose the player's undetected heart defect.
Prosecutors have said that the doctor should have carried out additional examinations to try and detect heart disease, in view of the results of Astori's stress tests, and had called for an 18-month prison sentence.
Galanti was also ordered to pay €1 million euros to Astroi's family, Italian media reported. His lawyer immediately said that he would appeal the verdict.
The doctor had "acted correctly", lawyer Sigfrido Fenyes told reporters in February.
A second doctor was also initially targeted in the investigation, but the case against him was dropped.
Davide Astroi's death caused great emotion in Italy, where he was a member of the national team and won 14 caps.
The central defender also represented Cagliari, Roma, Pizzighettone and Cremonese in his career.
Christoph Metzelder: Former German footballer given suspended sentence for sharing child pornography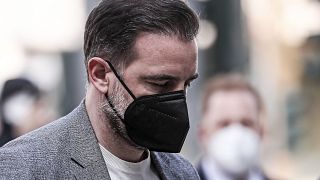 Christoph Metzelder arrives at the court in Duesseldorf for the opening of his trial.

  –  
Copyright 
AP Photo/Martin Meissner
Former German footballer Christoph Metzelder has been given a suspended prison sentence for distributing child pornography.
The 40-year-old partially admitted the accusations against him as his trial began at Dusseldorf District Court on Thursday.
Metzelder was accused of possessing child and youth pornography and of forwarding 29 files to three different women, including a former partner.
Prosecutors told the court that the former footballer had shared photos via WhatsApp showing the sexual abuse of girls under 10 years old in August 2019.
Around 297 files with sexual content involving children or adolescents were found on his mobile phone during the investigation.
Metzelder was sentenced to ten months' imprisonment on probation. His trial was initially scheduled to last until early May.
"I accept the punishment and ask forgiveness from the victims of sexual violence," Metzelder said before the ruling. "I will have to live the rest of my life with this guilt."
Metzelder was a runner-up with Germany at the 2002 FIFA World Cup. He also represented his country at the 2008 UEFA European Championships, winning 47 caps in total.
He enjoyed a successful playing career as a defender with Preußen Munster, Borussia Dortmund, Schalke 04, and Spanish giants Real Madrid.
After retiring in 2013, he worked as a television pundit and also set up his own foundation that supports projects for children and young people.
Metzelder stepped down as president of his hometown club TuS Haltern in September 2019 when the allegations against him were made public.
At the time, he was also working as a coach with the German Football Association.