Leading finance firms sign up to Mark Carney forum on low-carbon investment
Banks and financial institutions with more than $70tn assets have pledged to cut their greenhouse gas emissions and ensure their investment portfolios align with the science on the climate.
In the initiative, chaired by Mark Carney, the former governor of the Bank of England, 160 companies, including 43 banks from 23 countries, will set targets to cut the carbon content of their assets by 2030, in line with an overall goal of net zero emissions by 2050.
The forum, the Glasgow Financial Alliance for Net Zero, aims to encourage the financial sector to divert investment towards low-carbon infrastructure and technologies, and to discourage high-carbon investments, ahead of Cop26, the vital UN climate talks to be hosted by the UK in Glasgow this November.
Janet Yellen, the US Treasury secretary, and John Kerry, the US special presidential envoy for climate, are backing the alliance. The White House is holding a virtual summit on the climate on Thursday, with 40 world leaders invited to discuss fresh commitments on cutting emissions in the next 10 years.
Kerry said: "The largest financial players in the world recognise that energy transition represents a vast commercial opportunity as well as a planetary imperative. As countries around the world move to decarbonise the large sums these institutions are dedicating to climate finance also reflect a growing understanding of how critical a low-carbon global economy is to their business models."
HSBC, Lloyds, Barclays, Citi, Morgan Stanley and Bank of America are among the banks signed up, along with insurers including Axa, Munich Re, and Swiss Re.
Carney, who is advising Boris Johnson on climate finance as well as acting as UN special envoy for climate action and finance at Cop26, said: "This is the breakthrough in mainstreaming climate finance the world needs. GFANZ [will be] the gold standard for net zero commitments in the financial sector."
He and other officials said the alliance would not allow banks to "greenwash" their commitments. Many banks have claimed to be "Paris compliant" or to follow the principles and aims of the 2015 Paris climate agreement, which binds countries to hold global temperature rises to below 2C pre-industrial levels, and preferably no more than 1.5C above.
However, since the signing of the Paris agreement in 2015 banks have poured at least $3.8tn into fossil fuel financing, a recent report stated.
Simon Youel, of the campaign group Positive Money, said: "It's positive that policy makers are recognising the role finance plays in making or breaking the green transition, but what appears to be another voluntary alliance for banks to sign up to is just not good enough.
"The financial system is fuelling environmental breakdown on a catastrophic scale, and what we really need is for central banks to play their roles as regulators and take concrete action to prevent all of the firms they oversee from making investments that are incompatible with governments' climate targets."
Banks signing up to GFANZ would be required to show "credible plans" for reducing their investment in high-carbon assets, but would not face a deadline for exiting fossil fuel investment.
Officials said there would be no blanket requirements for companies to stop financing coal, for instance, and banks would be allowed to make their own judgments on the carbon content of their portfolios, on a case by case basis.
Companies in the GFANZ alliance would also be allowed to buy carbon offsets to serve their carbon-cutting goals, but within restrictions – offsets should only be used where sectors find it hard to decarbonise, such as steel manufacture, should only be used when no other decarbonishing options are available, and should only be certified carbon credits.
Carney came under fire recently for his claims that Brookfield Asset Management, of which he is vice-chair, was "net zero across its $575bn asset portfolio". An investigation by Greenpeace and Bloomberg found that the company had stakes in coal, oil sands infrastructure, and gas.
The company justified its net zero claim on the basis that it had other investments in low-carbon infrastructure, such as renewable energy. But campaigners pointed out that this could not be considered carbon neutral. Carney issued a statement promising Brookfield would be "going further to support the transition to net zero" in future.
Final victim of Florida condo collapse identified by relative
The final victim of the condo building collapse in Florida has been identified, a relative said Monday, more than a month after the middle-of-the-night catastrophe that ultimately claimed 98 lives.
Estelle Hedaya, an outgoing 54-year-old with a love of travel, was the last victim identified, ending what her relatives described as a torturous four-week wait.
Her younger brother, Ikey Hedaya, confirmed the identification to the Associated Press. The news comes just days after rescuers officially concluded the painstaking and emotionally heavy task of removing layers of dangerous debris and pulling out dozens of bodies.
"She always mentioned God anytime she was struggling with anything," he said. "She had reached a different level spiritually, which allowed her to excel in all other areas."
Her brother said he is drawing strength from God, just as he'd seen his sister do in troubling times. A funeral was scheduled for Tuesday.
The site of the 24 June collapse at the oceanside Champlain Towers South has been mostly swept flat, the rubble moved to a Miami warehouse. Although forensic scientists are still at work, including examining the debris at the warehouse, authorities said there are no more bodies to be found where the building once stood.
In the end, crews found no evidence that anyone who was found dead had survived the initial collapse, fire chief Alan Cominsky has said.
Search teams spent weeks battling the hazards of the rubble, including an unstable portion of the building that teetered above, a recurring fire and Florida's stifling summer heat and thunderstorms. They went through more than 14,000 tons of broken concrete and rebar before finally declaring the mission complete.
Miami-Dade fire rescue's urban search-and-rescue team pulled away from the site Friday in a convoy of firetrucks and other vehicles, slowly driving to their headquarters. The fire chief saluted their bravery, saying they had worked 12-hour shifts while camping out at the site and also dealing with the heavy emotional burden.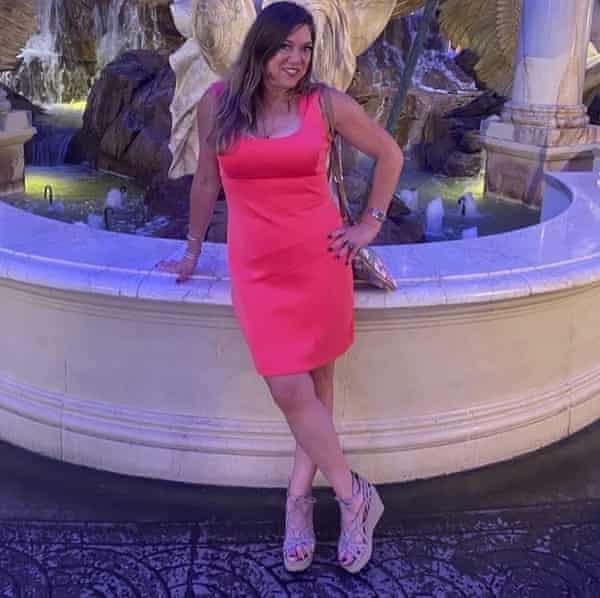 Linda March, a 58 year-old attorney and fellow former New Yorker, was close friends with Hedaya. Oddly the two were among the last three victims to be identified, along with 24-year-old Anastasia Gromova of Canada.
Leah Sutton, who knew Hedaya since birth and considered herself a second mother to her, said she and March were both "forces to be reckoned with".
"My two beautiful amazing fearless friends saved for last, have to believe there was a reason for them to be last," she said Monday. "Estelle's love of God was unbelievable and unwavering."
The dead included members of the area's large Orthodox Jewish community, the sister of Paraguay's first lady, her family and their nanny, along with an entire family of four that included a local salesman, his wife and their two young daughters, four and 11, who were buried in the same coffin.
Meanwhile, it's unclear what will happen at the collapse site. A judge presiding over several lawsuits filed in the collapse aftermath wants the property sold at market rates, which would bring in an estimated $100m or more. Some condo owners want to rebuild, and others say a memorial should be erected to remember the dead.
California and New York City to mandate vaccine for government workers
California and New York City announced Monday that they would require all government employees to get the coronavirus vaccine or face weekly Covid-19 testing, and the Department of Veterans Affairs became the first major federal agency to require healthcare workers to receive the shot.
Meanwhile, in a possible sign that increasingly dire health warnings are getting through to more Americans, vaccination rates began to creep up again, offering hope that people who have previously been reluctant to receive the shot may finally be getting inoculated.
In New York City, Mayor Bill de Blasio announced that all municipal workers – including teachers and police officers – will be required to get vaccinated by mid-September or face weekly Covid-19 testing, making the city one of the largest employers in the US to take such action.
"Let's be clear about why this is so important: this is about our recovery," de Blasio said.
California said it will similarly require proof of vaccination or weekly testing for all state workers and healthcare employees starting next month.
The move comes amid a surge in cases in California, which have risen 218% over the last two weeks, while hospitalizations are up 62%, according to New York Times data. In the month since California lifted all Covid safety restrictions for its "grand reopening", the state capitol has reinstated a mask requirement after several aides contracted Covid-19, and Los Angeles county is again requiring mask-wearing indoors, even for people who are fully vaccinated. The San Francisco Bar Alliance, which represents almost 500 bars, is recommending that members require guests to show proof of vaccination to enter the establishments.
California saw a 16% increase in vaccinations over last week and is one of the country's most vaccinated states with 77% of adults having received at least one vaccine dose, but there are still plenty of unprotected people to transmit the virus, experts say.
"Primarily, we're seeing infections in the unvaccinated," said George Rutherford, an epidemiologist at the University of California, San Francisco.
The VA's move came on a day when nearly 60 leading medical and healthcare organizations issued a call through the American Medical Association for health care facilities to require their workers to get vaccinated.
"I am doing this because it's the best way to keep our veterans safe, full stop," Veterans affairs secretary Denis McDonough told the New York Times.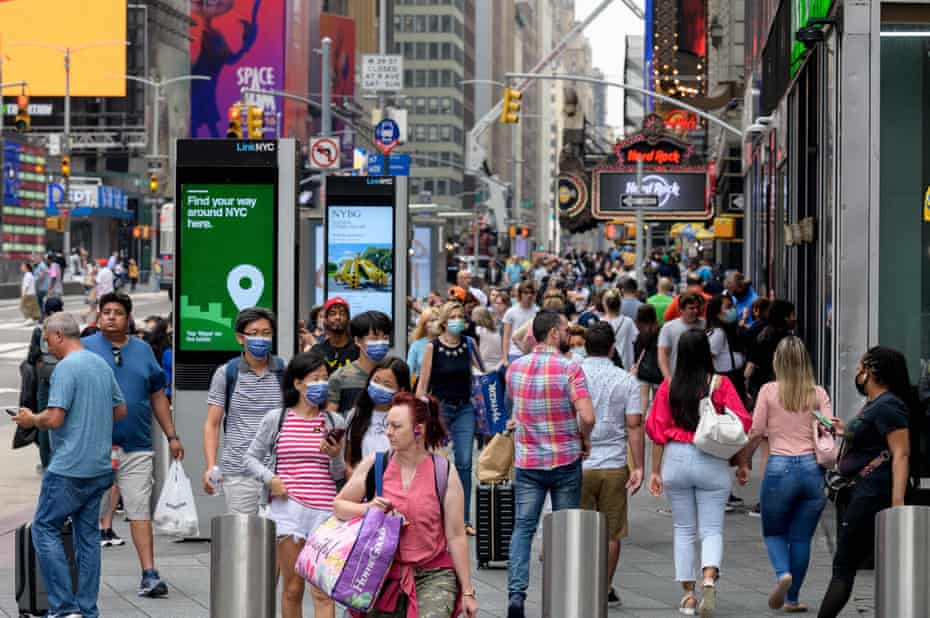 Elsewhere, St Louis became the second major city to mandate that face masks be worn indoors, regardless of vaccination status, joining Los Angeles in re-imposing the orders.
"For those who are vaccinated, this may feel like punishment, punishment for doing the right thing," St Louis county executive Sam Page, a Democrat, said Monday. "I've heard that, and I feel that frustration."
Dr Leana Wen, a former Baltimore health commissioner, applauded the moves but called on President Joe Biden to "lead by example" and impose similar mandates on federal employees and in public venues where the government has jurisdiction, like on planes, trains and government buildings.
She also said all hospitals and nursing homes need to require all employees get vaccinated.
"We need vaccine mandates and vaccine verification," Wen said. "We're well past the time for the Biden administration to get on board with this. What we're doing is not working. Doing more of the same is not the answer here."
The White House has so far deferred to the Centers for Disease Control and Prevention (CDC) on masking guidance, which recommends that those who are unvaccinated wear masks indoors. But officials acknowledged over the weekend that they are considering changing that guidance and recommending that the vaccinated also wear masks indoors.
"We're going in the wrong direction," Dr Anthony Fauci, the nation's top infectious disease expert, said on CNN's State of the Union on Sunday.
Wen, who is also an emergency physician and public professor at George Washington University, said public health experts have been worrying for months about this very scenario.
"We were worried the honor system would not work, the unvaccinated would be behaving as if they're vaccinated and people would think the pandemic is over," she said. "That's precisely what has happened, and it's incredibly frustrating."
Dr Albert Ko, an infectious disease specialist Yale's School of Public Health, said the U.S. should not have been caught off guard after watching the Delta variant ravage India in May and then land in the United Kingdom, Israel and other highly vaccinated nations with force last month.
"We have learned multiple times to not take anything for granted with CovidO," he said.
The US is around 67% immune from Covid-19 when prior infections are factored, but it will need to get closer to 85% to crush the resurgent virus, said Dr Ashish Jha, dean of Brown University's School of Public Health.
"So we need a lot more vaccinations. Or a lot more infections," he tweeted Sunday.
Jha said the nation has to brace for another rough few months. The disease has killed almost 611,000 people in the US since the pandemic started last year.
Vaccinations ticked up over the weekend, with about 657,000 vaccines reported administered Saturday and nearly 780,000 on Sunday, according to CDC data. The seven-day rolling average on Sunday was about 583,000 vaccinations a day, up from about 525,000 a week prior.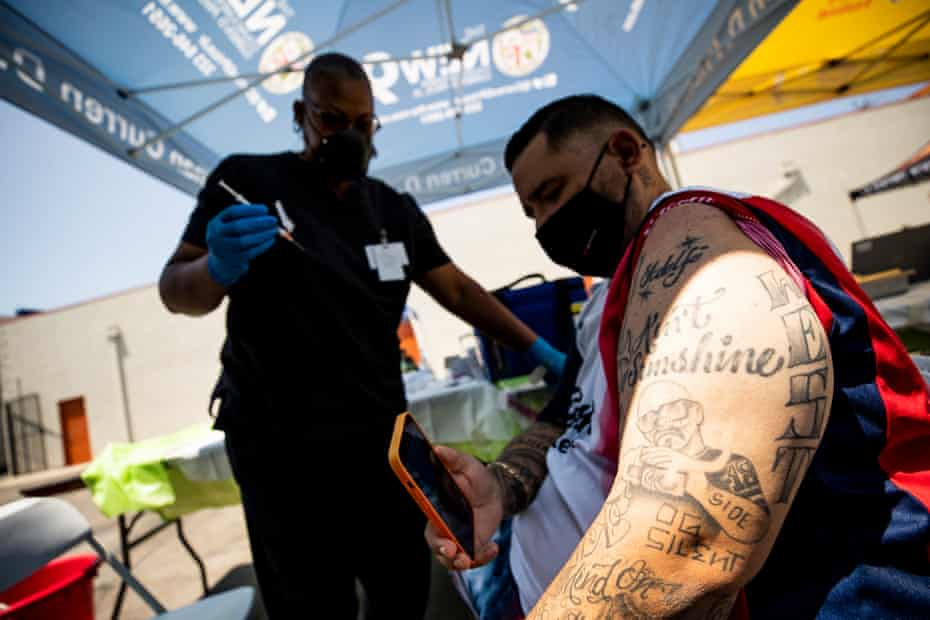 Public health experts on Monday said the uptick in vaccinations is encouraging but warned that it's far too early to say if the numbers mean that millions of unvaccinated people are finally beginning to overcome their reticence.
The seven-day rolling average for daily new cases in the country shot up over the past two weeks, from more than 19,000 on 11 July to nearly 52,000 on 25 July , according to data from Johns Hopkins University.
Some prominent conservative and Republican voices that have spent months casting doubt on the vaccination effort have recently started sounding a different tune.
House minority whip Steve Scalise, a Louisiana Republican, was among the members of the GOP Doctors Caucus who held a press conference at the Capitol late last week imploring their constituents to lay lingering doubts aside.
A week ago, on 19 July, Fox News host Sean Hannity declared: "It absolutely makes sense for many Americans to get vaccinated. I believe in science. I believe in the science of vaccinations."
And in Tennessee, the brother of a popular local conservative radio host who had been a vaccine skeptic urged listeners to get vaccinated as his brother was in critical care in the hospital battling Covid-19.
"For those listening, I know if he were able to tell you this, he would tell you, 'Go get vaccinated. Quit worrying about the politics. Quit worrying about all the conspiracy theories,'" Mark Valentine said of his brother, Phil Valentine, Thursday on WWTN-FM in Nashville.
Associated Press contributed to this report
Arizona secretary of state tells Trump before election lie rally: get over it
Arizona's secretary of state had a message for Donald Trump before he appeared in Phoenix on Saturday: "Take your loss and accept it and move on."
Trump was set to speak at an event organised by Turning Point Action, a conservative group, and called the "Rally to Save Our Elections!"
Republicans in the most populous county in Arizona continue to pursue a controversial audit of ballots in an attempt to prove Trump's claim that his loss to Joe Biden in the state, and nationally, was caused by widespread voter fraud. It was not.
Katie Hobbs, a Democrat, spoke to CNN on Friday. Asked what she wanted to tell Trump, she said: "Well, I mean, like most grownups, take your loss and accept it and move on … Nothing that's going on here is going to change the outcome, and, really, this is nothing more than being a sore loser."
Hobbs also said Trump's appearance – like support for his lies from local Republican officials, office holders and congressional hopefuls lining up to speak at Saturday's event – was dangerous.
"The bottom line is it doesn't matter what he says or does," she said. "Nothing is going to change the outcome of the 2020 election. But it also doesn't change how dangerous this is."
Trump's lie about electoral fraud stoked the deadly attack on the US Capitol in Washington on 6 January this year. He retains power in the Republican party, which has swung behind him in seeking to obstruct investigations of the assault.
"The bottom line is that Arizonians are tired of being led by conspiracy theorists," Hobbs said. "They don't support this fake audit, and they're ready for leaders who are going to put those partisan games aside and deal with real issues."
Hobbs is hoping to become governor of Arizona. Midterm elections will also see a key Arizona Senate seat up for grabs again. Mark Kelly, a former astronaut and a prominent campaigner for gun control reform, won the seat on Biden's coattails last year. But that was to complete a term and he must run again to secure a full six years in the seat.
On Friday, the former president blasted "Rinos", or "Republicans in Name Only" whom he regards as insufficiently loyal. One GOP Arizona state senator offered a pithy reply.
"If he hadn't started an insurrection in DC and gotten kicked off here," Paul Boyer wrote on Twitter, "I could've responded directly to him. So there's that."
Trump said his remarks would be broadcast by networks including Newsmax and One America News, upstart rightwing operations which have sought to challenge Fox News on the right of the political spectrum.