Police say officer who shot and killed unarmed Daunte Wright intended to fire Taser
Police in a Minneapolis suburb said an officer accidentally shot and killed a 20-year-old Black man on Sunday afternoon during a traffic stop, releasing graphic body-camera footage they say shows the officer intended to use a Taser not a handgun during the death of unarmed Daunte Wright.
The incident plunged the suburb of Brooklyn Center into a night of unrest as Minneapolis remains on edge during the murder trial of former officer Derek Chauvin over the death of George Floyd. Hundreds of protesters clashed with police in riot gear who deployed teargas and flash bangs to disperse the crowds.
At a press conference inside Brooklyn Center police headquarters, surrounded by riot police and national guard troops, the police chief, Tim Gannon, described the shooting as "an accidental discharge" and confirmed no weapon had been recovered from Wright's vehicle.
The county medical examiner has ruled the death a homicide.
The mayor of Brooklyn Center, Mike Elliott, said he had spoken to Joe Biden, who offered assistance.
"I want to say that our hearts are aching right now," Elliott told reporters. "We are in pain right now. And we recognise that this couldn't have happened at a worse time.
"We will get to the bottom of this. We will do all that is in our power to make sure that justice is done for Daunte Wright."
Elliott also said he supported firing the officer involved, who was later identified as Kim Potter, a 26-year veteran of the Brooklyn Center police department.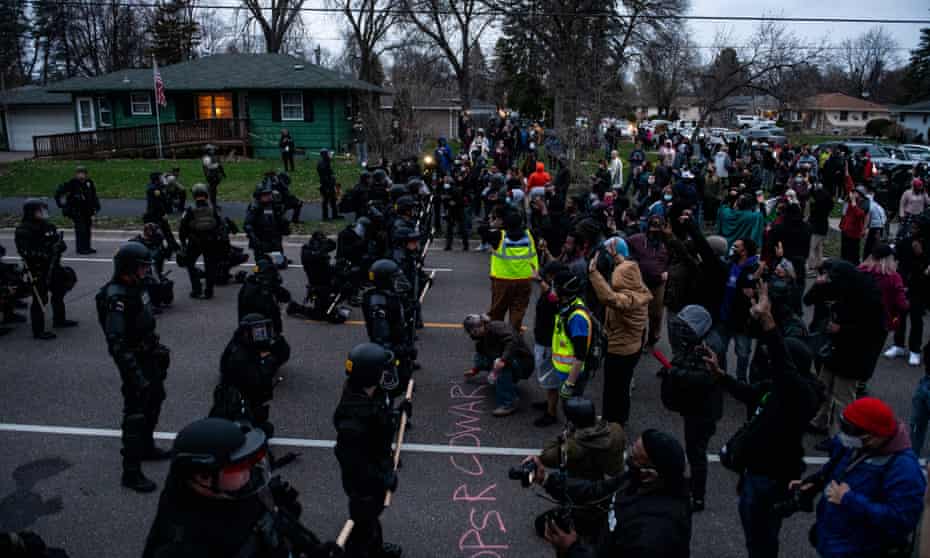 Protesters returned to the streets again on Monday evening, despite a 7pm curfew imposed by the governor of Minnesota. Hundreds of people gathered in the cold and rainy weather outside the Brooklyn Center police department, which was ringed by a metal fence, concrete barriers and police dressed in riot gear. Police later deployed flashbangs, teargas and smoke to disperse the crowd.
Earlier in the day, mourners and outraged community members had made their way to the site where Wright was killed. On a grey, damp morning, Ben Witz and his sister came to the site to lay balloons.
"This is more difficult because there was another, there was another unarmed shooting," Witz said, explaining that family members lived in the area and that the community was still traumatized from Floyd's killing and the unrest that followed.
"It seems like it's a common occurrence now with the police," Witz said. "It's crazy what's happening. It really is."
According to Brooklyn Center police, the incident occurred shortly before 2pm, when an officer pulled over a vehicle due to an alleged traffic violation.
The body-camera footage showed Wright being apprehended by two officers, when a third female officer approaches the scene. A struggle ensues and Wright gets back into his vehicle, at which point the female officer opens fire.
"Holy shit. I just shot him," the officer is heard saying.
As the body-camera footage was released, a small group of activists in the police headquarters waiting area demanded the officer, who has not been identified, be fired immediately.
"Seeing the video just confirms what we already knew," said Toshira Garraway, the founder of Families Supporting Families Against Police Violence. "It's just killing after killing after killing."
She added: "They will always say, 'I was afraid, or it was an accident.' But the fact of the matter is: this was a murder. If she is not fired, this is only going to escalate."
Wright's mother, Katie Wright, told reporters she was on the phone with her son as the encounter occurred. According to her account, reported by local TV news, her son called as he was being pulled over and asked about insurance for the vehicle, which she had recently given him.
She said she heard officers instruct her son to get out of the car and then "scuffling" shortly before the phone hung up.
"A minute later, I called and his girlfriend answered, who was the passenger in the car, and said that he'd been shot and she put it on the driver's side, and my son was laying there lifeless," she said.
Police said officers determined the driver had an outstanding warrant.
Heavily armored national guard troops worked to barricade the police station on Monday morning, as fewer than a dozen protesters faced the building across a road.
Two national guard Humvees, guardsmen carrying long guns and dozens of officers in riot gear were outside the station as police installed concrete blocks. A couple of members of the Original Black Panthers of Minneapolis group chatted with state troopers.
Witz, 40, a liquor store employee, said he was concerned the business would be vandalized if protests over Wright's killing led to major unrest.
"It was like a war zone," Witz said of the unrest that followed Floyd's death. "And now we're seeing it here and, I mean, why do we have to vandalize, I mean, I, as a white person I don't get it, but I want to be educated."
On Sunday evening, hundreds of protesters marched to the police station and were met by officers in riot gear who discharged teargas, flash-bangs and other munitions. Crowds had largely dispersed by midnight.
The Minnesota department of public safety commissioner, John Harrington, said around 20 businesses at the Shingle Creek shopping center were broken into. The mayor, Elliott, urged protesters "to be peaceful and that peaceful protesters are not dealt with force".
Brooklyn Center is a suburb in north-west Minneapolis with a population of about 30,000. Tensions are high as the murder trial of Chauvin entered its third week.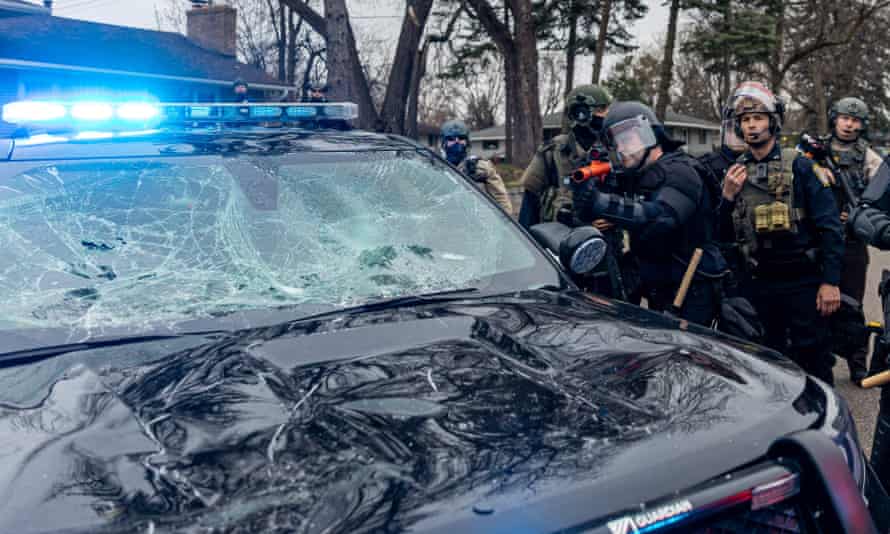 Amid drizzle and grey skies on Monday, protesters such as Bethany Hemrich came to pay her respects near the site where Wright had been shot dead less than 24 hours before.
"As a mother of a Black child, I couldn't even fathom," Hemrich, who is white, said. "My son is 10, and I brought him to [the] George Floyd memorial and had to explain racism to him."
As her voice broke, she continued: "They didn't have to kill him. I feel like if it was a white person, they wouldn't have shot him."
Quinn Redeemed, 46, spoke of the tension in the area around police-involved deaths of Black people.
Redeemed said: "This just added gasoline to the fire. We're tired and fired up. The world needs to really see what's going on. And now, the world is watching Minnesota."
Final victim of Florida condo collapse identified by relative
The final victim of the condo building collapse in Florida has been identified, a relative said Monday, more than a month after the middle-of-the-night catastrophe that ultimately claimed 98 lives.
Estelle Hedaya, an outgoing 54-year-old with a love of travel, was the last victim identified, ending what her relatives described as a torturous four-week wait.
Her younger brother, Ikey Hedaya, confirmed the identification to the Associated Press. The news comes just days after rescuers officially concluded the painstaking and emotionally heavy task of removing layers of dangerous debris and pulling out dozens of bodies.
"She always mentioned God anytime she was struggling with anything," he said. "She had reached a different level spiritually, which allowed her to excel in all other areas."
Her brother said he is drawing strength from God, just as he'd seen his sister do in troubling times. A funeral was scheduled for Tuesday.
The site of the 24 June collapse at the oceanside Champlain Towers South has been mostly swept flat, the rubble moved to a Miami warehouse. Although forensic scientists are still at work, including examining the debris at the warehouse, authorities said there are no more bodies to be found where the building once stood.
In the end, crews found no evidence that anyone who was found dead had survived the initial collapse, fire chief Alan Cominsky has said.
Search teams spent weeks battling the hazards of the rubble, including an unstable portion of the building that teetered above, a recurring fire and Florida's stifling summer heat and thunderstorms. They went through more than 14,000 tons of broken concrete and rebar before finally declaring the mission complete.
Miami-Dade fire rescue's urban search-and-rescue team pulled away from the site Friday in a convoy of firetrucks and other vehicles, slowly driving to their headquarters. The fire chief saluted their bravery, saying they had worked 12-hour shifts while camping out at the site and also dealing with the heavy emotional burden.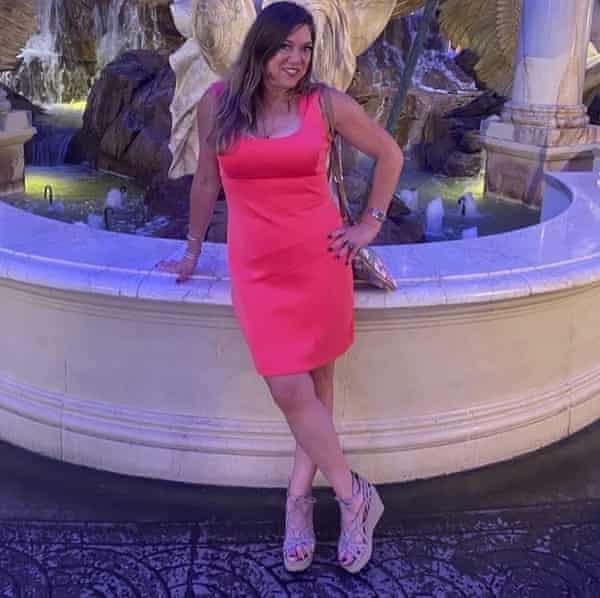 Linda March, a 58 year-old attorney and fellow former New Yorker, was close friends with Hedaya. Oddly the two were among the last three victims to be identified, along with 24-year-old Anastasia Gromova of Canada.
Leah Sutton, who knew Hedaya since birth and considered herself a second mother to her, said she and March were both "forces to be reckoned with".
"My two beautiful amazing fearless friends saved for last, have to believe there was a reason for them to be last," she said Monday. "Estelle's love of God was unbelievable and unwavering."
The dead included members of the area's large Orthodox Jewish community, the sister of Paraguay's first lady, her family and their nanny, along with an entire family of four that included a local salesman, his wife and their two young daughters, four and 11, who were buried in the same coffin.
Meanwhile, it's unclear what will happen at the collapse site. A judge presiding over several lawsuits filed in the collapse aftermath wants the property sold at market rates, which would bring in an estimated $100m or more. Some condo owners want to rebuild, and others say a memorial should be erected to remember the dead.
California and New York City to mandate vaccine for government workers
California and New York City announced Monday that they would require all government employees to get the coronavirus vaccine or face weekly Covid-19 testing, and the Department of Veterans Affairs became the first major federal agency to require healthcare workers to receive the shot.
Meanwhile, in a possible sign that increasingly dire health warnings are getting through to more Americans, vaccination rates began to creep up again, offering hope that people who have previously been reluctant to receive the shot may finally be getting inoculated.
In New York City, Mayor Bill de Blasio announced that all municipal workers – including teachers and police officers – will be required to get vaccinated by mid-September or face weekly Covid-19 testing, making the city one of the largest employers in the US to take such action.
"Let's be clear about why this is so important: this is about our recovery," de Blasio said.
California said it will similarly require proof of vaccination or weekly testing for all state workers and healthcare employees starting next month.
The move comes amid a surge in cases in California, which have risen 218% over the last two weeks, while hospitalizations are up 62%, according to New York Times data. In the month since California lifted all Covid safety restrictions for its "grand reopening", the state capitol has reinstated a mask requirement after several aides contracted Covid-19, and Los Angeles county is again requiring mask-wearing indoors, even for people who are fully vaccinated. The San Francisco Bar Alliance, which represents almost 500 bars, is recommending that members require guests to show proof of vaccination to enter the establishments.
California saw a 16% increase in vaccinations over last week and is one of the country's most vaccinated states with 77% of adults having received at least one vaccine dose, but there are still plenty of unprotected people to transmit the virus, experts say.
"Primarily, we're seeing infections in the unvaccinated," said George Rutherford, an epidemiologist at the University of California, San Francisco.
The VA's move came on a day when nearly 60 leading medical and healthcare organizations issued a call through the American Medical Association for health care facilities to require their workers to get vaccinated.
"I am doing this because it's the best way to keep our veterans safe, full stop," Veterans affairs secretary Denis McDonough told the New York Times.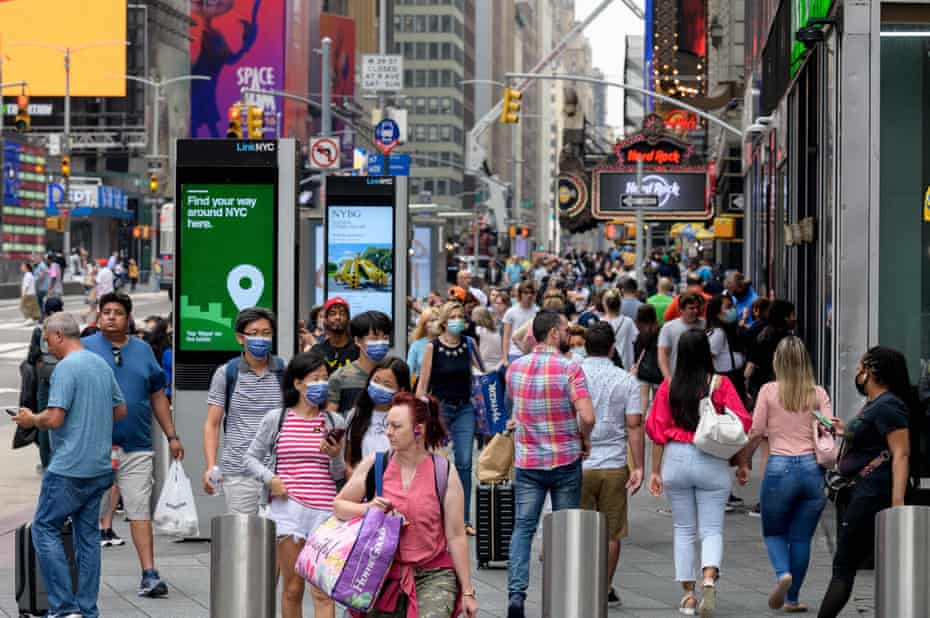 Elsewhere, St Louis became the second major city to mandate that face masks be worn indoors, regardless of vaccination status, joining Los Angeles in re-imposing the orders.
"For those who are vaccinated, this may feel like punishment, punishment for doing the right thing," St Louis county executive Sam Page, a Democrat, said Monday. "I've heard that, and I feel that frustration."
Dr Leana Wen, a former Baltimore health commissioner, applauded the moves but called on President Joe Biden to "lead by example" and impose similar mandates on federal employees and in public venues where the government has jurisdiction, like on planes, trains and government buildings.
She also said all hospitals and nursing homes need to require all employees get vaccinated.
"We need vaccine mandates and vaccine verification," Wen said. "We're well past the time for the Biden administration to get on board with this. What we're doing is not working. Doing more of the same is not the answer here."
The White House has so far deferred to the Centers for Disease Control and Prevention (CDC) on masking guidance, which recommends that those who are unvaccinated wear masks indoors. But officials acknowledged over the weekend that they are considering changing that guidance and recommending that the vaccinated also wear masks indoors.
"We're going in the wrong direction," Dr Anthony Fauci, the nation's top infectious disease expert, said on CNN's State of the Union on Sunday.
Wen, who is also an emergency physician and public professor at George Washington University, said public health experts have been worrying for months about this very scenario.
"We were worried the honor system would not work, the unvaccinated would be behaving as if they're vaccinated and people would think the pandemic is over," she said. "That's precisely what has happened, and it's incredibly frustrating."
Dr Albert Ko, an infectious disease specialist Yale's School of Public Health, said the U.S. should not have been caught off guard after watching the Delta variant ravage India in May and then land in the United Kingdom, Israel and other highly vaccinated nations with force last month.
"We have learned multiple times to not take anything for granted with CovidO," he said.
The US is around 67% immune from Covid-19 when prior infections are factored, but it will need to get closer to 85% to crush the resurgent virus, said Dr Ashish Jha, dean of Brown University's School of Public Health.
"So we need a lot more vaccinations. Or a lot more infections," he tweeted Sunday.
Jha said the nation has to brace for another rough few months. The disease has killed almost 611,000 people in the US since the pandemic started last year.
Vaccinations ticked up over the weekend, with about 657,000 vaccines reported administered Saturday and nearly 780,000 on Sunday, according to CDC data. The seven-day rolling average on Sunday was about 583,000 vaccinations a day, up from about 525,000 a week prior.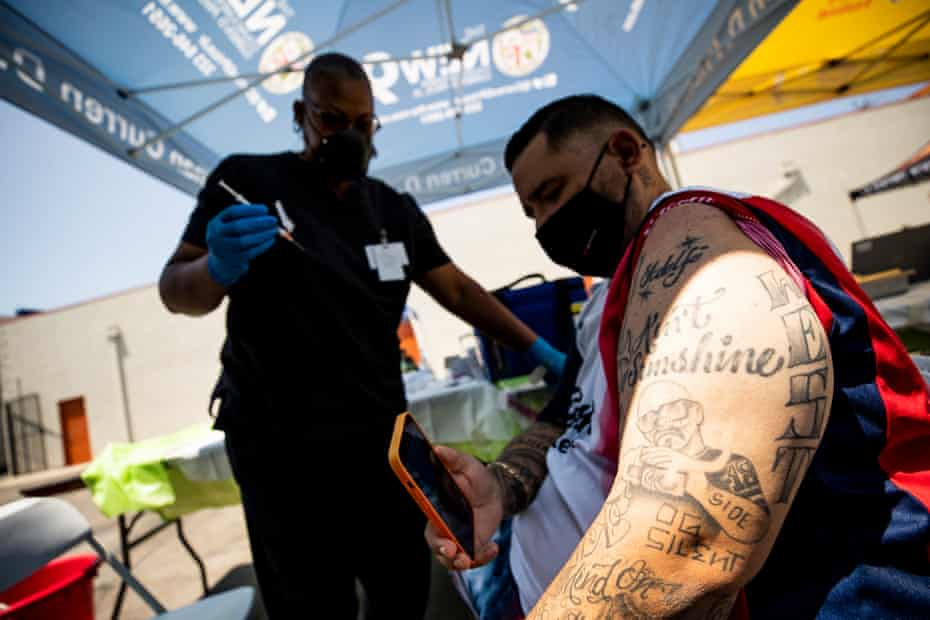 Public health experts on Monday said the uptick in vaccinations is encouraging but warned that it's far too early to say if the numbers mean that millions of unvaccinated people are finally beginning to overcome their reticence.
The seven-day rolling average for daily new cases in the country shot up over the past two weeks, from more than 19,000 on 11 July to nearly 52,000 on 25 July , according to data from Johns Hopkins University.
Some prominent conservative and Republican voices that have spent months casting doubt on the vaccination effort have recently started sounding a different tune.
House minority whip Steve Scalise, a Louisiana Republican, was among the members of the GOP Doctors Caucus who held a press conference at the Capitol late last week imploring their constituents to lay lingering doubts aside.
A week ago, on 19 July, Fox News host Sean Hannity declared: "It absolutely makes sense for many Americans to get vaccinated. I believe in science. I believe in the science of vaccinations."
And in Tennessee, the brother of a popular local conservative radio host who had been a vaccine skeptic urged listeners to get vaccinated as his brother was in critical care in the hospital battling Covid-19.
"For those listening, I know if he were able to tell you this, he would tell you, 'Go get vaccinated. Quit worrying about the politics. Quit worrying about all the conspiracy theories,'" Mark Valentine said of his brother, Phil Valentine, Thursday on WWTN-FM in Nashville.
Associated Press contributed to this report
Arizona secretary of state tells Trump before election lie rally: get over it
Arizona's secretary of state had a message for Donald Trump before he appeared in Phoenix on Saturday: "Take your loss and accept it and move on."
Trump was set to speak at an event organised by Turning Point Action, a conservative group, and called the "Rally to Save Our Elections!"
Republicans in the most populous county in Arizona continue to pursue a controversial audit of ballots in an attempt to prove Trump's claim that his loss to Joe Biden in the state, and nationally, was caused by widespread voter fraud. It was not.
Katie Hobbs, a Democrat, spoke to CNN on Friday. Asked what she wanted to tell Trump, she said: "Well, I mean, like most grownups, take your loss and accept it and move on … Nothing that's going on here is going to change the outcome, and, really, this is nothing more than being a sore loser."
Hobbs also said Trump's appearance – like support for his lies from local Republican officials, office holders and congressional hopefuls lining up to speak at Saturday's event – was dangerous.
"The bottom line is it doesn't matter what he says or does," she said. "Nothing is going to change the outcome of the 2020 election. But it also doesn't change how dangerous this is."
Trump's lie about electoral fraud stoked the deadly attack on the US Capitol in Washington on 6 January this year. He retains power in the Republican party, which has swung behind him in seeking to obstruct investigations of the assault.
"The bottom line is that Arizonians are tired of being led by conspiracy theorists," Hobbs said. "They don't support this fake audit, and they're ready for leaders who are going to put those partisan games aside and deal with real issues."
Hobbs is hoping to become governor of Arizona. Midterm elections will also see a key Arizona Senate seat up for grabs again. Mark Kelly, a former astronaut and a prominent campaigner for gun control reform, won the seat on Biden's coattails last year. But that was to complete a term and he must run again to secure a full six years in the seat.
On Friday, the former president blasted "Rinos", or "Republicans in Name Only" whom he regards as insufficiently loyal. One GOP Arizona state senator offered a pithy reply.
"If he hadn't started an insurrection in DC and gotten kicked off here," Paul Boyer wrote on Twitter, "I could've responded directly to him. So there's that."
Trump said his remarks would be broadcast by networks including Newsmax and One America News, upstart rightwing operations which have sought to challenge Fox News on the right of the political spectrum.