Portugal doesn't have a big tradition of winter sports but there are some chasing the Olympic dream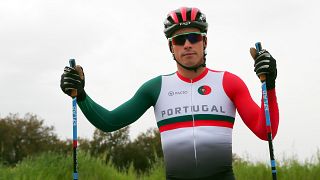 Portugal doesn't have a big tradition of winter sports, but the country has at least two athletes aiming to reach the Beijing Winter Olympics in 2022, even if their preparation is on wheels.
25-year-old José Cabeça's has achieved what no one had ever done before: a performance at a world championship that allows him to represent Portugal in a cross-country skiing event in Beijing.
Not bad for someone who learnt to ski in just one year in order to fulfil his Olympic dream.
"People ask – how is it possible that in one year he goes from not being able to ski to be in a position to make it to the Olympics and become the first Portuguese to qualify through the world championships?" says Cabeça.
"There's a lot of hard work for several years, obviously not in skiing. Triathlon has played a key role. I've managed to learn, little by little and all by myself. I don't have a skiing coach. I've learnt with other athletes and by watching videos."
Cabeça started his cross-country skiing adventure about a year and a half ago in France, where he lived for two and a half months to "be able to train", because "it is impossible in Portugal".
A few months later, in February this year, he reached the high point of his early career in the sport, with a score at the Nordic World Ski Championships in Germany, that opened a spot for Portugal at the Beijing 2022 Winter Olympics.
From roller to ice speed skating
Diogo Marreiros is a silver medalist in the 10km roller speed skating world championships. He switched to ice to fulfil his Olympic dream.
Currently, he trains almost every day in Lagos on one of the two tracks suitable for this sport in the region and he's positive about the challenge of training conditions for winter sports in Portugal.
"At this time of year, ice speed skaters travel to warm countries and keep their form with lots of cycling and roller skating. Being far is not a big problem as all the skaters are currently away from the ice," says Marreiros.
Marreiros first put skates on at the age of four and won his first European Championship medal at 16.
The 29-year-old skater has accumulated medals on wheels ever since, including European vice-champion and the world vice-champion 10km Pontos.
Over the last four years, he has been preparing over the winter season in Germany and the Netherlands, where he has been improving his "technique and physical shape," allowing him to "qualify for the world cups" scheduled for the end of the year.
He's even launched a crowdfunding campaign to fund his preparation on ice and train in the Netherlands.
His ranking in the world cups taking place over four weekends in a row in Poland, Norway, Canada and the United States from 14 November to 14 December will determine if he will be in China in February.
Goretzka's late equaliser saves German blushes as Hungarians prove a tough test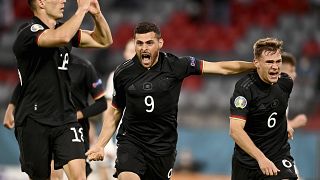 Germany's Leon Goretzka, left, celebrates with teammates after scoring his side's second goal

  –  
Copyright 
Lukas Barth/AP
Leon Goretzka scored late to keep Germany in the European Championship after a 2-2 draw against Hungary on Wednesday.
Jamal Musiala made an immediate impact after coming on in the 82nd minute, eluding three defenders to give Timo Werner room to shoot. Werner, who also came on as a substitute, was blocked but the rebound fell for Goretzka, who shot past goalkeeper Péter Gulácsi in the 84th.
It had looked like Ádám Szalai was going to drag his team into the round of 16. The Hungary captain scored one goal early against the run of play and set up András Schäfer to make it 2-1 right after Kai Havertz had equalized for Germany.
Germany made the better start but was caught out early yet again in the tournament when Szalai met Roland Sallai's cross with a flying header on a counterattack in the 11th.
Germany struggled against Hungary's defensive 5-3-2 formation and was further hampered by heavy rain from a thundershower in the first half.
The home team also seemed to miss Thomas Müller's unpredictability. Müller was on the bench because of a knee injury sustained in the 4-2 win over Portugal. Leroy Sané started in his place, the only change Joachim Löw made from the teams that started both previous games.
The home team had to wait till the 66th when the normally excellent Gulácsi failed to punch away Toni Koos' free-kick. Mats Hummels headed the ball forward and Havertz made sure from close range.
Celebrations were cut short, however, as Hungary replied immediately when Szalai played in Schäfer to head the ball past Manuel Neuer.
It would have been enough to send Hungary through to the next round at Germany's expense, but Löw's substitutes rescued the game and kept him in a job. Löw is stepping down after the tournament.
Germany finished second in the group with four points and will next face England at Wembley Stadium on Tuesday.
Portugal drew with France 2-2 in the other group game and both have progressed, while Hungary finished last with two points and has been eliminated.
Before kickoff, a person with a rainbow flag ran onto the field and held it up in front of the Hungary team as the country's national anthem was being played. The person was quickly tackled by stewards and pinned to the ground, and then led away to cheers and applause.
The build-up to the match had been overshadowed by a spat over the Munich city's council's request to illuminate the stadium in rainbow colors. UEFA refused on the grounds that it was a political statement directly addressed against Hungary.
Many German fans carried small rainbow flags that were distributed by activists before the game.
'An afterthought': why do specs companies ignore the black community?
The women behind the first company to make glasses specifically for black faces says the eyewear industry treats the black community as an "afterthought".
Kimeze was launched by sisters Clare and Christina Kimeze in London last month after being frustrated with the lack of glasses that properly fit the faces of members of the black community. They say that black shoppers are being overlooked by the industry, with the majority of glasses on the high street made with only a Caucasian face shape and size in mind. "None are made specifically for black features," says Clare. "As a community, we have historically been an afterthought."
Christina says that the optical industry is aware of the problem but is not acting to change things. "[They] are aware nobody is doing this and have made a conscious decision not to do it, which in and of itself is shocking," she says. The sisters also say that companies use black models in their advertising campaigns to look inclusive but this is "disingenuous, some would even say exploitative".
Clare adds: "There is a consumer group of over a billion people that has been overlooked. Of course this needs to change."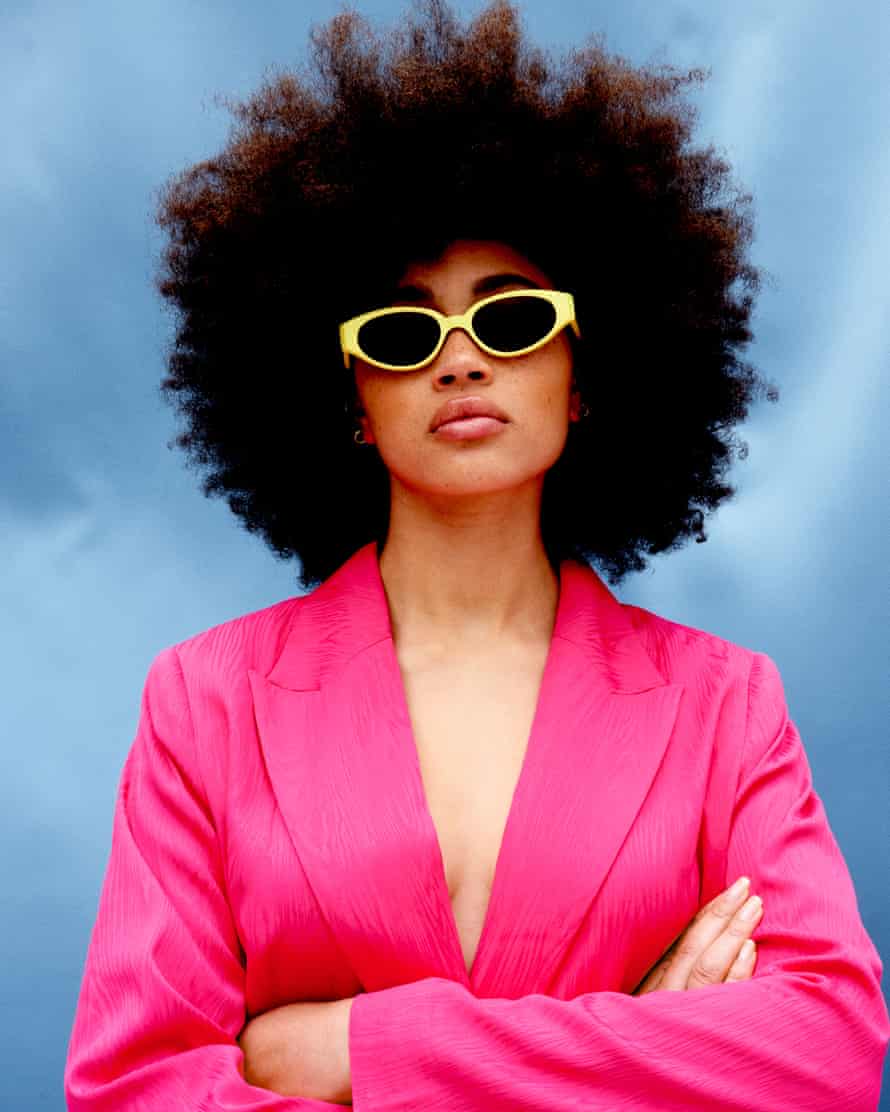 Christina says that she came up with the idea of Kimeze when she was at home watching Westworld. "I noticed one of the main characters, Bernard (played by Jeffrey Wright), was wearing glasses that he didn't seem to be able to keep on his face," she says. "I remember thinking how uncomfortable that must be for him and then realised I was doing the same thing."
As part of the background to setting up the company over a three-year period, the sisters spoke to industry professionals and found that this was an industry-wide issue. "This is absolutely an acknowledged pain point for black people, not just by the community by itself, but by the optical profession and glasses-manufacturing industry," says Clare. "An early comment from our first manufacturer [in Italy] that stayed with us was: 'This is not just a first for Italy, it is a first for the world.'"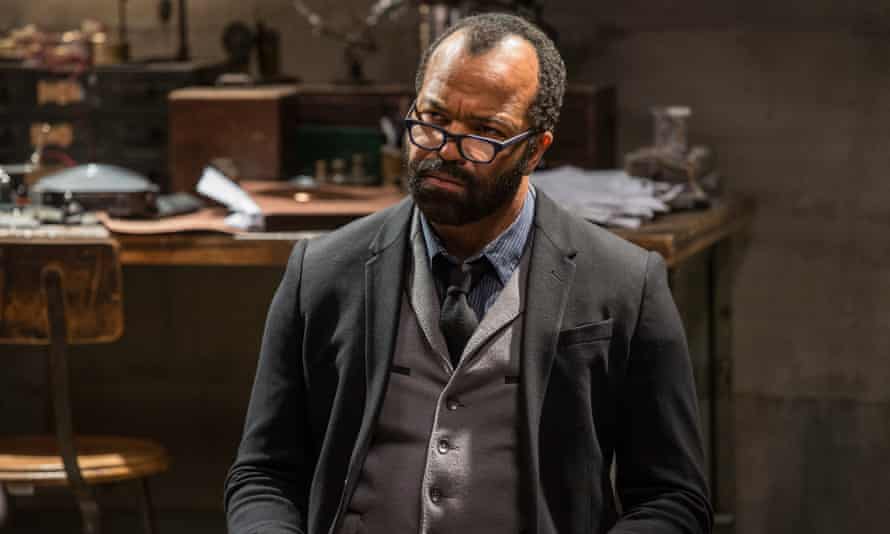 Christina says that within the diversity of the black community there are some commonalities in terms of fitting glasses. "Some features we are talking about could include lower, wider nose profiles or narrower and lower nose profiles, with a lower bridge than Caucasian people," she says. "Some people also have a wider nose at the bottom than Caucasian people, but not everyone."
Clare says that one experience with glasses was uncomfortable and unflattering. "The bridge of my glasses was too narrow to sit on my nose bone," she remembers, "I would get big gaps between my glasses and my nose or they would squash the base of my nose." Kimeze's range, which includes sunglasses, have specific nosepads and bridge widths made with black wearers in mind.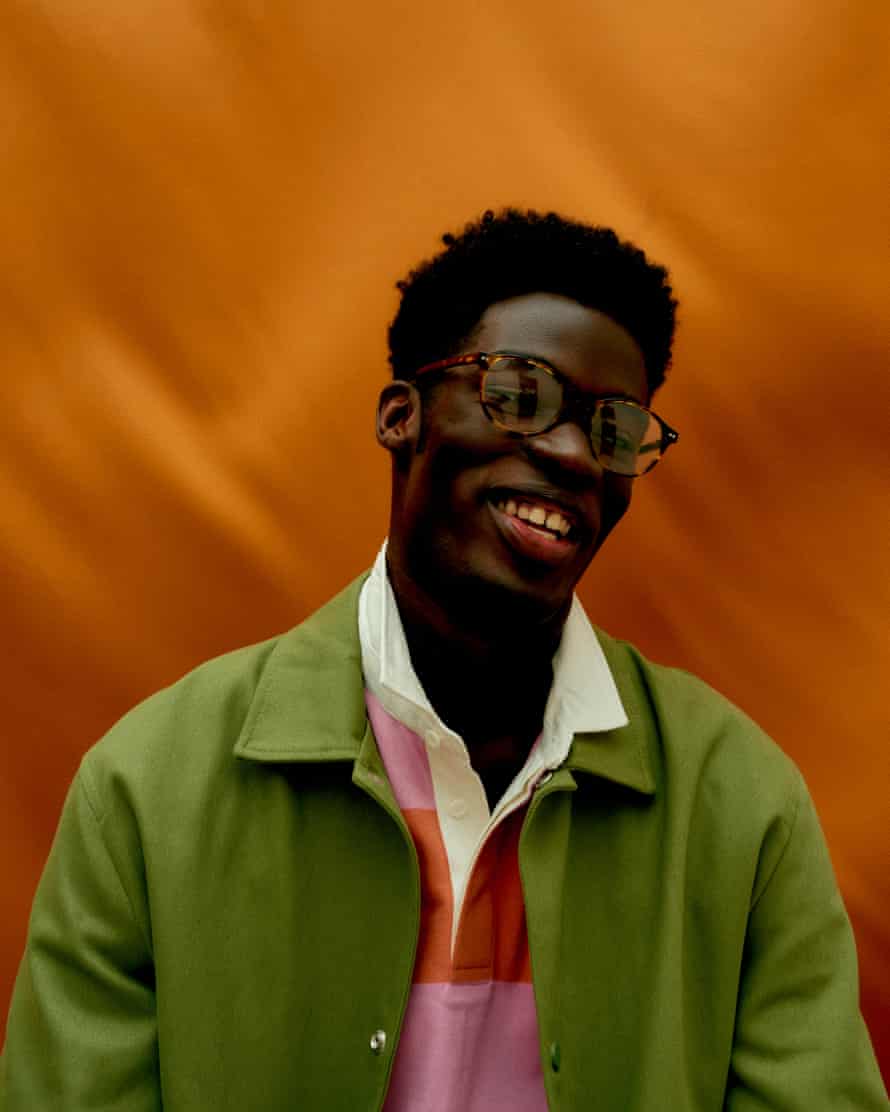 "We are excited to inject a fresh perspective, our glasses are designed in London and embody both our British and African heritage," says Clare. "Will other companies produce eyewear to better fit black and brown faces? They absolutely should, but currently they don't."
Milan men's fashion week SS22: the key shows – in pictures