Football clubs in Belgium vote to merge with Dutch league
Belgium's leading football clubs have supported a proposal to merge their league with the Netherlands.
The Belgian Pro League has announced that its general assembly unanimously voted in favour of an "agreement in principle" for a possible cross-border 'BeNeLeague'.
The league said in a statement on Tuesday that the move concerned the "direction" of professional football in Belgium.
"This ambition is based both on respect for the sporting aspirations of the big clubs and on the need for economic stability of the other professional clubs," it said.
"The 25 clubs are unanimous in their desire to give the Beneleague a fair chance."
Last year, the Belgian Pro League was the first major European competition to be cancelled due to the COVID-19 pandemic.
The details and format of a cross-border competition with the Netherlands have been discussed for months but no formal proposals have yet been unveiled.
The project has raised concerns among football supporters' groups, who fear that the BeNeLeague would only favour the larger clubs in the country, such as current champions Club Brugge, Anderlecht, and Standard Liège.
The management of the Pro League has said they will now play "an active role" in the project to ensure all teams benefit, even if they are not participating.
"The BeNeleague must go hand in hand with the guarantee of economic stability for the other professional clubs through the creation of a national first division championship based on sustainable licensing and competition rules," the league added.
"The project also implies that the youth teams of the professional clubs can quickly develop into the national amateur series."
Last year, Deloitte calculated that a merger could generate up to €400 million per year in marketing and television rights deals, according to Belgian media.
Football clubs playing in a different country
The concept of a BeNeLeague between Belgian and Dutch football clubs has been trialled previously.
In 2012, the two countries' football associations founded a cross-border women's league, following success with a one-match BeNe Super Cup competition between the two national champions.
However, in just its second year, financial difficulties and disagreements meant two participating teams disappeared. And after just three seasons, the BeNeLeague was discontinued and both nations returned to their own national competitions.
It's not clear if the new proposals would follow a similar league structure as the previous project.
Initially, the women's BeNeLeague was divided into two national leagues for the first stage, before merging for a competitive cross-border 'A' and 'B' league. These would then decide relegation and European qualification.
In 2013, this was then changed to a single league comprising 14 teams from both countries.
The proposed BeNeLeague would not be the first in Europe to feature teams from two separate nations or principalities.
In the United Kingdom, Cardiff City, Swansea City, Newport County, and Wrexham all compete in the English football league system, as opposed to the Welsh leagues.
Elsewhere, FC Andorra play Spain's Segunda División B, and AS Monaco were crowned champions of the French Ligue 1 as recently as 2016-17.
Meanwhile, all football clubs in Liechtenstein play in the Swiss Football League system, as the country has no properly recognised league of its own.
Portugal doesn't have a big tradition of winter sports but there are some chasing the Olympic dream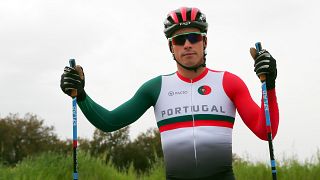 Portugal doesn't have a big tradition of winter sports, but the country has at least two athletes aiming to reach the Beijing Winter Olympics in 2022, even if their preparation is on wheels.
25-year-old José Cabeça's has achieved what no one had ever done before: a performance at a world championship that allows him to represent Portugal in a cross-country skiing event in Beijing.
Not bad for someone who learnt to ski in just one year in order to fulfil his Olympic dream.
"People ask – how is it possible that in one year he goes from not being able to ski to be in a position to make it to the Olympics and become the first Portuguese to qualify through the world championships?" says Cabeça.
"There's a lot of hard work for several years, obviously not in skiing. Triathlon has played a key role. I've managed to learn, little by little and all by myself. I don't have a skiing coach. I've learnt with other athletes and by watching videos."
Cabeça started his cross-country skiing adventure about a year and a half ago in France, where he lived for two and a half months to "be able to train", because "it is impossible in Portugal".
A few months later, in February this year, he reached the high point of his early career in the sport, with a score at the Nordic World Ski Championships in Germany, that opened a spot for Portugal at the Beijing 2022 Winter Olympics.
From roller to ice speed skating
Diogo Marreiros is a silver medalist in the 10km roller speed skating world championships. He switched to ice to fulfil his Olympic dream.
Currently, he trains almost every day in Lagos on one of the two tracks suitable for this sport in the region and he's positive about the challenge of training conditions for winter sports in Portugal.
"At this time of year, ice speed skaters travel to warm countries and keep their form with lots of cycling and roller skating. Being far is not a big problem as all the skaters are currently away from the ice," says Marreiros.
Marreiros first put skates on at the age of four and won his first European Championship medal at 16.
The 29-year-old skater has accumulated medals on wheels ever since, including European vice-champion and the world vice-champion 10km Pontos.
Over the last four years, he has been preparing over the winter season in Germany and the Netherlands, where he has been improving his "technique and physical shape," allowing him to "qualify for the world cups" scheduled for the end of the year.
He's even launched a crowdfunding campaign to fund his preparation on ice and train in the Netherlands.
His ranking in the world cups taking place over four weekends in a row in Poland, Norway, Canada and the United States from 14 November to 14 December will determine if he will be in China in February.
Nyman offers a masterclass on closing day of Antalya Grand Slam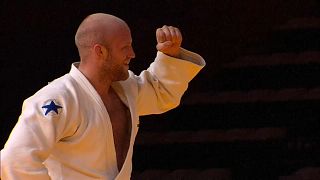 On the final day of the Antalya Grand Slam, it was the turn of the heavyweights to put on their show. And Sweden's Marc Nyman offered a masterclass in newaza, or floor-based judo, taking the -90kg title with a golden score wazari against Hungary's Krisztian Toth.
Dr Laszlo Toth, the president of the Hungarian Judo Association, handed out the medals.
The 2018 World Champion Shori Hamada offered her own demonstration of precision newaza throughout the day and she claimed her third Grand Slam gold medal with victory over Poland's Beata Pacut in the -78kg final.
Skander Hachicha, the president of the Tunisian Judo Federation, made the presentations.
Hershko digs deep for first-ever Grand Slam gold
Azerbaijan's Zelim Kotsoiev won a tactical final against Aaron Wolf of Japan to take his first-ever Grand Slam Gold in the -100kg category.
IJF Events Director, Dr Lisa Allan presented the medals.
Israel's Raz Hershko won her first-ever Grand Slam in an exciting finale to the +78kg contest against China's Xu Shiyan. With Hershko a wazari up, Xu scored on the buzzer to take the match to a golden score. But Hershko dug deep with a second wazari to claim the gold.
Ki-Young Jeon, the IJF referee supervisor, gave out the medals.
"Wow, it was crazy. I didn't know what to do with myself," said Hershko afterwards. "I was so excited so the first thing I did was scream and shout like crazy because I said 'wow I won this fight'. It was so dramatic and it was my win, it was my first win and it was a big win and I'm so happy."
Remarkable ippon secures gold for Bashaev
And in the +100kg contest, Russia's Tamerlan Bashaev was on top form throughout the day, storming through the preliminaries to set up a final against World and Olympic Silver Medallist Harasawa Hisayoshi. It was Bashaev who took the contest, with a remarkable ippon.
Florin Daniel Lascau, the acting IJF refereeing director, presented him with his medal.
"I think it's a part of judo," Bashaev said afterwards. "Because when we fight, when I win against my opponent it's like I destroyed his dream, so I can't be like, oh I'm the best."
The home athletes also enjoyed some fine successes throughout the three days of the tournament, contributing to an incredible festival of judo in Antalya, Turkey.
Judo Grand Slam: Georgia, Canada & Mongolia on Top at Tbilisi 2021
The final day of the 2021 Tbilisi Grand Slam came to a climactic conclusion. Three countries actually won two gold medals: Mongolia (third place), Canada (second place) and Georgia (first place), while 22 have medallists and 36 placed athletes in the final block. The host country can be satisfied with this result. In a very tough and competitive context, to be among those at the top of the standings was almost guaranteed for Georgia, but the first place was anything but certain.
Georgian Throws a Giant in over 100kg Final
Georgian powerhouse Gela Zaalishvili gave the home nation so much to cheer for, throwing big for one Ippon after another, all through his preliminary contests. In the over 100 kilo-final, he stunned onlookers by launching the Brazilian World and Olympic medallist Rafael Silva through the air! The young Georgian had unstoppable raw power. Some of which he saved to celebrate with his coach.
"I'm always ready to fight for my country, for my homeland. I think this is the right way to live, I put in big effort, I always train hard, and always try to win," explains Zaalishvili. "This gives me psychological strength, and belief in myself. This gives me big power."
Final
SILVA, Rafael (BRA) vs. ZAALISHVILI, Gela (GEO)
Bronze Medal Contests
INANEISHVILI, Saba (GEO) vs. ERDOGAN, Cemal (TUR)
SARNACKI, Maciej (POL) vs. GRANDA, Andy (CUB)
Final Results
1. ZAALISHVILI, Gela (GEO)
2. SILVA, Rafael (BRA)
3. GRANDA, Andy (CUB)
3. INANEISHVILI, Saba (GEO)
5. ERDOGAN, Cemal (TUR)
5. SARNACKI, Maciej (POL)
7. HEGYI, Stephan (AUT)
7. YUSUPOV, Alisher (UZB)
Putting in the groundwork at the under 90kg Final
At the under 90kg event, veteran groundwork specialist Marcus Nyman won in typical style, a hold-down secured him his first Grand Slam Gold in 5 years. Nyman's greater height disturbed Mungai, his Italian opponent, who had some difficulties getting close to him, but what is maybe even more dangerous with the Swede is his skill in ne-waza. An expert sequence finally caught Mungai with a strong immobilisation for ippon and Nyman's third victory in a grand slam. The President of the International Judo Federation Mr Marius Vizer presented the medals.
Final
MUNGAI, Nicholas (ITA) vs. NYMAN, Marcus (SWE)
Bronze Medal Contests
BOBONOV, Davlat (UZB) vs. KOCHMAN, Li (ISR)
JANDREEV, Shermukhammad (UZB) vs. GANTULGA, Altanbagana (MGL)
Final Results
1. NYMAN, Marcus (SWE)
2. MUNGAI, Nicholas (ITA)
3. BOBONOV, Davlat (UZB)
3. GANTULGA, Altanbagana (MGL)
5. JANDREEV, Shermukhammad (UZB)
5. KOCHMAN, Li (ISR)
7. BOZBAYEV, Islam (KAZ)
7. BROWN, Colton (USA)
Woman of the Day
Our woman of the day was China's Xu Shiyan – a big Ura Nage was the highlight of the over 78kg final, giving her a first-ever Grand Slam Gold. She was awarded her medal by IJF Sport Director, Mr Armen Bagdasarov.
"Because of love. I think because I'm a young athlete I need to prepare more for all competitions, especially for the IJF World Tour and the Olympics," Shiyan says. "But now i'm young, I love judo, so i'm very passionate"
Final
NUNES, Rochele (POR) vs. XU, Shiyan (CHN)
Bronze Medal Contests
HERSHKO, Raz (ISR) vs. SOUZA, Beatriz (BRA)
ALTHEMAN, Maria Suelen (BRA) vs. WANG, Yan (CHN)
Final Results
1. XU, Shiyan (CHN)
2. NUNES, Rochele (POR)
3. ALTHEMAN, Maria Suelen(BRA)
3. SOUZA, Beatriz (BRA)
5. HERSHKO, Raz (ISR)
5. WANG, Yan (CHN)
7. KALANINA, Yelyzaveta (UKR)
7. SLUTSKAYA, Maryna (BLR)
Canada Clinches under 100kg title
In the under 100kg category, Canada's Shady Elnahas climbed to the top of the podium. He defeated home favourite Sulamanidze in the final, catching the Georgian with a last-minute Kouchi gari, and holding out for the win! Mr Mikhail Kaveleshvili, MP and Chairperson of the Sports & Youth Issues Committee handed Shady his long-awaited gold medal.
Double Dutch in the under 78kg Final
Meanwhile, the under-78kg final was an all dutch affair. As is usually the case when two athletes from the same country meet in the final block, both struggled to take the upper hand, until a sequence on the floor that looked like any other but allowed Natascha Ausma to force a submission with a clinical strangle, but in true Judo Fashion immediately check on her friend and opponent – Karen Stevenson. Mr Sergey Soloveychik, Vice President of the IJF and President of the European Judo Union, awarded the medals.
Final
AUSMA, Natascha (NED) vs. STEVENSON, Karen (NED)
Bronze Medal Contests
GRAF, Bernadette (AUT) vs. LANIR, Inbar (ISR)
MA, Zhenzhao (CHN) vs. BABINTSEVA, Aleksandra (RUS)
Final Results
1. AUSMA, Natascha (NED)
2. STEVENSON, Karen (NED)
3. LANIR, Inbar (ISR)
3. MA, Zhenzhao (CHN)
5. BABINTSEVA, Aleksandra (RUS)
5. GRAF, Bernadette (AUT)
7. BROLIH, Patricija (SLO)
7. SHMELEVA, Antonina (RUS)
Plenty more to come
The Georgian Judo juggernaut kept rolling on day 3 – so many dynamic fighters, putting on an epic Judo show. Young up and comers shone through much of the day, defeating household names and Champions. The competition came to a fitting end with Georgia on top of the podium, once again.
Mr Florin Daniel Lascau, IJF Sport Director & Acting Referee Director presented the coveted medal to the Georgian victor, who shared the moment with his teammate beside him on the podium. Concluding yet another gripping tournament for the International Judo Federation.
Join us on the shores of the Mediterranean Sea, in Antalya, for a new grand slam in less than a week to continue to follow the adventure of the Olympic qualification races.