Four arrested after police carry out search at FC Barcelona's stadium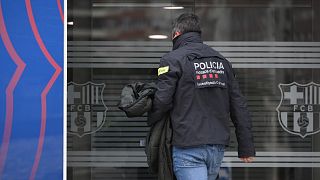 A policeman enters the offices of the Barcelona Football Club on March 01, 2021 in Barcelona during a police operation inside the building

  –  
Copyright 
Credit: AFP
Four people were arrested by Spanish police on Monday as part of an investigation into FC Barcelona.
The arrests came as officers searched Barcelona's Nou Camp stadium in a search and seize operation.
Spanish media said the operation was related to last year's "Barçagate," in which club officials were accused of launching a smear campaign against current and former players who were critical of the club and then-president Josep Maria Bartomeu.
Local media reports Bartomeu is among those in custody.
Some of the people supposedly targeted in the Barçagate scandal included players Lionel Messi and Gerard Piqué, as well as former coach Pep Guardiola.
Barcelona had denied accusations that it hired — and overpaid — a company to make negative comments about its own players and opponents on social media in order to boost the image of senior club officials.
The club later released an independent audit report showing that there was no wrongdoing.
Police in Catalonia confirmed the arrests but declined to reveal who was detained.
In a midday press release, FC Barcelona confirmed "the search of the Mossos d'Esquadra (Catalan police force) this morning in the offices of Camp Nou, on the orders of the judge of the investigating court number 13 of Barcelona, in charge of the case of the contract for social network surveillance services" – otherwise known as Barçagate.
The club stated that it had "offered its full collaboration" to the court.
Bartomeu defended himself over Barçagate at the time, saying: "Have they been asked to monitor social networks? The answer is yes. Have they been instructed to discredit people or institutions on social networks? The answer is no. And we will prosecute all those who accuse us of that."
Criticised by a large section of the club's supporters, players and members, Bartomeu and his entire board of directors resigned at the end of October.
The club has been mired in political turmoil and debt prompted by the coronavirus pandemic.
The operation comes less than a week before presidential elections are to be held at the club.
Vandoorne bounces back from disappointment to take Formula E Round 4 in Rome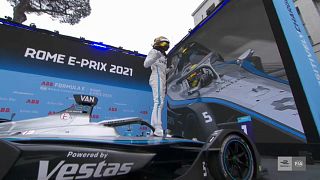 Belgium's Stoffel Vandoorne produced a stunning display to clinch the second race of a thrilling Formula E double header in Rome on Sunday.
After enduring a disappointing Round 3 in the Italian capital on Saturday, the Mercedes driver looked in control throughout the race despite the damp weather conditions. He made rapid progress from fourth on the grid, after pole-sitter Nick Cassidy spun down to eleventh following an early mishap.
With Cassidy's Envision racing team looking on in disbelief, Vandoorne took advantage of another mistake, this time by Lucas Di Grassi.
The Brazilian lost control of his car and the resulting collision involving Sebastien Buemi played into Vandoorne's hands: prompting a full-course yellow that nullified the threat of any dangerous attack mode uses from the chasing pack.
At the restart, Mahindra driver Alexander Sims jumped Wehrlein for second, whilst Vandoorne increased his lead and never looked back.
A late safety car brought the pack onto his tail. But with one lap remaining, it was too little too late for his rivals, as Vandoorne crossed the finish line ahead of Sims and Wehrlein, thanks to a final well-timed fan boost and a good collective effort from the Mercedes-EQ Formula E Team.
"It tastes good today to take home the victory," said Vandoorne after the race. "It feels like we needed this yesterday, especially after the pole position and the speed we showed yesterday. But, yeah, I kept believing, I was confident in the car again today, I made the moves when it counted."
This result sees Vandoorne edging closer to the current leading trio in the overall standings. He's now just one point behind Robin Frijns whilst Jaguar Racing's Sam Bird is still top. Next stop is Round 5 in Valencia on April 24.
Portugal doesn't have a big tradition of winter sports but there are some chasing the Olympic dream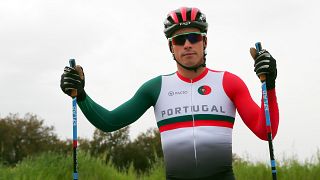 Portugal doesn't have a big tradition of winter sports, but the country has at least two athletes aiming to reach the Beijing Winter Olympics in 2022, even if their preparation is on wheels.
25-year-old José Cabeça's has achieved what no one had ever done before: a performance at a world championship that allows him to represent Portugal in a cross-country skiing event in Beijing.
Not bad for someone who learnt to ski in just one year in order to fulfil his Olympic dream.
"People ask – how is it possible that in one year he goes from not being able to ski to be in a position to make it to the Olympics and become the first Portuguese to qualify through the world championships?" says Cabeça.
"There's a lot of hard work for several years, obviously not in skiing. Triathlon has played a key role. I've managed to learn, little by little and all by myself. I don't have a skiing coach. I've learnt with other athletes and by watching videos."
Cabeça started his cross-country skiing adventure about a year and a half ago in France, where he lived for two and a half months to "be able to train", because "it is impossible in Portugal".
A few months later, in February this year, he reached the high point of his early career in the sport, with a score at the Nordic World Ski Championships in Germany, that opened a spot for Portugal at the Beijing 2022 Winter Olympics.
From roller to ice speed skating
Diogo Marreiros is a silver medalist in the 10km roller speed skating world championships. He switched to ice to fulfil his Olympic dream.
Currently, he trains almost every day in Lagos on one of the two tracks suitable for this sport in the region and he's positive about the challenge of training conditions for winter sports in Portugal.
"At this time of year, ice speed skaters travel to warm countries and keep their form with lots of cycling and roller skating. Being far is not a big problem as all the skaters are currently away from the ice," says Marreiros.
Marreiros first put skates on at the age of four and won his first European Championship medal at 16.
The 29-year-old skater has accumulated medals on wheels ever since, including European vice-champion and the world vice-champion 10km Pontos.
Over the last four years, he has been preparing over the winter season in Germany and the Netherlands, where he has been improving his "technique and physical shape," allowing him to "qualify for the world cups" scheduled for the end of the year.
He's even launched a crowdfunding campaign to fund his preparation on ice and train in the Netherlands.
His ranking in the world cups taking place over four weekends in a row in Poland, Norway, Canada and the United States from 14 November to 14 December will determine if he will be in China in February.
Nyman offers a masterclass on closing day of Antalya Grand Slam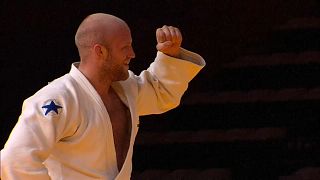 On the final day of the Antalya Grand Slam, it was the turn of the heavyweights to put on their show. And Sweden's Marc Nyman offered a masterclass in newaza, or floor-based judo, taking the -90kg title with a golden score wazari against Hungary's Krisztian Toth.
Dr Laszlo Toth, the president of the Hungarian Judo Association, handed out the medals.
The 2018 World Champion Shori Hamada offered her own demonstration of precision newaza throughout the day and she claimed her third Grand Slam gold medal with victory over Poland's Beata Pacut in the -78kg final.
Skander Hachicha, the president of the Tunisian Judo Federation, made the presentations.
Hershko digs deep for first-ever Grand Slam gold
Azerbaijan's Zelim Kotsoiev won a tactical final against Aaron Wolf of Japan to take his first-ever Grand Slam Gold in the -100kg category.
IJF Events Director, Dr Lisa Allan presented the medals.
Israel's Raz Hershko won her first-ever Grand Slam in an exciting finale to the +78kg contest against China's Xu Shiyan. With Hershko a wazari up, Xu scored on the buzzer to take the match to a golden score. But Hershko dug deep with a second wazari to claim the gold.
Ki-Young Jeon, the IJF referee supervisor, gave out the medals.
"Wow, it was crazy. I didn't know what to do with myself," said Hershko afterwards. "I was so excited so the first thing I did was scream and shout like crazy because I said 'wow I won this fight'. It was so dramatic and it was my win, it was my first win and it was a big win and I'm so happy."
Remarkable ippon secures gold for Bashaev
And in the +100kg contest, Russia's Tamerlan Bashaev was on top form throughout the day, storming through the preliminaries to set up a final against World and Olympic Silver Medallist Harasawa Hisayoshi. It was Bashaev who took the contest, with a remarkable ippon.
Florin Daniel Lascau, the acting IJF refereeing director, presented him with his medal.
"I think it's a part of judo," Bashaev said afterwards. "Because when we fight, when I win against my opponent it's like I destroyed his dream, so I can't be like, oh I'm the best."
The home athletes also enjoyed some fine successes throughout the three days of the tournament, contributing to an incredible festival of judo in Antalya, Turkey.