Inside Lily Collins' World: From Celebrity Kid to Finding Her Own Spotlight and Falling Madly in Love
Lily Collins Reacts to "Emily in Paris" Golden Globe Nominations
Sure, 2020 wasn't one for the books for most people. But it ended up being Lily Collins' year.
She spent most of it in sweatpants, like so many others, but that just meant she was extremely comfortable as the results of her very busy 2019 unfolded. The veteran actress and Lancôme brand ambassador heads into the Golden Globes Feb. 28 having played a key supporting role in the old-Hollywood epic Mank, which leads all films with six nominations, and as a nominee herself for Best Actress in a TV Series, Musical or Comedy, for one of the most talked about shows of quarantine, Emily in Paris.
"Words cannot express how extremely grateful and excited I am to be nominated for my role in Emily in Paris and for the show's nomination!" the 31-year-old told E! News in a statement when she got the good word. "I'm beyond thrilled the series was recognized and I feel so lucky to be in a category including such incredible women who have kept me laughing and smiling all year long. The greatest gift of playing Emily has been providing a sense of escapism and fun during a time when we all needed it most."
Lily did indeed provide people with a lot of joy (and serious travel inspo for…someday) and she was duly rewarded with joy—and a second season renewal. And before either production had even premiered last year, she got engaged!
"You know what's really funny?" she said in December on E!'s Daily Pop when asked if wedding planning with director fiancé Charlie McDowell was underway. "I wasn't that young girl who, like, had it all figured out…but I am someone now who's like, 'I think I know exactly what I want.' So it's fun."
Dominique Charriau/WireImage
It's not surprising that they're eager to tie the knot, Lily having written when announcing their engagement, "I've been waiting my lifetime for you and I can't wait to spend our lifetime together" (and she's really looking forward to having Charlie's mom, Mary Steenburgen, and her husband Ted Danson for in-laws). But it would be a bit surprising to learn that Lily wasn't the girl who had it all figured out at a young age—if she hadn't already opened up about her very personal struggles in a raw, unusual-for-an-It-Girl way.
Born in Surrey, England, and raised in Los Angeles by mom Jill Tavelman after her parents split up when she was 5, the raven-haired beauty did seem to have all the elements in place to glide through life like a certain social media maven who takes the City of Light by storm. And she spent much of her formative life acting, modeling, writing (she made her on-camera debut in a BBC series when she was 2 and had an Elle Girl column at 15) and wielding a microphone—not as a singer, like her famous father Phil Collins, but as an on-the-ground host for Nickelodeon's Kids Pick the President election series in 2008. She dropped out of USC, where she went to study broadcast journalism, but won the Young Hollywood Award for Newest Red Carpet Correspondent instead.
Warner Bros Pictures/Kobal/Shutterstock
Though she has said that she never spent very much time in Paris before moving there for a few months to shoot her Netflix series, she had made some memories in the French capital, such as when she made her society debut at the Crillon Ball (now the Le Bal des Débutantes) in 2007. Phil shared a photo of their father-daughter dance at the event in his 2016 memoir, Not Dead Yet, a tradition that's also been experienced over the years by Bruce Willis, Forest Whitaker and Sylvester Stallone with their respective debutante daughters.
After just one two-episode guest spot on the CW's 90210, Lily got her big-screen break playing Sandra Bullock's daughter in 2009's The Blind Side. She went on to star in films such as Mirror Mirror opposite Julia Roberts, Rules Don't Apply co-starring and directed by Warren Beatty (for which she earned her first Golden Globe nomination), To the Bone with Keanu Reeves and the Bong Joon Ho-directed Okja. All the while, she also became known, if not more so in some circles, for her smart style and cool-best-friend-vibe Instagram account.
Citizen Snow Film Productions/Kobal/Shutterstock
"I don't know," she told The Guardian in 2012. "I look at what I've done and I go: 'What? Really?' It still feels so abnormal not to have had to do those particular sorts of projects [kid-and-teen fare, that is] to get here."
But the outward evidence of a charmed life didn't always reflect the vulnerable person at the heart of it, so she decided to really introduce herself to the world with her 2017 essay collection Unfiltered: No Shame, No Regrets, Just Me.
"I'm still young but I'm older than I was 10 years ago and I've learned more about myself," Lily explained her intention behind the book to Flare in 2017, "so I thought these are the most relevant things that are going on with me right now and chances are if I've been through them, someone else will have and it may help spark conversations among other people if I speak up and tell my truth."
The stories she told ranged from poignant but lighter fare, such as how she finally came to embrace her enviably full eyebrows (she, eek, used to tweeze and shave them!) and the lessons she'd learned from being ghosted, to her struggle with body image issues that led to her developing eating disorders and an addiction to diet pills and laxatives when she was in high school.
Lily also wrote, without naming names, of an abusive relationship that started off feeling passionately romantic before devolving into "deceit, infatuation, codependency and some pretty dark s–t."
Admitting that she chose to ignore the many red flags, Lily ended up having panic attacks, breaking out in stress rashes and living entirely for this guy as she grew increasingly isolated from friends and family. Jill eventually encouraged her daughter to talk to a friend who'd managed to get out of his own destructive situation, and Lily subsequently broke up with the bad boyfriend. But after not speaking to him for awhile, he convinced her to talk it out in person and they got right back together.
And though she was increasingly unhappy, it took a group-call intervention from her mom and friends to finally get her to cut the guy off for good. Then came the process of wondering why she'd stayed with him for so long, followed by the realization that all the issues were not her fault, she had just been successfully manipulated by a person "dealing with his own identity crisis and insecurities."
Sometimes, she concluded in Unfiltered, "We need to be with the wrong person to recognize who the right one is, how he should treat us, and what kind of respect we deserve."
She acknowledged, however, that 28 was a young age at which to be reflecting on her life.
"I'm not saying that I'm all knowing or wise," she told Flare. "The book is not a tutorial or a how-to—these are truths that I've come to realize about myself, and about growing up, as I'm still growing up."
Lauding the "incredibly supportive, encouraging community of young women" who'd gathered as fans of her Instagram page, Lily also told Teen Vogue, "I've always been a huge advocate of young people helping other young people through open conversation, and I've never had a problem being a conduit through which honest conversation can happen. If that means being in an awkward situation or being vulnerable, that's been something I'm OK with.
"I thought, 'Well, this might be my opportunity to talk about a lot of things that I've gone through or experiences that I've had.' It's taken me to this point to come to terms with certain things and become comfortable enough to talk about them. I just felt that now was the right time for me to get some of these things off my chest."
Bruce Talamon/Lionsgate
Having grown up not exactly famous but very much spotlight-adjacent and the daughter of a thrice-divorced father, Lily knew at an early age that there would be certain things that she wouldn't want to share—such as intimate details of her dating life.
"I entered into this business knowing your private life can't always remain private," she explained to the Belfast Telegraph in 2013, when she was rumored to be dating her Abduction co-star Taylor Lautner. "I don't feel the need to profess anything publicly or confirm something that in a normal situation you wouldn't have to speak out about. If I'm out and photographed with someone, then that is what it is. We took that chance and, whatever… it is what it is."
She continued, "That's always my natural feeling. My family went through a lot of very public situations and I saw that side of it from a young age. My mum raised me to be normal, and I wanted to grow up and find out who I was and who I wanted to spend time with before anyone else did."
Todd Williamson/Getty Images
Having spent her youth primarily with her mother and eventually shedding her British accent, it took some years to develop the sort of bond with her dad that she craved as a child. But they have a solid relationship now, Lily writing to the Grammy winner on his 70th birthday Jan. 30, "Words aren't enough to express how much love and pride I have for you. After 7 decades on this planet, countless trips around the world, 5 kids, endless memories and a lifetime of stories… you're not done yet! You mean so much to me and I can't wait for all the adventures and years to come. I love you so much, to the moon and back again…"
In 2012, she told The Guardian she had fond memories of summers with her dad in Switzerland, where he moved after the divorce, and Christmases at the family farmhouse in West Sussex. "It's the best place to be for the holidays—all cold and wintry. Love the food, love the tea. I still feel very European," she said. And, despite her parents' rough split, "I've only ever known growing up across different countries—to me it's just fun."
Ron Galella, Ltd./WireImage
Pressed on what sort of relationship she really had with her father growing up, she said, "I know the truth and I know how it was for me, and I know how much I love my family—and that's all that really matters."
Perhaps the publication of Phil's own warts-and-all memoir in 2016 partially inspired her decision to dig deeper and share that truth.
Writing about the end of his marriage to Jill, Lily's mom, Phil—who admitted to cheating but firmly denied the prevalent rumor that he dumped his second wife via fax—reflects on feeling "so sad for Lily, who is trying to make sense of all this mess her dad has made. I will always be sorry for that. I know that confessing to these feelings will unmoor Jill and Lily's lives, so I make the difficult decision to take the coward's way out: I say nothing."
Michael Kovac/Getty Images for Moet & Chandon
Which is why Jill is the "total bad ass rock star" in Lily's actual book. She traveled the world with her mom, and credits her in Unfiltered for not only always being there for her, but for exposing her and her friends "to people from all walks of life," encouraging them "to step outside our comfort zones and experience the unknown."
They were so close, she explained, that she felt both inordinately excited to venture out on her own and a little guilty for leaving her mom (though when Lily first moved out she only went as far as down the street). But at the end of every day, Lily wrote, "She's my best friend, inspiration, role model, confidante, and partner in crime."
Meanwhile, her dad "may have still been alive, but most of the time it felt as if he were completely gone," she wrote. Lily recalls being constantly worried about living up to his expectations, craving approval that he wasn't there to give. Not being able to tell him how she felt only made her angrier, and she says it took about a decade before she drummed up the courage to speak her mind.
Not that having one huge talk solved everything (dads aren't always the best listeners, she notes), and Lily wrote in a letter to her father included in the essay about him in the book, "I forgive the mistakes you made. And although it may seem like it's too late, it's not. There's still so much time to move forward. And I want to. I'm inviting you to join me."
So, the situation was far more complicated than Lily had been ready to share five years beforehand.
They've settled into a groove now, though, Lily telling W last summer how she immediately texted her dad when the video of twin YouTube stars Tim and Fred Williams listening to "In the Air Tonight" for the first time went viral.
"I remember having this conversation with him when I was younger," she said. "I would share with him the music and the new bands that I was listening to at the time. He was just as inspired by young musicians and young artists, just as much as when you read interviews of up-and-coming artists and they talk about who they admire."
Lily has also never tried to pretend that growing up as she did, with the father she has, was bad for her career—either in terms of opportunity or being able to go with the star-studded flow.
"I don't get that feeling of panic or of being star-struck," she told The Guardian in 2012, talking about how people "like Elton" would go up to her and have memories from when she was a baby. "I grew up acknowledging these people as human beings who have a talent that is public. They're not some other species. But it doesn't mean that I get any less excited."
Netflix
No wonder she doesn't find the accolades for Mank—in which she plays Rita Alexander, the stenographer tasked with keeping Herman Mankiewicz (Gary Oldman) sober enough to hammer out the screenplay for Citizen Kane while laid up with a broken leg—or the prospect of all the Oscar nominations the David Fincher-directed film will get particularly nerve-racking.
"I'm just really proud to be part of such an amazing ensemble," Lily said on Daily Pop. "And to be a part of something that people are responding to like this is really special."
Netflix
So after shooting both Mank and Emily in Paris in 2019, she wasn't entirely averse to slowing down in 2020—though she hadn't planned on quite so much free time. For instance, she was excited to inject more of Emily's joie de vivre into her own wardrobe and there promised to be a long list of appearances for both projects, not to mention award season.  
"Aaaaand then we went into lockdown," she quipped on Daily Pop. 
At least that allowed for some sweet alone time with her fiancé, whom she met in 2019 when she was cast in his upcoming film, Gilded Rage—and then promptly fell in love with him.
"It was kind of one of those situations where I knew the second that I met him that I wanted to be his wife one day, and so it was just a matter of when really," she recalled on Live With Kelly and Ryan.
Allen Berezovsky/Getty Images
During quarantine he taught her how to surf, which, she told InStyle, served as "a fun way to get over a fear of failing publicly." She read up on meditation (being able to savor the moment hasn't always come easy to her) and listened to Unlocking Us With Brené Brown, growing ever more in touch with herself always near the top of her to-do list. And it came in handy to have a boyfriend who knew his way around a camera so, when W came calling for a story, he could photograph her himself. 
"I know it's super strange, but I haven't been stationary in one place for this long in—I can't remember how long," Lily told the magazine.
But though all was obviously going well 18 months into their relationship, she was still completely surprised when Charlie popped the question while they were on an RV trip through New Mexico and Arizona with their dog Redford. He had told their families ahead of time, but managed to keep her entirely in the dark—even when he was planting a camera to capture the moment for posterity.
"What's funny is that he totally wasn't [acting weird]," Lily shared on The Kelly Clarkson Show in December, "and he is the first to admit he's not an actor. He's a writer-director and usually he is just, like, very much emotions on his sleeve, you can tell what's going on. And he was so cool and I had no idea."
"Now looking back on it, though," she added, "he had taken his jacket off, put it back on, taken it off, put it back on, and I was like, 'I guess it's hot out, he's fidgeting with this clothes.' He had set up his camera for a self-timer so he got the whole thing on video but I thought he was just deciding whether he wanted to keep his jacket on…I didn't understand!"
"In hindsight I realized there were certain things I could've read into, but he was so cool, calm and collected."
As she said on The Drew Barrymore Show barely two weeks after the proposal during another stop on her virtual press tour, flashing the rose-cut diamond ring McDowell helped design with jeweler Irene Neuwirth, "I am the luckiest. I am so grateful and truly feel the happiest I've ever been. I am very, very lucky."
Lily Collins/Instagram
And while neither time nor a Golden Globe nomination nor even falling madly in love has made her life struggle-free, Collins knows it's all about who you choose to take the journey with and having that support system.
Axelle/Bauer-Griffin/FilmMagic
"We all have our insecurities," she told Kelly Clarkson. "For me, body image was a really big thing. I've been very vocal and open about my experiences with eating disorders and, just, now my fiancé is so supportive, and it's about finding new ways to feel centered and not reverting back to old ways…We all just need to say, we all go through these things and we're not crazy, and no one of us is alone. I think we all have those little things."
And when Drew Barrymore asked Lily how she had come to be "this person who exudes and conveys kindness and goodness," she again credited her mom for instilling her with her moral compass from the beginning. "I don't know," the actress said, "I'm just so grateful for every opportunity that I get and I'm just an innately happy, optimistic person, I guess."
They both agreed that being born into that world came with certain advantages, but it also could mean that you feel the urge to prove yourself that much faster.
"It gave me such a drive to want to feel like I deserved to be where I am," Lily said. "For a certain amount of time, a last name could be something that's interesting but, at the end of the day, you've got to bring something to the table. And yeah, I maybe had to grow up a little bit quicker, but I was also exposed to the pros and cons at an early age and I still chose it for me."
The people have spoken—23.1 million on Instagram and counting, 676 million minutes of Emily in Paris binged in its first week—and they've chosen her right back.
This $10 Korean Sheet Face Mask Set Has 15,686 Five Star Amazon Reviews
16 transformative face masks for $10? Count us in!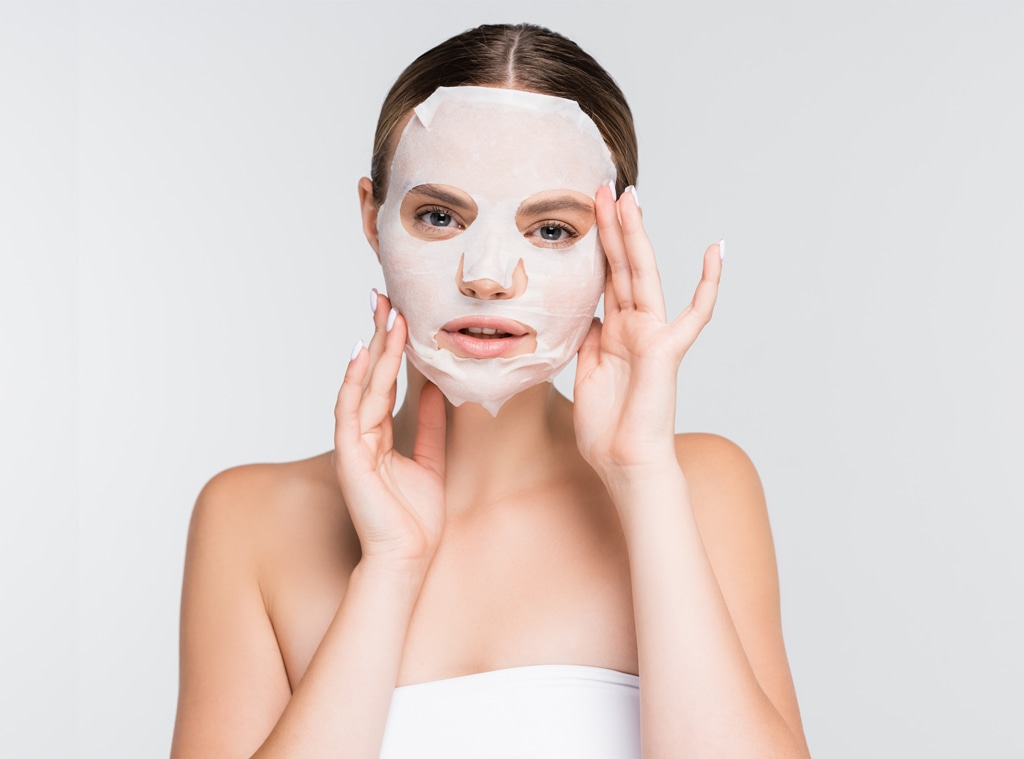 Lightfield Studios/Shutterstock
We independently selected these products because we love them, and we hope you do too. Shop with E! has affiliate relationships, so we may get a commission if you purchase something through our links. Items are sold by the retailer, not E!.
Calling all face mask lovers! And we're talking about the kind of face masks you use for beauty purposes. If you haven't noticed we love sharing our favorite Amazon finds, especially ones with thousands of 5-star reviews and affordable price tags. And today, we're about to blow your mind with this $10 sheet face mask set that has 15,686 5-star Amazon reviews!
As regular sheet maskers, we've tried dozens of skincare masks, but none quite compare to Dermal's K-Beauty collagen sheet face mask set. Not only do you get 16 (yes 16!) sheet masks for only $10, but every mask offers a powerful blend of ingredients that tackle different skin concerns like dullness, hyperpigmentation, scarring and inflammation. For extra hydration, we love layering these masks on top of our other serums! 
But as always, don't take our word for it, check out one of the 15,600+ 5-star reviews on Amazon singing its praises.
Dermal Korea Collagen Essence Full Face Facial Mask Sheet-16 Combo Pack
Packed with plant-derived ingredients, sodium hyaluronate, vitamin E and collagen, each mask tackles a different skin concern and offers fast absorption. 
Here's what reviewers are saying:
"These masks are amazing!!! Having "ice pick" scars left over from acne I was told that I'd have to pay for expensive laser therapy because the body can't produce enough collagen to heal deep scars. Well using these masks for 2 months and I've seen significant reduction in my scars they are almost completely gone! Gonna keep using until scars have fully healed!"
"I honestly use them as part of my self-care and "happy" place for myself – I'm currently a grad student and they often talk about taking better care of oneself. I literally put one of these on when I'm studying or writing a paper (at home of course ha ha) and they so help with making me feel relaxed."
"I freaking love these. They are super gentle and have no alcohol. They give a nice little moisture surge and skin plump. I love the variety and these have little descriptions on the front of each mask like; moisture, nutrition, calming, brightening, etc. So I'll use whatever mask I feel my skin needs on a given day."
"I have dry, sensitive, eczema skin. My face is so flaky that I literally "snow" everywhere. That's where these lil babies come in. I use one every day after I shower at night and my face started to clear up in a couple of days."
HGTV's Erin and Ben Napier Confirm They Are Expecting Baby Girl on Home Town
Celebrity Pandemic Pregnancies: Emma Roberts, Morgan Stewart & More
The Napier home is getting bigger!
During the April 11 episode of Home Town, Erin Napier and Ben Napier announced they were expecting another baby girl. They are already the proud parents to a three-year-old daughter named Helen.
The special reveal on HGTV also occurred after Ben's brother Jessie and his wife Lauren revealed they were having a baby.
"By now most of you know that in just a few weeks we will be adding another little face to our home videos and photo albums," Erin wrote on Instagram. "Just like Helen did, her little sister has made it easy to keep her secret by being tiny even now, and I'm deeply thankful that we've had almost 8 months of keeping this our news just for our family and close friends."
The designer added, "Last spring, I put away the changing table supplies because I no longer had an infant. I put it away in the guest room closet and then I cried because I thought how lonesome Helen must feel up there in her crib beside an empty room every night. A few weeks later, I watched my daddy and his brother standing at my grandmother's graveside. Two men with many differences strengthened each other. Two men who knew her better than any of us ever could. Siblings do that, they know and remember and keep the stories of a family alive. And we wanted that for Helen. Someone to stand with her when we can't someday. And now she'll have a cousin following just a few weeks behind her, too. We are so thankful."
As fans may know, college sweethearts Ben and Erin wondered if they would be able to have children of their own. In fact, after doctors discovered Erin had a perforated appendix, they feared surgery would make it unlikely to conceive. Ultimately, Erin has been able to defy expectations.
"Even in our celebrating, I'm thinking of the would-be parents waiting for their own babies," Erin wrote on Instagram. "For many it can be such a long and difficult journey and I pray for strength for you if that's where you are. God answers in His own time, not ours, awfully hard as that can be. Sending so much love to y'all today."
When Ben confirmed the news on social media, the Ben's Workshop star couldn't help but express the power of having siblings. 
"I grew up with built-in best friends. My 3 brothers and I speak our own language and know the dance when it's time to move a piano into a house together," he wrote. "Helen will have that with her little sister. It makes me even happier to know that there'll be another Napier baby right around the corner from us. There was a time when @erinapier and I didn't know if we would have kids. I would've been happy with just the 2 of us, or just the 3 of us, but I can't wait to see the 4 of us."
Instagram/HGTV
And for those who want to know about Helen's reaction, both parents assured fans that she is thrilled.
"Helen tells us daily something new she plans to teach her sister: 'How to play with the mermaid toys,' 'How to walk!' 'How to eat pancakes!'" the couple shared with HGTV. "I so hope she won't feel jealousy, just love and pride in her little sister. I want her to feel like she's her baby, too."
Home Town airs Sunday nights at 8 p.m. on HGTV.
The Challenge's Ashley Cain Says His 8-Month-Old Daughter Has "Days to Live"
In Memoriam: Fallen Stars of 2020
The Challenge star Ashley Cain has some devastating news about his baby girl. 
On April 8, he took to Instagram to update his followers on his infant daughter, Azaylia Diamond, who he shares with Safiyya Vorajee. It was just one month ago that Ashley, who appeared on multiple seasons of The Challenge's Ex on the Beach UK as well as The Challenge: War of the Worlds, revealed to fans that the 8 month old's leukemia had returned. In the new video posted online, he explained how, after multiple treatments to save his daughter's life, there is nothing more doctors can do to help his little one. 
"Last week, we had the bone marrow test and the lumber puncture and bloods taken to send to Singapore in the hope that they could create a CAR-T therapy to save Azaylia's life," he said. "Then, we had to have a CT scan on her head and the results came back the next day, saying that Azaylia's got two very big tumors on her brain."
He shared that chemo has failed to work and explained that even a "spinal tap" could be too dangerous for Azaylia, leaving the parents with no other treatment options. 
"They think she's only got one, two days to live," the reality star said. "It could even be that night."
Ashley added, "We're going back home and we're gonna try and make our baby as comfortable as possible. We're gonna be strong, and we're gonna go out with honor."
On April 9, Ashley shared an Instagram photo of Azaylia taking a bath in the hospital, along with an emotional caption. 
"9 days ago consultants told us my daughter had 1-2 days to live, but thought she may pass that evening," he wrote. "Even with a barbaric disease consuming her blood, tumours in her brain and organs and amounts of pain I cannot imagine… She is still battling through 9 days later, with parts of the day with nothing but smiles despite her discomfort."
He continued, "This is a testament of this little girls strength and the fight she has possessed all of the way through. She has fought a battle that not many, if any, of us could have endured and she's earned the love and respect of many on the way. The truth is though, I hope and pray that I have earned hers! Even through the hardest and saddest time of my life, she has found a way to make it better. She has shined light on the darkest of days and she has opened my heart to amounts of love I couldn't believe possible!"